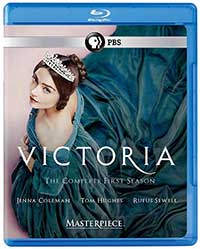 The latest Masterpiece historical drama series from PBS is Victoria, which tells the story of one of the most famous British monarchs during the early years of her reign in the 19th century British Empire.
Created and written by novelist Daisy Goodwin who drew on Victoria's own diaries and real-life events, Victoria: The Complete First Season tells the story of the impetuous 18-year-old (played by Jenna Coleman, Doctor Who) who would inherit the throne of England, barely ready to rule, and have to quickly learn to become a steady-handed leader under the tutelage of liberal Prime Minister Lord Melbourne (Rufus Sewell), for whom she would carry an unrequited love for, for years. Victoria would eventually have to find a suitable husband, marry, and give birth to an heir, doing all of this surrounded by many men who believed her unfit to be a ruler and were secretly or overtly plotting her downfall.
Although this first season of Victoria does tend to teeter back and forth between an intriguing political drama and a saccharine story about a young woman in an impossible position trying to find true love, it more than makes up for its weaknesses with its beautiful set designs and the power of its amazing cast. Coleman steps out of her sci-fi sidekick typecasting to 'arrive' as a dramatic force here as the tiny yet mighty young Victoria. A superb cast of veterans such as Rufus Sewell as Lord Melbourne, her lovelorn mentor, and a magnificently devilish, scar-faced Peter Firth as the Duke of Cumberland plotting against her surround her. The set designs and costumes are superlative, bringing us right into the pomp of the early Victorian age as well as the less lavish 'below the stairs' lives of the servants.
The Video
The HD production of Victoria looks generally pleasing given the natural colors and amount of detail one gets, but there are definite issues either inherent to the source or from the encodement with banding or compression noise that is evident straight through the series. One can spot some macroblocking at times in the shadows and low-level noise. The series arrives in an AVC 1080p encodement framed at 1.78:1.
The Audio
Victoria comes to Blu-ray with an underwhelming lossless DTS-HD Master Audio 5.1 mix that may as well be a 2.0 stereo mix for the lack of effects in the surround channels. It also sounds like the dynamics have been squeezed a bit, so there isn't much range and levels have been maxed a bit. Dialogue is clean.
The Supplements
The extras are typical promo fair with a few interviews talking up the series, a tour of the set, one VFX segment and a tourism promo for Yorkshire. None of it is really required viewing.
Special Features (1.78:1; 1080p/24; 00:21:10):

Interviews:

Jenna Coleman (Queen Victoria)
Tom Hughes (Prince Albert)
Rufus Sewell (Lord Melbourne)

Tour of Buckingham Palace Set with Nell Hudson and Tommy-Lawrence Knight
Creating the CGI Magic
Yorkshire Promo
The Final Assessment
The writers do a superb job of making us want to see more of how Victoria will fair in her early years as the monarch of the great empire in this first season. The big disappointment is Prince Albert (Tom Hughes) who walks around like a drugged up character in a Lord Byron poem or something. Flaws aside, fans of anything having to do with the British Monarchy, history, and costume dramas will surely find something to like here. This could make a good companion piece to the recent Netflix Original series The Crown.
[amazon_auto_links id="97762"]
Mammoth Screen | ITV Studios Global Entertainment | Masterpiece Theatre | PBS
Studios & Distributors
Tom Vaughan | Sandra Goldbacher | Olly Blackburn
Director
Daisy Goodwin | Guy Andrews
Writer
$59.99
MSRP
English DTS-HD MA 5.1
Audio
Summary
An addictive combination of history, romance, and royal intrigue, Victoria will appeal to those who love British costume dramas and anything to do with the British monarchy. This Blu-ray release is good, but it has a weak collection of extras and only average audio/video quality.
What people say... Login to rate
Be the first to leave a review.
Show more