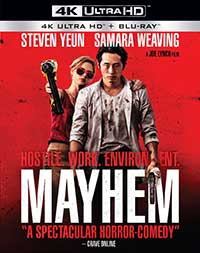 Fresh off of his character's shocking death (hey, if that's a spoiler for you at this point, you need to catch up on your Netflix) on The Walking Dead, Steven Yeun apart from his roles in acclaimed Netflix original Okja and another Netflix standout Trollhunters, heads into the more familiar territory of this balls-to-the-wall horror comedy, Mayhem. An action film that lets anyone who has ever had a 9-to-5 job live out the vicarious thrill of dishing out some serious whupass on their bosses, the film finds Yeun playing ambitious executive Derek Cho who loses his job at a prominent law firm unfairly. That same day the company is put under quarantine by the CDC when the employees ae infected with a mysterious and dangerous virus that causes people to lose all of their inhibitions and turn violent. Since Cho's firm was responsible for arguing a case that set a precedent in law that people infected with the virus could not be held legally responsible for their actions, he sets out to get revenge on his boss and the rest of the executive board, teaming up with a former client (Samara Weaving, The Babysitter) whom he had previously aggrieved in a foreclosure case.
Mayhem pulls no punches – it's violent in the most frenzied of ways, but director Joe Lynch and writer Matias Caruso know not to fixate on the violence too much and cause the film to become yet another dreary, dismal, blood-stained exercise. This one manages to stay light, sort of like Ash vs. Evil Dead in that way where you know it's so over-the-top and the dialogue is so crazy, but somehow never camp.
Yeun is great as the repressed executive who finally gets to let all the anger bubbling under the surface out to play, so to speak, while Samara Weaving continues to make a name for herself as someone to watch in Hollywood. She easily slides into roles like Three Billboards or these sorts of tough and seductive vixen who'll kill you with an axe roles, like The Babysitter.
Mayhem is such great fun, the voice over by Yeun doesn't even ruin things, it just enhances the motion comic atmosphere that is created by the filmmakers. This one has instant cult classic written all over it.
The Video
The digital source for Mayhem is brought to 4K Ultra HD in an HEVC 2160p (4K) encodement without HDR (high dynamic range), so we don't get the wide color gamut and extra 'pop' in the highlights, but we do get a really crisp and clean image with exceptional depth of field. The Blu-ray is no slouch either, but it does look just slightly smoother than the 4K disc.
The Audio
Mayhem comes to 4K Ultra HD and Blu-ray with an excellent, aggressive English DTS-HD Master Audio 5.1 mix that is beefy and filled with lots of solid foley effects in the surround channels. The musical track is punchy on the midrange as well. This one will definitely help get your adrenaline flowing.
The Supplements
The special features are light, including a 12-minute "making of" light on detail, but the technical commentary is a cool listen for fans.
Blu-ray w/ feature film
Creating Mayhem: The Making of the Film (1.78:1; 1080p/24; 00:11:55)
The Collected Works of Derek Cho (1.78;1; 1080p/24; 00:01:26) – A brief, tongue-in-cheek narrated gallery of character Derek Cho's artwork.
Technical Commentary with director Joe Lynch, director of photography Steve Gainer & editor Josh Ethier
The Final Assessment
Brilliant chaos that finely balances comedy and gore, Mayhem could be a breakout film for director Joe Lynch and perhaps finally set up a big Asian leading man in Hollywood with Yeun – here's hoping. The 4K Ultra HD release is on point, even though HDR would really have helped to bring out a lot of the color and nuance.
Mayhem is out now on 4K Ultra HD Combo Pack from RLJE Films
[amazon_auto_links id="107894"]
Circle of Confusion | Royal Viking Entertainment | RLJE Films
Studios & Distributors
$35.97
MSRP
HEVC (H.265) 2160p (4K) | AVC 1080p (Blu-ray)
Video
English DTS-HD MA 5.1
Primary Audio
English SDH | French | Spanish
Subtitles
HDR Effect (If Applicable)
Summary
Wrongfully fired by his cutthroat bosses, when ambitious lawyer Derek Cho's (Steven Yeun) firm is placed under quarantine by the CDC for a mysterious and dangerous virus that causes the infected to lose all inhibitions and turn violent, he teams up with a former client, the sexy Melanie Cross (Samara Weaving), to dish out some bloody corporate justice in this fast-paced, and wholly entertaining over-the-top horror comedy. The 4K Ultra HD lacks HDR, but still has a crisp and clean picture with a robust lossless 5.1 DTS-HD MA audio mix.
What people say... Login to rate
Be the first to leave a review.
Show more