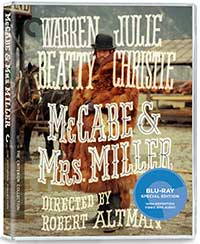 Robert Altman's 1971 deconstructionist western McCabe & Mrs. Miller eschewed all the clichés of the genre in favor of the muddy and often claustrophobic, ramshackle makeshift constructions of the turn of the century Northwest. Shot on location in Vancouver standing in for Washington, the story follows the almost buffoonish John McCabe (Warren Beatty) who arrives in the newly expanding Presbyterian Church with plans to parlay his big gambling winnings into a successful saloon and whorehouse business. Mrs. Miller (Julie Christie) arrives shortly afterwards and convinces him to take her on as his partner. The quick-witted prostitute doesn't care much for McCabe, but her business acumen and knowledge at running the sort of high-end bordello he dreams of are enough to convince him. Things turn sour when businessmen arrive in town looking to buy out McCabe's property and he refuses to sell at the low price they offer.
Altman's McCabe & Mrs. Miller is a raw and unforgiving look at the period unlike the big, rambling westerns that came before it with their wide landscapes and sharply defined heroes and villains. There are no clearly delineated heroes or "white hats" here. McCabe is squirrely and self-interested and Mrs. Miller is no "whore with heart of gold," she's out for a payday, and to score some opium, as we later find out.
The audio in the film, one of the early criticisms that helped to undercut its box office success, is often muddy, drifting in and out of clarity. This is mirrored by cinematographer Vilmos Zsigmond's imagery that shifts between cloaks of graininess and pitch-black shadows, an earth-toned patina of dirt and mud in doors, and the sparkling clarity of the outdoor daylight.
It featured no score, per se, its scenes were often interspersed with the darkly hued songs of Leonard Cohen, which served to amplify the elegiac tone of this Vietnam-era western. Although McCabe & Mrs. Miller was not a success at the time of its release it has gained popularity in the years since and is now regarded as one of the great cinematic accomplishments of the New Hollywood era.
The Video
This is a new digital transfer of McCabe & Mrs. Miller that was created in 4K 16-bit on a Lasergraphics Director film scanner from the 35mm original camera negative. The color was matched to a reference print made by the Academy Film Archive at the Academy of Motion Picture Arts and Sciences, and timed by original cinematographer Vilmos Zsigmond. MTI Film's DRS was used to manually remove dirt, debris, scratches, splices, and warps while Digital Vision's Phoenix was used for jitter, flicker, and small dirt, grain, and noise management.
Given its vintage and the film stock, this restoration of McCabe & Mrs. Miller looks very good all around. After what is a somewhat rough-looking opening with some lens dirt, things settle down and we get into what is a variably grainy in the darker sequences and crystal clear in the brightly lit sequences image. There is some film softness, but overall there is a lot of detail. In the darkest of scenes detail vanishes, not as a result of the transfer, but due to the filming technique. During the final act's snowstorm, imagery is a little difficult to make out, but it still looks filmic and natural
*This Variety article states that Vilmos Zsigmond died before the restoration began.
The Audio
The original monaural soundtrack was mastered from the 35mm magnetic track. Clicks, thumps, hiss, hum, and crackle were manually removed using Pro Tools HD, AudioCube's integrated workstation, and iZotope RX4. The mix is provided on Blu-ray by the Criterion Collection in LPCM 1.0 (48kHz/24-bit). McCabe & Mrs. Miller's sound is infamously poor and no restoration or remaster can improve it unless one can get to the multitrack stems if any exist, and somehow remix the audio from scratch. That said, there are some moments where the audio is muddy and incoherent and others where it is just fine but a bit thin and boxy. The overall level is low, so I had to turn this one up a good 8 to 10 db above normal. The opening dialogue in the saloon seems to be the most difficult to discern.
The Supplements
Criterion Collection includes an excellent selection of features, both new and archival, to go along with this film. They are all very informative and interesting to watch and read.
2002 audio commentary featuring director Robert Altman and producer David Foster.
Way out on a Limb (1.78:1; 1080p/24; 00:54:38) – Produced by the Criterion Collection in 2016, this documentary on the making of McCabe & Mrs. Miller features interviews with several of director Robert Altman's longtime collaborators: the film's casting director, Graeme Clifford, script supervisor, Joan Tewkesbury; and actors René Auberjonois, Keith Carradine, and Michael Murphy.
Cari Beauchamp and Rick Jewell (1.78:1; 1080p/24; 00:36:27) – This conversation, produced by the Criterion Collection in 2016, features film historian Cari Beauchamp and Rick Jewell. They discuss McCabe & Mrs. Miller in light of Robert Altman's career, the New Hollywood, and the western genre.
Behind the Scenes (1.33:1; 1080p/24; 00:09:32) – This featurette from the production of McCabe & Mrs. Miller, shot on location in Canada in 1970, details the building of the film's town of Presbyterian Church.
Leon Ericksen (1.33:1; SD; 00:37:36) – In 1999, the Art Directors Guild Film Society in Los Angeles hosted a conversation with McCabe & Mrs. Miller's production designer, Leon Ericksen, led by his fellow production designer Jack De Govia. The film's art director, Al Locatelli, also participated in the discussion. An excerpt about the making of McCabe is presented here.
Vilmos Zsigmond (1.78:1; 1080p/24; 00:11:30) –This piece, in which cinematographer Vilmos Zsigmond (1930-2016) discusses his work on McCabe & Mrs. Miller, combines a 2005 interview for the American Society of Cinematographers by filmmaker and cinematographer Michael Goi, ASC, with an interview by filmmaker and cinematographer James Chressanthis, ASC, GSC, conducted for hos 2008 documentary No Subtitles Necessary: Laszio & Vilmos.
Steve Schapiro Photo Gallery
The Dick Cavett Show – On July 6, 1971, in a legendary appearance, film critic Pauline Kael was a guest on The Dick Cavett Show and defended McCabe & Mrs. Miller against some early negative reviews. On August 16 of that year, director Robert Altman himself appeared on the show to discuss the film and its reception.:

Pauline Kael (1.33:1; SD; 00:10:34)
Robert Altman (1.33:1; SD; 00:11:49)

Trailer (2.40:1; 1080p/24; 00:01:58)
Booklet with essay by Nathaniel Rich
The Final Assessment
In the past several weeks I have had the pleasure of reviewing a few classic westerns including High Noon, Johnny Guitar, and now McCabe & Mrs. Miller, each one unique and groundbreaking in its one way. McCabe & Mrs. Miller was perhaps a perfect western to come along in 1971 at the height of the Vietnam era, with its almost anti-climactic finale, flawed hero, muddy sets, and town full of dubious characters that erupts into needless violence. It's a cynic's western, like High Noon, but from a different perspective. Criterion's release captures it in all of its glory.
McCabe & Mrs. Miller [Criterion Collection] (TheaterByte Blu-ray Review)
David Foster Productions | Warner Bros.| The Criterion Collection
Studios & Distributors
Edmund Naughton (novel) | Robert Altman | Brian McKay
Writer
English LPCM 1.0 (48kHz/24-bit)
Audio
Summary
Time has been very kind to this unusual yet groundbreaking western. Its claustrophobic, gritty settings and colorful, unlikable characters, and eschewing of the usual western clichés have given it a unique place in American film history.
What people say... Login to rate
Be the first to leave a review.
Show more