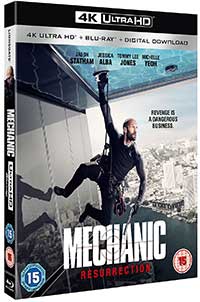 Jason Statham returns to his role as the indestructible hitman Arthur Bishop in this almost laughable and certainly implausible sequel to the 2011 remake of The Mechanic. German director Dennis Gansel takes Mechanic: Resurrection deep into B-movie territory, turning in a bad amalgamation of James Bond and Jason Bourne globetrotting.
The film starts off with a bang as Bishop (Statham), supposedly dead, is discovered alive in Rio de Janeiro and a chase ensues. Not too bad so far, but things quickly go off the rails once Bishop makes his way to Malaysia and hooks up with the bikini-clad beauty Gina (Jessica Alba, still looking gorgeous, as she already proved in the disappointing Sin City: A Dame to Kill For). It's a setup so Bishop's nemesis Crain (Sam Hazeldine), an old childhood friend turned international arms dealer, can capture him and force him back into the killing business. After Crain kidnaps Bishop's new love interest Gina, he forces Crain to carry out three assassinations across three continents in a hurry, and they all must look like accidents. Why? Well, we don't know, we only know Bishop is on a clock and Gina is in danger. The first target is an African warlord (Femi Elufowojo Jr.) who is holed up in a Malaysian island prison. His second target is a human-trafficker (John Cenatiempo) in Australia who goes to great lengths in to keep himself safe in a bunker-like penthouse in Sydney penthouse isolated in a Sydney penthouse. Lastly, Bishop must take out an American arms dealer (Tommy Leee Jones) who has taken over an abandoned military based in Bulgaria surrounded by nuclear submarines.
The absurdity of Mechanic: Resurrection never seems to dwindle, no matter how far along the film gets and the acting never rises above the level of bad Saturday morning cartoons. Not even Tommy Lee Jones can save the proceedings as the intolerably tacky American fascinated with gaudy Soviet trappings in his sunglasses and swinger bathrobe. Jessica Alba is basically just a piece of eye candy as a damsel in distress and Statham is, well, he's Jason Statham – a muscle-clad hunk who spends most of the film either with his shirt off or barefoot in a wet suit shooting somebody.
The Video
The 2160p HEVC encoded 2.40:1 framed video for Mechanic: Resurrection is this film's strongest asset. The HDR (High Dynamic Range) takes it to a whole other level, with inky blacks and brilliant bright whites, very often in the same frame. The explosions look likely to singe your eyebrows or damage your retinas. Colors are natural; especially flesh tones, even Jessica Alba's impeccably tanned skin.
The Audio
An English Dolby Atmos, backward compatible with Dolby TrueHD 7.1, provided as well as a late night optimized Dolby Digital 2.0 track. The Atmos mix is reasonably well done, with good atmospherics, clean dialogue, a strong spread of sounds, particularly Isham's score, and fairly deep low-end. It isn't, however, at the top-tier of object-oriented soundtracks available.
The Supplements
The most interesting featurette included on disc is the interview with composer Mark Isham. Everything else is run-of-the-mill EPK style material that really offers nothing much in the way of information and takes place in an alternate universe where Mechanic: Resurrection is one of the greatest franchises that ever existed.
Standard Blu-ray w/ Main Feature and all on-disc extras
Digital Copy
Engineering the Sequel: Inside Mechanic Resurrection (1.78:1; 1080p/24; 00:09:54)
Scoring the Action Film with Mark Isham (1.78:1; 1080p/24; 00:08:59)
The Malaysian Prison (1.78:1; 1080p/24; 00:01:21)
Michelle Yeoh, Secret Ally (1.78:1; 1080p/24; 00:01:13)
Statham on Stunts (1.78:1; 1080p/24; 00:01:22)
The Final Assessment
Mechanic: Resurrection is a haphazardly put together film with a nonsensical plot that tries to evoke the slick, cool of James Bond or the grit of Jason Bourne, but only ends up feeling like an SNL skit of either of those film franchises. You'd be best served renting this one if you really want to see it.
Mechanic: Resurrection [UK] (TheaterByte 4K Ultra HD Blu-ray Review)
Summit Entertainment
Studios & Distributors
Philip Shelby (screenplay) | Tony Mosher (screenplay) | Lewis John Carlino (based upon the characters created by) | Rachel Long (story) | Philip Shelby (story) | Brian Pittman (story)
Writer
HEVC (H.265) 2160p (UHD) | AVC 1080p (BD)
Video
English SDH | Spanish
Subtitles
Dolby DD 2.0 Optimized for Late Night Listening
Secondary Audio
Summary
An amalgamation of James Bond and Jason Bourne that feels more like SNL skit than actual thriller, its best recommendations are its excellent sound and picture on the 4K disc.
What people say... Login to rate
Be the first to leave a review.
Show more