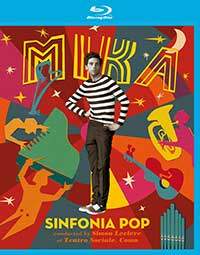 I can't say that I was familiar with Mika and his music before this Blu-ray release arrived in my mail box to review from Eagle Rock, but the British pop star has apparently been around for several years and racked up a few international hits, including his début smash "Grace Kelly" from 2007, which rode the #1 spot on the UK charts for 5 weeks. He has even collaborated with the likes of Pharrell Williams ("Celebrate") and Ariana Grande ("Popular Song"). Now the sugary pop singer has endeavored to collaborate with the Orchestre Symphonique de Montreal and conductor Simon Leclerc in this concert recorded at the Teatro Sociale, Como. Reworking a number of his pop confections with orchestral arrangements, Mika, suited up in his best Chris Isaak adornments, took to the stage and crooned out his hits such as "Last Party," "Grace Kelly," and "Love You When I'm Drunk". Although his voice stood up well and the arrangements were well enough, the songs sounded bland in comparison to the big pop productions his music is known for. In short, the songwriting doesn't really hold up on its own merits without the electronic studio tricks most of the time. There are a few exceptions. The aforementioned "Last Party" is rousing, taking on more of a sense of immediacy than its album version, and "Underwater" evokes a sense of drowning that the glossy production just cannot.Other than a few other brief moments and Mika's affable nature, he should stick to the pop world and leave classical alone. His efforts in front of the orchestra pale in comparison to, say, Peter Gabriel's reworking of his music for orchestra on New Blood.
The Video
The 1080i AVC encodement on Blu-ray of the HD production looks excellent apart from the slightest bit of black crush apparent in the dark clothing of the orchestral performers who are often in the shadows. Detail is strong and video noise is kept to a minimum given the often low light videography.
The Audio
A DTS-HD Master Audio 5.1 track and a LPCM 2.0 Stereo track are included for Sinfonia Pop. The 5.1 mix is splendidly spacious and dynamic with Mika's vocals upfront and clear in the center channel while the orchestra has a good spread across the soundfield and lots of ambience. The mic placement is closer and the volume levels are higher than what one usually gets with a true classical recording, but it works with this sort of music. The 2.0 mix collapses a lot and sounds almost monaural in comparison, however, once one's ears adjust, it is perfectly acceptable and equally natural and dynamic in sound given it has only two channels.
The Supplements
We get only these two brief interviews with Mika and the conductor Simon Leclerc, both discussing this project in kind terms.
A booklet with track listing, credits, and still photos is included.
Interviews:

Mika (1.78:1; 1080i/60; 00:10:16)
Simon Leclerc (1.78:1; 1080i/60; 00:04:31)
The Final Assessment
Mika fans will probably not be too enthralled with the somewhat bland reworkings of the popster's hits in this classical crossover performances. Sinfonia Pop is a grand idea, but doesn't quite work.
Mika: Sinfonia Pop (TheaterByte Blu-ray Review
Eagle Rock
Studios & Distributors
$19.98
MSRP
DTS-HD MA 5.1 | LPCM 2.0 Stereo
Audio
Summary
Pop singer/songwriter Mika gives us a hit and miss classical performance of some of his biggest hits in this classical crossover project Sinfonia Pop.
What people say... Login to rate
Be the first to leave a review.
Show more