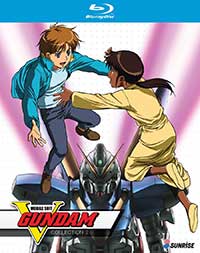 Mobile Suit Victory Gundam, or Mobile Suit V Gundam was the fourth entry in the Gundam franchise and was in fact directed by Gundam creator Tomino Yoshiyuki. Set in the series' own Universal Century year 0153, it tracks the adventures of 13-year-old male protagonist Uso Ewin as he is increasingly drawn in to the ravages of war.
As this is the review of the second collection in the series, the technical details remain the same and are taken from the review of Collection 1.
Collection 2 , covering episodes 27-51, takes the series into even more earnest territory as Uso matures as a young man and fighter and confronts truths about his parents. The war, of course, rages on and these episodes stay mainly in space staging some quite spectacular mecha battles in the sky. Perhaps the most surprising character growth in the series is with Shakti who takes a more central role in the conflict between League Militaire and Zanscare. Also surprising is the shocking betrayal of Katejina against Uso and his allies, which seems to grow more desperate as the episodes go on.
I don't know that Mobile Suit V Gundam is one of the strongest entries in the Gundam universe, but it certainly has its moments. It's different and its assemblage of likable heroes and morally grey villains, plus its rather subdued, slow building arc are ultimately its strengths.
The Video
Mobile Suit V Gundam looks stunning to my eyes. It arrives in its original 1.33:1 framing in an AVC 1080p encodement on Blu-ray from RightStuf. I'd say Sunrise has done a superb job bringing this 1993, animation-on-film, production back to life. It looks clean and colorful, yet still organic. There may be some cause to say that it was maybe scrubbed a little too much, but the overall clarity in my opinion is a big bonus.
The Audio
Only the Japanese LPCM 2.0 stereo soundtrack is provided, no English dub, but it's a fine audio track, apart from the occasional audible clipping in louder dialogue passages and sound effects, but that is to be expected given the age and technology in use at the time. Otherwise, the voice cast for this series are very good, and I can't see where an English dub would even benefit the production.
The Supplements
Only basic promotional extras are supplied with Mobile Suit V Gundam. While these are always cool to have, they can hardly be considered exceptional, unique, or new.
Clean Opening 2
Clean Closing 2
TV Spots (1.33:1; 1080p/24; 00:03:10)
End of Episode Promos (6-13) (1.33:1; 1080p/24; 00:04:36)
Blu-ray Box Set Commercials (1.33:1; 1080p/24; 00:03:54)
The Final Assessment
The second half of Mobile Suit V Gundam wraps this sometimes uneven but still epic entry in the world of Gundam with plenty of what Gundam does best – lots of dazzling mecha battle sequences and a young hero coming into his own. Sunrise's restoration looks superb in this three-disc set from RightStuf.
Mobile Suit V Gundam: Collection 2 (TheaterByte Blu-ray Review)
Okeya Akira | Sonoda Hideki | Kazuhiko Gôdo |Tomita Sukehiro
Writer
$74.99
MSRP
Japanese LPCM 2.0 Stereo
Audio
Summary
It may not be the strongest entry in the Gundam franchise, but this old school mecha series is still epic and can show many of the newcomers a thing or two.
What people say... Login to rate
Be the first to leave a review.
Show more