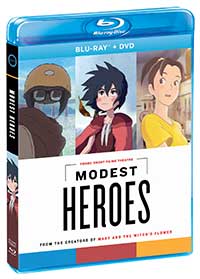 Modest Heroes is an anthology of three short anime films from Studio Ponoc. They share one connecting theme of heroism running through each story. The first short, "Kanini & Kanino," directed by Academy Award-nominated director Yonebayashi Hiromasa (When Marnie Was There, Mary and the Witch's Flower) follows two tiny humanoid/crab siblings who must survive the dangers underwater on their own to rescue their injured father. The second story, "Life Ain't Gonna Lose," featuring the voice of Maggie Q (Nikita, Designated Survivor) in the English dub, is directed by Momose Yoshiyuki, who was the key animator on Takahata Isao's films at Studio Ghibli; it follows a young boy and his mother (Q) who must cope with the boy's life-threatening allergy to eggs. Finally, "Invisible," directed by Yamashita Akihiko, who was a key animator on many of Miyazaki Hayao's best known films, is about a man who is invisible to everyone around him who finds himself having to rescue a baby.
With all of these great Japanese animators onboard, one would expect some great visuals in these short films, and that's exactly what we get. The first two shorts don't disappoint, offering up character designs and artwork that would fit right in in the best of what Studio Ghibli would have to offer. The most innovative of the trio is "Invisible," however, in both its visual style and the story that it tells. It's a metaphor wrapped into a short film packed with action and its eye-popping.
Modest Heroes' just over fifty-minutes go by so quickly, you'll be wishing there was more when it is all over. Certainly some of these stories feel like they could be expanded beyond their short constraints. "Life Ain't Gonna Lose" in particular feels like it would make a wonderful expanded story, with more backstory about the mother and so forth. For now, take these shorts as they are and enjoy!
The Video
Modest Heroes hits Blu-ray in a 1.77:1 AVC 1080p encodement from Shout! Factory/GKIDS that is stunning in its details, color, and overall presentation. The third short, "Invisible" is purposely grainy for much of the short, but this is not a distraction, it is an artistic choice that adds to the atmosphere of the artwork.
The Audio
All three shorts come with a Japanese DTS-HD Master Audio 5.1 mix and an English dub also in DTS-HD Master Audio 5.1. The first short in Modest Heroes, "Kanini & Kinino," provides the best audio mix of the three, surrounding us in the underwater sounds, clear, full dialogue and good low-level extension. The second short, "Life Ain't Gonna Lose," is the least engaging of the trilogy, staying mainly focused on the front three channels with some atmospherics and very mild discrete effects in the surrounds, but still very clean and appropriate for the story. The final short, "Invisible" is not as aggressive as the first but is a bit more active and again shows more dynamics. All three are well-suited to the material. The English dubs are very good also and have good performances, with "Life Ain't Gonna Lose" featuring the talents of Maggie Q (Nikita, Designated Survivor)
The Supplements
We get some good making-ofs and interviews with the Japanese cast and crew, plus art galleries and trailers to fill out the disc.
The Modest Heroes of Studio Ponoc (1.78:1; 1080p) (Japanese)
Film Completion Press Conference (1.78:1; 1080i) (Japanese)
Interviews with Japanese Voice Cast (1.78:1; 1080i) (Japanese)
Art Galleries (1080p)
Trailers (1.77:1; 1080p)
The Final Assessment
A superb collection of anime shorts that easily rivals anything put out by Disney/Pixar just how good the people from Studio Ghibli and their alumni, such as these folks from Studio Ponoc are.
Modest Heroes is out on Blu-ray Combo Pack June 18, 2019 from Shout! Factory/GKIDS
---
Studio Ponoc
Animation Studio
Shout! Factory | GKIDS
Distributor
Momose Yoshiyuki | Yamashita Akihiko | Yonebayashi Hiromasa
Director
Momose Yoshiyuki (written by: segment ...
Writer
$24.97
MSRP
Japanese DTS-HD MA 5.1
Audio
English DTS-HD MA 5.1
Secondary Audio
English SDH | English for Original Japanese Version | Spanish
Subtitles
PG (for some thematic elements and peril)
Rating Certificate
Summary
An anthology of three original shorts from Studio Ponoc about heroism written and directed by Yonebayashi Hiromasa, Momose Yoshiyuki and Yamashita Akihiko. The artwork and character designs in each short film is fantastically done, showing the strengths of these Studio Ghibli alumni. The Blu-ray Disc offers up a beautiful rendering of the collection.
What people say... Login to rate
Be the first to leave a review.
Show more