Aspect Ratio: 1.85:1

Video Codec: AVC/MPEG-4 (2D); MVC (3D)

Resolution: 1080p/24 (23.976Hz)

Audio Codec:  3D: English Dolby TrueHD 7.1 (48kHz/24-bit), English, French, and Spanish Dolby Digital 5.1 EX, English Dolby Digital 2.0, English Descriptive Video Service Dolby Digital 2.0
Subtitles: English, English SDH, French, Spanish

Subtitles Color: White

Region: ABC (Region-Free)

Rating: G

Run Time: 92 Mins.

Discs: 5 (1 x Blu-ray 3D + 2 x Blu-ray 2D + 1 x DVD + 1 x Digital Copy Disc)
Digital Copies: iTunes Digital & Windows Media Copy

Studio: Walt Disney Studios Home Entertainment

Blu-ray Release Date: February 19, 2013

List Price: $49.99
–
Overall
[Rating:5/5]
The Film
[Rating:4.5/5]
Video Quality
HD: [Rating:5/5]
3D Effect: [Rating:5/5]
Audio Quality
[Rating:5/5]
Supplemental Materials
[Rating:5/5]
Click thumbnails for high-resolution 1920X1080p screen captures
(All TheaterByte screen captures are lightly compressed with lossy JPEG at 100% quality setting and are meant as a general representation of the content. They do not fully reveal the capabilities of the Blu-ray format)
–
The Film
[Rating:4.5/5]
It was early autumn 2001 and the world was anxious in the wake of the 9/11 attacks — and so was Hollywood. Would people still want to go out to see movies, especially "frivolous" entertainment like animation? Would people be too afraid to leave their homes in any significant quantity to gather in movie theatres enough to sustain the business? In November, just several weeks after the attacks, Pixar released their third film, Monsters, Inc. and as art always has an uncanny ability to do, the film's themes were eerily apposite to the circumstances surrounding the atmosphere of the day. The fear of terrorist attacks, the fear of biological attacks, the idea of having to confront fear, all of these things were dealt with in Monsters, Inc.
In the world of Monstropolis, where all manner of creepy, multi-eyed, multi-limbed and multicolored monsters a kid can conjure up in his or her nightmares, the central power company, Monsters, Inc., supplies all the energy to power the city by sending monsters into children's rooms at night through a series of doors to harvest their screams. There is where our main characters work. There's James P. "Sulley" Sullivan (John Goodman), a big, blue, teddy bear-like monster and his assistant Mike Wazowski (Billy Crystal), a short round, green ball of a man with two skinny arms, two skinny legs and one big eye. The two of them make up the companies leading team of energy harvesters and a competitive battle ensues between them and their main competition, Randall Boggs (Steve Buscemi).
The real trouble begins when Sulley sees Randall sneaking out of one of the children's rooms after hours and goes to investigate, which leads to one of the human children escaping into the world of the monsters. The little girl, nicknamed "Boo," comes under the care of Sulley and Mike and they must keep her hidden from the CDA (Child Detection Agency), who descend on the city in biohazard suits (it is rumoured that just the touch of a child can kill a monster). The two also uncover a plot by Randall to develop a machine that will suck the screams out of children and power the city.
Monsters, Inc. was just the right film for the times into which it was released. It was wide-eyed, optimistic, and had a childlike wonder. Most of all, it taught children and adults alike to confront their fears. Most of all it taught us that our fears are not always founded in reality.
Video Quality
HD: [Rating:5/5]
3D Effect: [Rating:5/5]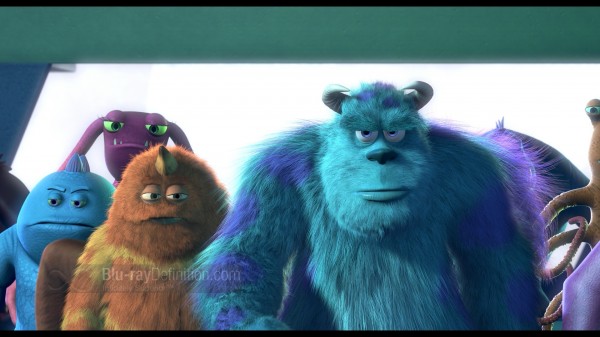 The 2D transfer remains the same as the 2009 release and it still looks just as brilliant, clean, vividly candy-colored, and crisply detailed as it did before. I've included above two screen captures taken from each respective release for comparison's sake. As of today, there really is no way to include any real 3D captures that I know of, so you'll just have to take my word for it when I say that this may be one of the smartest looking 3D conversions I've seen from Pixar to date. Of course, using the term "conversion" with an entirely digital, CGI production is a bit of a stretch, since all of the original files are all there, and it is basically a case of reshooting every frame in 3D with a virtual camera, then re-rendering it. However they do it, the 3D effects here look very convincing, especially the "door chase" scene. This film, with its eye-catching colors and funny looking characters really works well in 3D.
Audio Quality
[Rating:5/5]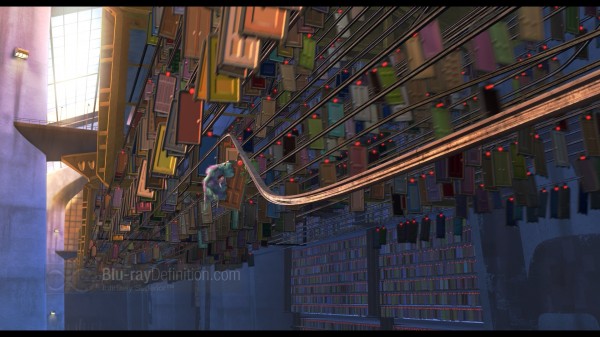 One thing that is different this time around is we get a brand new Dolby TrueHD 7.1 (48kHz/24-bit) soundtrack that is magnificent, and really adds lots of extra oomph, if you will. There's a tighter soundfield, good use of the back channels for atmospherics and some discrete effects (at one point early one, Sulley's voice emanates from right behind us convincingly so). Dynamics are good and low frequency extension is quite deep, for an impactful aural experience.
Supplemental Materials
[Rating:4.5/5]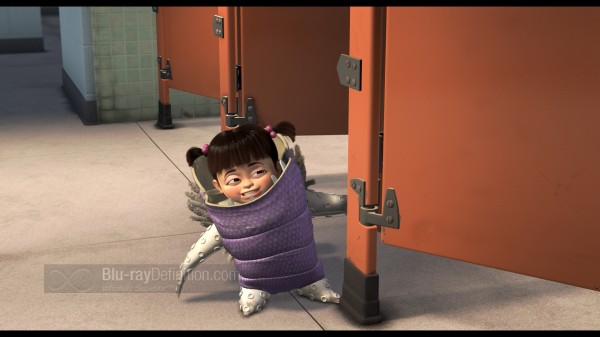 This release has remained nearly identical to the one put out by Disney in 2009, with the exception that the Pete Docter video introduction which used to appear prior to the disc menu has apparently been removed (unless it appears elsewhere as an Easter egg, which I haven't found) and the Toy Story Toons animated short, Partysaurus Rex has been added as one of the extras. Additionally, different trailers have been included on the Blu-ray 2D feature disc. See below for details.
Blu-ray 3D:
Toy Story Toons: Partysaurus Rex (3D)
For the Birds (3D)
Outtakes (3D)
Blu-ray 2D Disc 1:
Filmmakers' Round Table (1.78:1; 1080p/24; 0:21.35)
Toy Story Toons: Partysaurus Rex (1.78:1; 1080p/24; 00:06:34)
Monsters, Inc. Ride and Go Seek: Building Monstropolis in Japan (1.78:1; 1080i/60; 0:07.58)
For the Birds (with optional commentary by director Ralph Eggleston) (1.78:1; 1080p/24) — A group of malicious birds get their pecking order hilariously reversed when they pick on the wrong victim, in this Pixar animated short.
Mike's New Car (with optional audio commentary by the filmmaker's sons) (1.33:1;1080p/24) — Mike shows Sulley his fancy new six-wheel-drive car, which comes loaded with gadgets, in this animated shot featuring the two characters from Monsters, Inc.
Audio Commentary — Commentary by Pete Docter, Lee Unkrich, Andrew Stanton, and John Lasseter.
Trailers:

Monsters University
The Little Mermaid
Wreck it Ralph
Monsters University Preview
Planes
Mulan
Blu-ray 2D Disc 2:
Roz's 100 Door Challenge — Answer a series of questions to determine which position at Monsters, Inc. would best suit you.
Humans Only:

Pixar Fun Factory Tour (1.33:1; 480i/60; 0:03.46) — John Lasseter gives a tour of the Pixar Animation Studios.

Story:
Story is the King (1.33:1; 480i/60; 0:02.03) — How the story department works at Pixar
Monsters Are Real (1.33:1; 480i/60; 0:01.31)  — How the cast and crew of the film regard the Monster World
Original Treatment (1.78:1; 1080p/24; 0:13.43)  — The original pitch for the film, with some surprising differences.
Story Pitch: Back to Work (1.33:1; 480i/60; 0:04.39) — Story supervisor Bob Peterson pitches a scene to the production team.

Banished Concepts:

Intro to Banished Concepts (1.33:1; 480i/60; 0:00.32) — Co-Director Lee Unkrich discusses the fate of five scenes that were banished from the film's final cut.
Assistant Sulley
End of the Day
Bad Scare
Scream Refinery
Original Sulley Intro
Storyboard to Film Comparison (1080p/24; 0:05.42):

Storyreel
Final Color
Split-screen Comparison

Art Gallery (1080p/24):

Characters
Color Script
Concept Art
Posters

Designing Monstropolis (1.33:1; 480i/60; 0:02.51)
Set Dressing (1.33:1; 480i/60; 0:03.22)
Location Flyarounds (1.33:1; 480i/60; 0:07.25)
Monster File:

Cast of Characters (1.33:1; 480i/60; 0:05.54)– Meet the cast of performers who bring the characters to life.
What Makes a great Monster? (1.33:1; 480i/60; 0:01.27) — The Evolution of the Monsters, Inc. character designs.

Animation:

Animation Process (1.33:1; 480i/60; 0:03.14)
Early Tests (1.33:1; 480i/60; 0:08.05)
Opening Title Animation (1.33:1; 480i/60; 0:02.09)
Hard Parts (1.33:1; 480i/60; 0:05.01)
Shots Department (1.33:1; 480i/60; 0:02.15)
Production Demonstration (1.33:1; 480i/60)

Music & Sound:

Monster Song (1.33:1; 480i/60; 0:03.17)
Sound Design (1.33:1; 480i/60; 0:04.16)

Release:

The Premiere (1.33:1; 480i/60)
Trailers and TV Spots (1.33:1; 480i/60)
Wrap-Up (1.33:1; 480i/60; 0:00.46)

Monsters Only:

New Monster Adventures:

Monster TV Treats (1.33:1; 480i; 0:01.13)
Ponkickies 21
"If I Didn't Have You" Music Video (1.85:1; 1080p/24; 0:01.12)
Behind the Screams:

On the Job with Mike and Sulley (1.33:1; 480i/60; 0:02.33)

Orientation:

Welcome to Monsters, Inc.
Your First Day
History of the Monster World

Easter Eggs:

Employee Handbook
Guide to In Jokes
Monster of the Month
Scarer Cards
Disc 4:
DVD — Standard Definition DVD of Monsters, Inc.
Disc 5:
Digital Copy — Digital Copy for transfer to a Mac/PC or iTunes/Windows Media-compatible device.
The Definitive Word
Overall:
[Rating:5/5]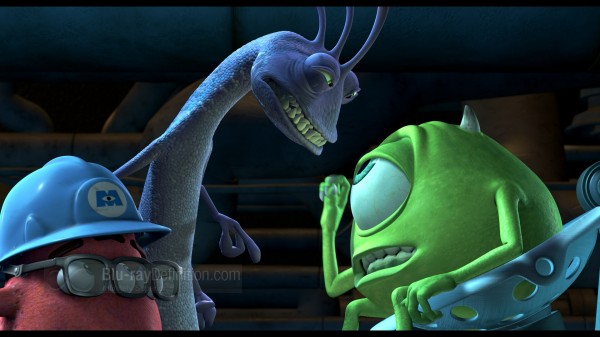 Still one of the great, early Pixar classics, Monsters, Inc. gets a good boost in this 3D reworking that doesn't seem gimmicky at all. 3D really works well with the animated genre and if you are 3D capable, even if you already own the 2D Blu-ray release of this title, you owe it to yourself to pick this one up for the entire family.
Additional Screen Captures
[amazon-product]B0090SI460[/amazon-product]
Purchase Monsters, Inc.: Ultimate Collector's Edition Blu-ray 3D Combo Pack at CD Universe
Shop for more Blu-ray titles at Amazon.com
More Screen Captures (From 2009 Review)
Overall
[Rating:5/5]
The Film
[Rating:4.5/5]
Video Quality
HD: [Rating:5/5]
3D Effect: [Rating:5/5]
Audio Quality
[Rating:5/5]
Supplemental Materials
[Rating:5/5]
–