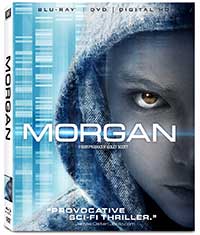 In his feature film directorial debut, Luke Scott creates an emotionally drained sci-fi film that is suspiciously similar to the much more intelligently done 2015 film Ex Machina.
Set in an out-of-the-way laboratory tucked away amongst forests and lakes, scientists have grown an artificial life form called Morgan (the wonderful Anya Taylor-Joy who does a lot with very little to work with) out of synthetic DNA. But when Morgan turns violent and gouges out the eye of one of the scientist looking after her (Jennifer Jason Leigh), the corporation funding the project sends in the risk manager, Lee Weathers (Kate Mara), to help clean up the mess. Lee finds Morgan now banned from going outside to anymore, instead locked in the clinical, metallic rooms of the lab and angry at her keepers over her circumstances. Things really take a wild turn when psychiatrist Dr. Alan Shapiro (Paul Giamatti) turns up to assess Morgan's mental stability and purposely pushes its/her buttons to the point Morgan goes into a rage and Shapiro meets an untimely end. Lee is able to subdue Morgan, but the scientists in the lab have fits of conscience over "killing" the artificial being that has turned murderous against them.
To call Morgan absurd would be an understatement. Starting with the undeceive intelligentsia who can't seem to separate their emotions from the science and reality of their situations, to the looming, faceless "corporation" that is doing this ongoing experiment for some unknown, nefarious reason, there's an incomplete feeling to this poorly thought out screenplay. The final act abandons all pretenses to intellectualism in favor of a violent action thriller as the major players, namely Lee and Morgan, tussle in the lab and the woods. Despite the sudden burst of energy in the end, Morgan is a boring film. Its 87 minutes feel like over two-hours long. I want my two hours back.
The Video
Morgan looks as clean and crisp on Blu-ray in its 2.39:1 AVC eoncodement as its settings are purposely antiseptic, metallic, and sucked dry of color. It's not a very cinematic looking film and there are places with coke slight crush, but it works for this sort of dry sci-fi thriller.
The Audio
Morgan on Blu-ray gets an English DTS-HD Master Audio 7.1 soundtrack that is balanced and atmospheric, but not aggressive given the basically dialogue-driven film. The last act does pump up the action a bit, and it's handled adequately with more than a modicum of low end, clear dialogue and spacious stereo effects. The score is what drives the tension the most and it is well-balanced into the mix.
The Supplements
The extras include Luke Scott's superior 2012 short film Loom
Audio commentary by Luke Scott
Modified Organism: The Science Behind Morgan (1.78:1; 1080p/24; 00:19:40)
Deleted Scenes w/ optional audio commentary by Luke Scott (2.35:1; 1080p/24; 00:06:03)
Loom (Short Film) w/ optional audio commentary by Luke Scott (2.35:1; 1080p/24; 00:20:27)
Gallery (1080p/24)
The Final Assessment
An imitation of Ex Machina that is far less intelligent and feels longer than its under 90-minute run time, Morgan wants to be a slick and prophetic sci-fi thriller, but in the end it is a derivative dud.
Morgan (TheaterByte Blu-ray Review)
R (for brutal violence, and some language)
Rating Certificate
Scott Free Productions| Twentieth Century Fox Film Corporation
Studios & Distributors
$39.99
MSRP
English DTS-HD MA 7.1
Audio
English SDH | French| Spanish | Portuguese | Korean| Arabic| Bulgarian | Chinese | Croatian | Czech | Greek | Hebrew | Hindi | Hungarian | Icelandic | Indonesian | Korean | Malay | Romanian | Serbian| Slovak | Slovenian | Thai | Turkish | Vietnamese | English Commentary | Spanish Commentary | French Commentary
Subtitles
English Descriptive Audio 5.1 | French DD 5.1 | Spanish DD 5.1 | Czech DD 5.1 | Hungarian DD 5.1 | Turkish DD 5.1 | Thai DD 5.1 | Hindi DD 5.1 | Urdu DD 5.1
Secondary Audio
Summary
A derivative sci-fi thriller that doesn't live up to its strong cast.
What people say... Login to rate
Be the first to leave a review.
Show more