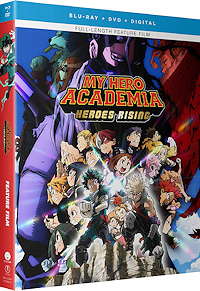 My Hero Academia: Heroes Rising, the second feature-length film for the breakout success anime franchise, finds the heroes from Hero Academy finally sent out on a real mission where they must battle Nine. Deku and his fellow heroes meet their greatest challenge in Nine while on the remote island of Nebu, but they also get to bond with the locals, including the young siblings Shimano Mahoro, and her brother Katsuma, discovering that Katsuma wants to be a hero was well, but Mahoro wants to dissuade him from that believing his Quirk or superpower is not suited to that life.
In many ways this is a great way for this franchise to go out if this is indeed to be the closing curtain on My Hero. Fans get an action-filled, fantastically animated adventure that moves the characters forward and has them facing one of their greatest challenges. The idea of a world where seemingly anyone can develop superpowers and become heroes has been explored in other shows, such as Amazon's The Boys, but arguably none is as universal as this franchise. It never sought to completely deconstruct the idea of superheroes and that is never more evident here where Daku speaks to the young Katsuma and gives him an inspirational speech about how they are both trying to save people but coming at it from a different way. My Hero Academia: Heroes Rising is fun and inspirational in its own way.
Merchant:

Right Stuf, Inc.

Price:

$26.24

Retail Price:

$34.98
Merchant:

Right Stuf, Inc.

Price:

$29.98

Retail Price:

$29.98
The Video
There is just the slightest hint of softness in what is an otherwise excellent transfer of the digital animation for My Hero Academia: Heroes Rising framed at 1.78:1 and encoded in AVC 1080p on Blu-ray. The colors 'pop' nicely without being oversaturated and we see a lot of detail in the line art without getting any artifacts like aliasing.
The Audio
Both the original Japanese and the English dub are provided in lossless Dolby TrueHD 5.1. The mix and mastering is pretty good for a Funimation release, considering their releases for whatever reason tend to suffer from restrained dynamics. Some of that still seems to be here but we still get a good sense of surround effects and just a little bit of wallop in the low end.
The Supplements
There isn't much included on disc, but the English cast featurette is cool to have. It would have been even better to have some interviews with the Japanese cast and crew as well.
Funimation Digital Copy
My Hero Academia: Heroes Rising Behind the Scenes with the Cast (English; 1080p; 00:15:56)
Promotional Videos (1080p; 00:02:45)
The Final Assessment
Good fun for fans of this franchise with great animation and a good Blu-ray Combo release.
My Hero Academia: Heroes Rising is out on Blu-ray Combo October 27, 2020 from Funimation
---
Rating Certificate: TV-14
Animation Studio: Bones
Distributor: Toho | Funimation
Director: Nagasaki Kenji | Horikoshi Kōhei
Written By: Kuroda Yōsuke
Run Time: 104 Mins.
Street Date: 27 October 2020
Original MSRP: $24.98
Aspect Ratio: 1.78:1
Video Format: AVC 1080p
Primary Audio: Japanese Dolby TrueHD 5.1
Secondary Audio: English Dolby TrueHD 5.1
Subtitles: English