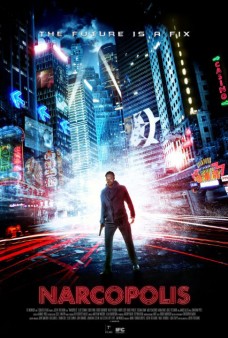 –
The Film
A world where all drugs are legal is the premise of the new film Narcopolis.
Set in 2022 London where the authorities have decriminalized all classes of recreational drugs, it's up to the police force to keep the black market dealers off the streets and the licensed drug companies rich. Police officer and former drug addict Frank Grieves (Elliot Cowan) is called to the scene of a grisly murder in a very bad part of town. It's a murder not of the ordinary kind – the victim has been injected through the eye socket with a substance that is not one of those drugs controlled by the drug companies. It's a new drug that has been introduced in the black market and its origins are unknown not only to the authorities, but also to the users who unwittingly use it. Drug company Ambro controls the drug market. It's a huge corporation, with lots of money and influence over everyone, especially the cops and the government. Could it be that Ambro is behind this new experimental drug? As Grieves digs deeper and deeper, his superiors tell him to lay off the case, which make Grieves more and more determined to solve the murder and the origin of the new drug.
Ambro is run by the suave and smooth Todd Ambro (James Callis) along with his wife beautiful trophy wife Ellen Ambrow (Cosima Shaw). They look like squeaky clean and fair business people. But can they really be trusted? Grieves finds out that more people are on this experimental drug, and getting hooked on it. It becomes clearer and clearer that perhaps Ambro is behind this new drug and getting people hooked on it to increase their sales once the new drug is legally introduced into the market. As Grieves becomes more curious and disturbed by this new drug and the effect it is having on people, he turns to scientist Sidorov (Johathan Pryce) for help. But Grieves is just digging his own grave, he's now got henchman after him and he's put at risk his wife and 9-year-old son. Will Grieves get to the bottom of this new drug and be able to save himself and his family from the clutches of Ambro?
Call it what you will, but Narcopolis is a bit convoluted. It's a chase and detective movie with a storyline that is implausible. While it's a great looking film, with a futuristic London and cityscapes galore, there's not much more behind it. But a great-looking film does not make a for a good movie. The acting is just as bad as the script. And the film's production had to be stopped to allow a couple of the cast members to go onto pre-booked jobs. And when the film was finished, and after the editing process was completed, writer and director Justin Trefgarne decided that everything that he had shot was not working. So six months after the initial block of filming, the set was remounted and key scenes redone to make the story the way Trefgame initially intended it to be. But the reshoots and whatever else they did to it still has not helped. It's one confusing mess.
Narcopolis is now playing in UK cinemas and has been also released on DVD and Blu-ray.
Our Movie Rating
[Rating:1/5]