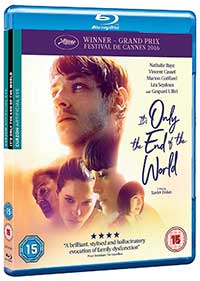 In writer/director Xavier Dolan's 2016 Cannes Film Festival Grand Prix-winning It's Only the End of the World (Juste la fin du monde) a gay playwright returns to his hometown after 12-years away to inform his family he is dying from AIDS, but the family dysfunction that he encounters sidetrack his initial plans.
Gaspard Ulliel plays the writer Louis surrounded by a brilliant cast of French heavyweights including Nathalie Baye as La mere, the family matriarch, Vincent Cassel as Antoine, Louis' hot-blooded brother, Léa Seydoux as Louis' free-spirited sister, and Marion Cotillard as Antoine's unhappily married wife Catherine.
Rather than turning It's Only the End of the World into a dismal wake for a dead man walking, so to speak, Dolan makes the film one about Louis' inability to find any actual comfort in his family during the days of his impending death. They are all so wrapped up in their narcissism they fail to even notice his frail, sickly pallor.
The film is shot in a claustrophobic, taut manner, with tight close-ups and concentrates on the individuals and their faces. Most of it takes place in the family home with brief interruptions of flashbacks, such as Louis' memory of having sex as a teenager with another young teen boy while some Euro-Electronica plays.
It's an interesting and completely French film, not always successful, but certainly a satisfy take on the old adage that one can never really go home again.
The Video
It's Only the End of the World was shot on 35mm medium and fast speed Kodak Vision3 200T 5213 and Vision3 500T 5219 film stock in the Super 35 3-perf format and comes to Blu-ray in an AVC 1080p encodement framed at 1.85:1. The transfer looks completely natural given its initial source, although the moody, often desaturated look of the film is not one that 'pops'. That said, it does look crisp and organic with good shadow nuance and detail extension.
The Audio
The French DTS-HD Master Audio 5.1 sound mix is very subtle. This dialogue-driven film is front-heavy with much of the panning occurring across the front channels and extremely mild ambience in the surround channels. There are a few musical interludes of flashback sequences with some Euro-Electronica that bring the mix alive and wake up the LFE, but otherwise, there's too much to speak about with this mix.
The Supplements
It's a heavyweight film, but this Blu-ray release from Curzon Artificial Eye is a lightweight when it comes to special features. Inly the theatrical trailer and a brief interview with the director and Marion Cotillard from the 2016 Cannes Film Festival is included.
Trailer (1.85:1; 1080p/24; 00:01:43)
Interview with Xavier Dolan and Marion Cotillard (1.78:1; 1080p/24; 00:11:31) – Cannes Film Festival, May, 2016
The Final Assessment
A wonderfully shot and acted melodrama about a dying writer seeking comfort in the family he is estranged from, but failing to find it, It's Only the End of the World is not flawless, but is certainly a film that announces writer/director Xavier Dolan as one not to be taken lightly.
[amazon_auto_links id="99611"]
Sons of Manual | MK2 Productions | France 2 Cinéma | Curzon Artificial Eye
Studios & Distributors
Xavier Dolan (screenplay) | Jean-Luc Lagarce (based on play by)
Writer
French DTS-HD MA 5.1
Audio
French LPCM 2.0 Stereo
Secondary Audio
Summary
It's Only the End of the World is a powerful melodrama with a heavyweight French cast that is taut and beautifully shot.
What people say... Login to rate
Be the first to leave a review.
Show more