Mouse-over Cover Art for Details
Click thumbnails for high-resolution 1920X1080p screen captures
(The below TheaterByte screen captures were taken directly from the Blu-ray Disc and losslessly compressed in the PNG format. There should be no loss of picture quality with this format. All screen captures should be regarded only as an approximation of the full capabilities of the Blu-ray format.
The Series
[Rating:3.5/5]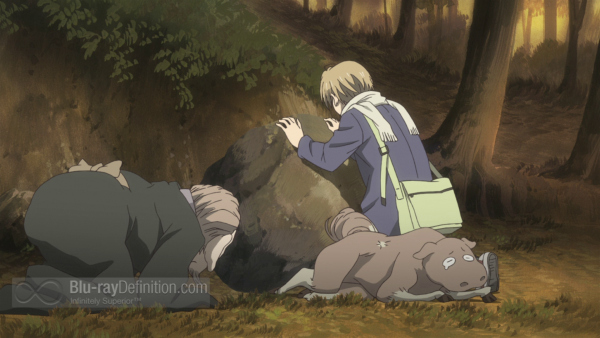 This is the fantasy series, based on the manga series of the same name by Midorikawa Yuki. What we have here is Natsume's Book of Friends: Season Four (夏目友人帳) in the Premium Edition release from NIS America. The series mainly deals with teenaged high school student Natsume Takashi who has inherited the ability to see yokai, or spirits, from his grandmother, Natsume Reiko. Natsume has also inherited one other item from his late grandmother, and that is her Book of Friends, a book containing the names of spirits Reiko had beaten into servitude to her. Now, unlike his grandmother, Natsume spends his time returning the names of the yokai in the book to their owners and releasing them from his servitude. Given the value and power of the Book of Friends amongst the yokai, however, there are some more evil yokai who want to obtain it from Natsume at all costs. This is where Natsume's constant companion, Madara, called Nyanko-sensei by Natsume, comes into play. He is a powerful yokai who acts as Natsume's bodyguard and spiritual adviser, but also has his own personal motivations towards gaining the book. Nyanko-sensei isn't transformed into his true form as a large, powerful beast, he spends most of his days alongside Natsume in the form of an oversized cat-like creature.
This fourth season unfolds pretty much along the same lines as previous seasons in the series, without much changes. We do find out that Nyanko-sensei can take the shape of a human when, in one particular episode, he changes into the form of a human female in order to help Natsume. Natsume continues his quest to return names to yokai and keep the Book of Friends out of the hands of the evil exorcist Matoba, who, at one point, has Natsume in his grasp, bit Natsume manages an escape. I did not find this season as enjoyable as the previous, if only due to it feeling a bit stuck, repetitive now. It needs some shaking up to get it out of its rut.
This series is really an easygoing, unexpectedly pleasant mixture of fantasy elements, coming of age stories, and humor. The artwork and often whimsical musical soundtrack help to offset some of the darker story elements as well. While the basic character designs are nothing cutting edge – Natsume and his school friends all look rather generic – the designs of the various yokai are admittedly inventive. They range from tiny kokeshi-like spirits, to fluidly moving ghosts, or gigantic, trollish monsters. The outdoor backgrounds are delicately applied, almost like impressionist water paintings at times, and interiors are minimalist, but well drawn.
Video Quality
[Rating:4/5]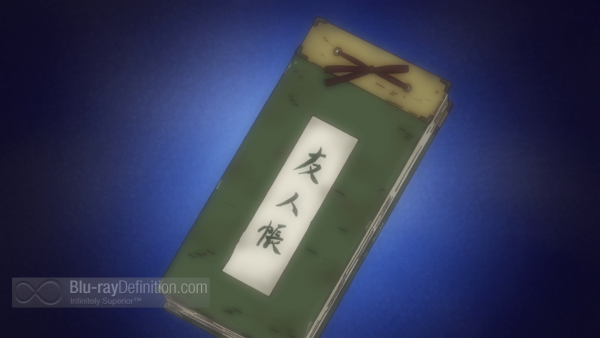 I know that it shouldn't, but this season's AVC/MPEG-4 1080p encodement to Blu-ray looked just a little bit softer to my eyes than season 3's. With only some slight banding still apparent and a good amount of color saturation, crispness around the line art, and overall contrast, Natsume's Book of Friends' digital animation still looks quite good in this release, just a notch below where it did the last time around.
Audio Quality
[Rating:4/5]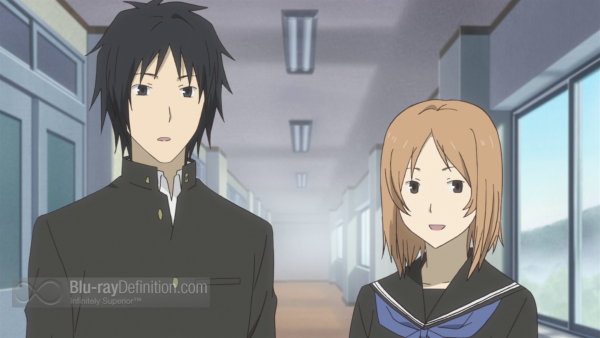 The series is provided with a solid Japanese LPCM 2.0 stereo (48kHz/16-bit) soundtrack offering up clean dialogue, a natural breadth of dynamics, and expansive stereo imaging.
Supplemental Materials
[Rating:2.5/5]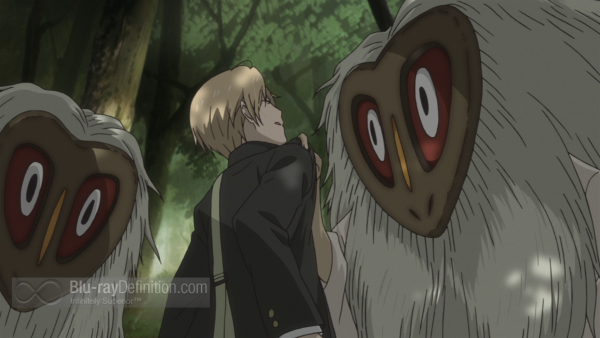 On disc extras don't amount to much here, but the real treat, as always with these Premium Editions from NIS America, is the hardcover collectible book.
The supplements:
Clean Opening
Clean Ending
Japanese Commercials (1.78:1; 1080p/24; 00:00:52)
NIS America Trailers
Book – Full color 28-page hardcover book with in-depth character bios, an episode guide, key character and background art, sketches, and Japanese DVD package illustrations.
The Definitive Word
Overall:
[Rating:3.5/5]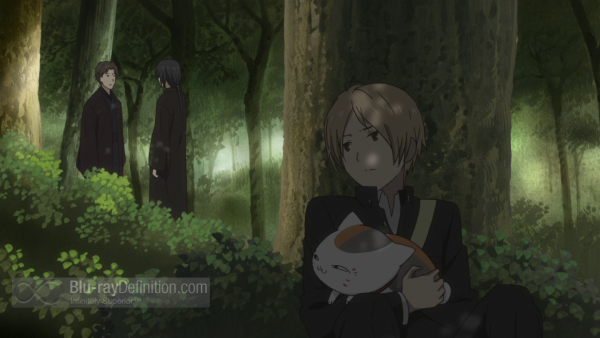 Natsume's Book of Friends stays consistent in its fourth season with no major changes and the same basic charm that made it enjoyable over previous seasons. This makes it feel a little stuck, but still worthwhile for fans nonetheless. The premium edition remains a good swag-heavy set for fans.
Additional Screen Captures
[amazon-product]B00CPSZD5C[/amazon-product]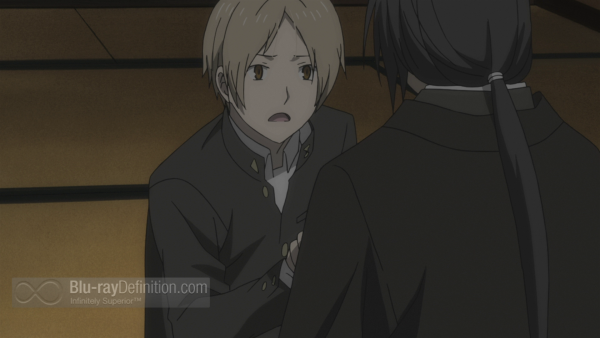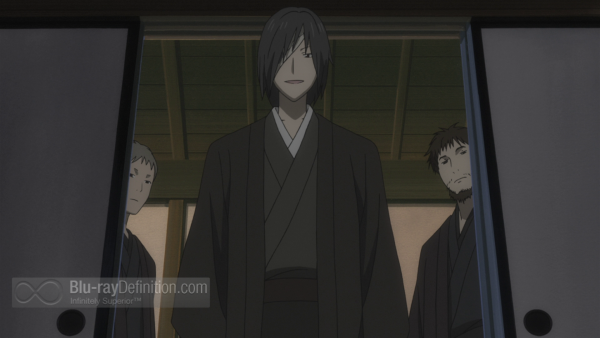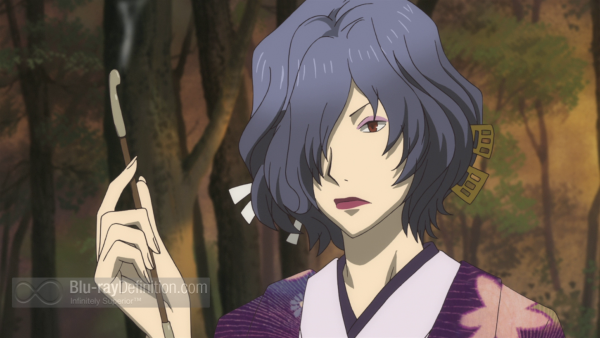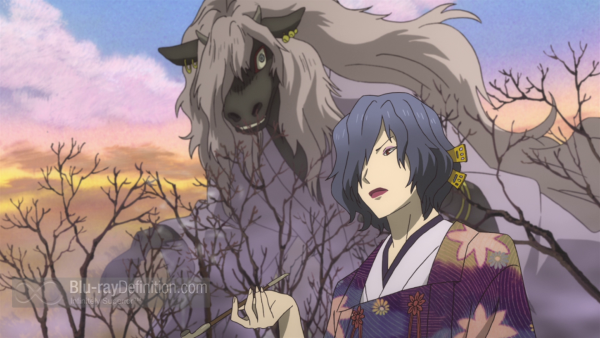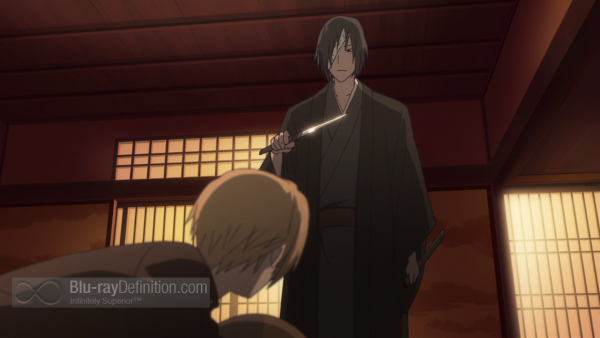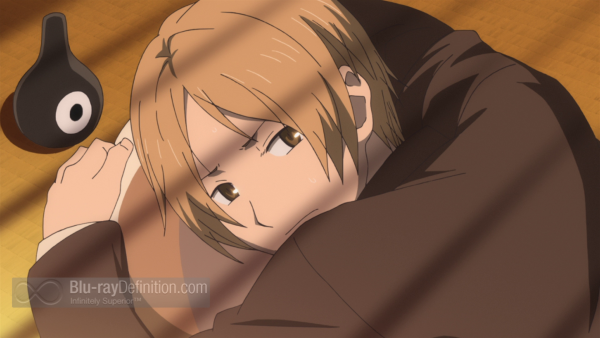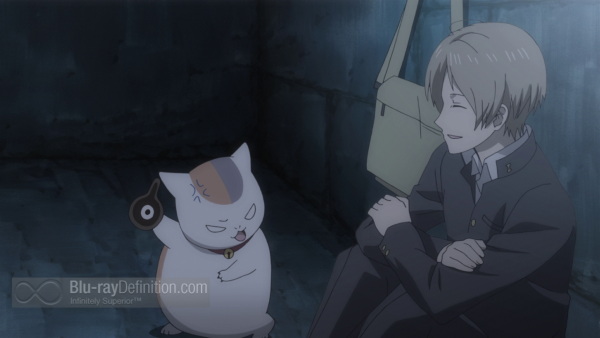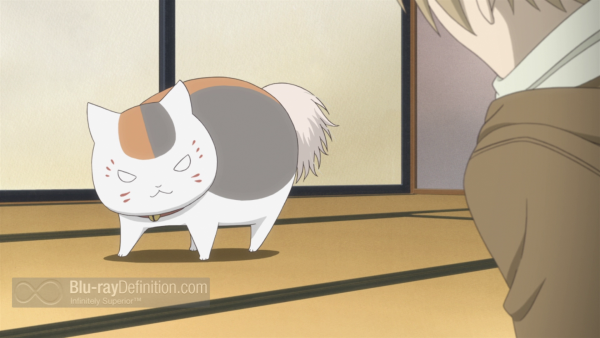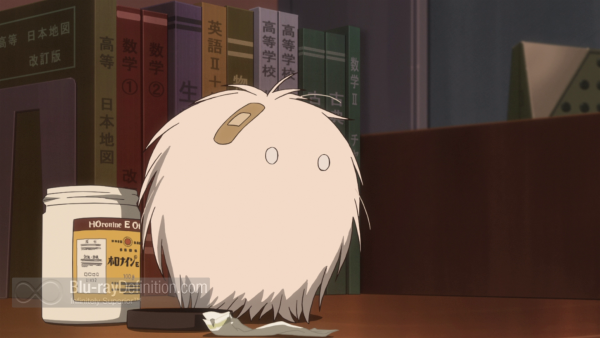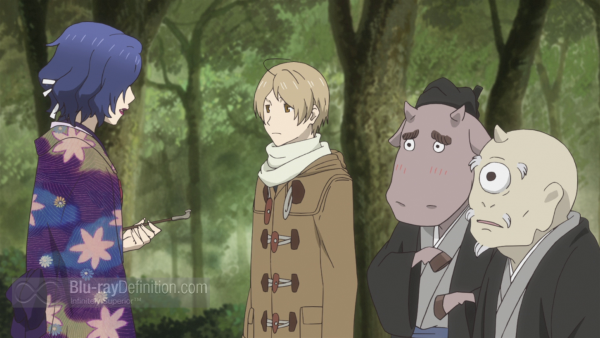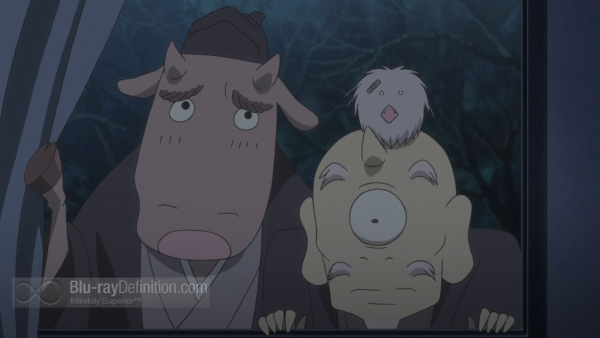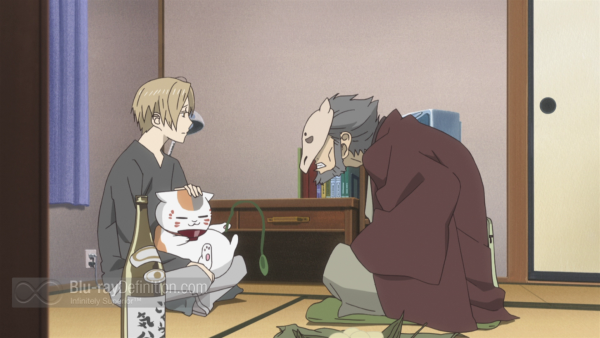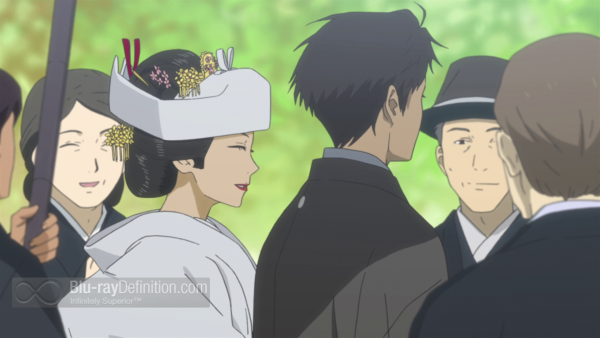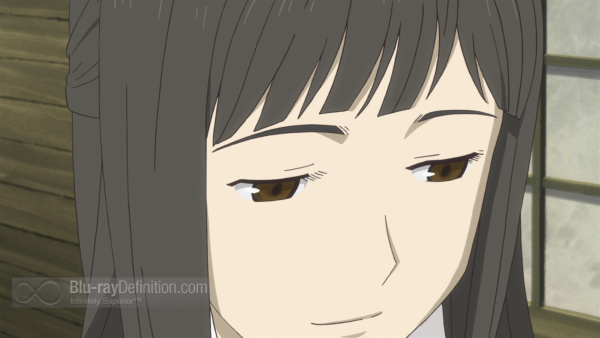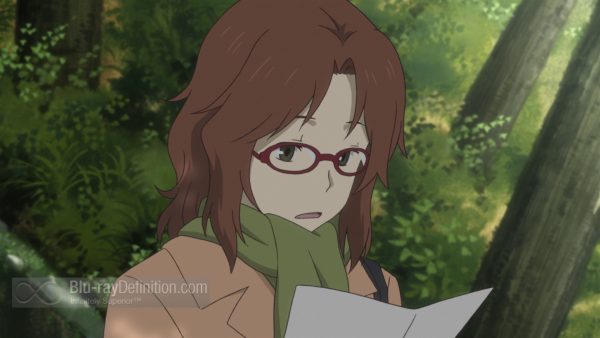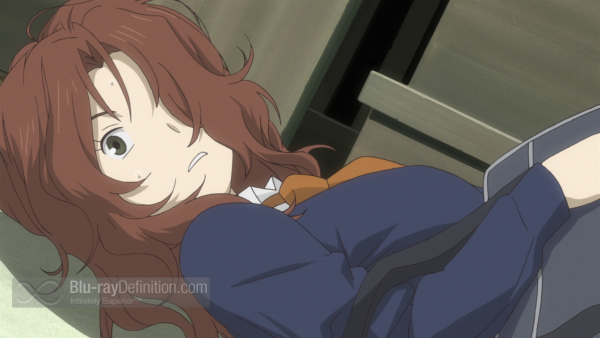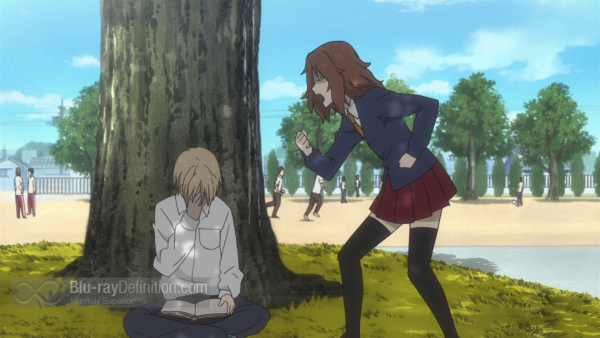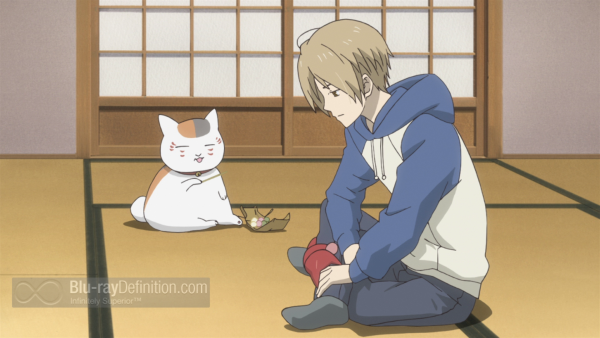 [amazon-product]B00CPSZD5C[/amazon-product]