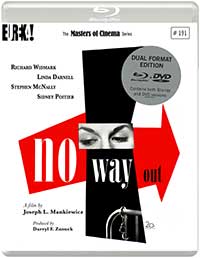 Joseph Mankiewicz's post-war film No Way Out was a bit different for the director of films like A Letter to Three Wives and All About Eve. This noir/drama delved into the racial tensions between blacks and whites that would eventually bubble up to the surface in the Civil Rights era of the 1950s and '60s.
Sidney Poitier (The Defiant Ones) stars as Dr. Luther Brooks, a black doctor who is assigned to treat two white prisoners who were just shot by the police during an attempted robbery. The racist Biddle brothers, com under his care. Ray Biddle (Richard Widmark, Kiss of Death), but his brother John dies under Luther's care. Ray is convinced Luther killed John to get back at him, but Luther is certain that John had an underlying health issue – a brain tumor – that lead to his death. Because he wants Luther to be charged with murder, Ray refuses to allow an autopsy to be done on his brother's body, and his anger at Luther spills out into the slums of the white community he grew out of. He eventually convinces John's widow Edie (Linda Darnell in a remarkably complex portrayal) to help him convince the folks in the neighborhood to help him seek vengeance on Luther and anyone else in the black part of town.
With its profuse use of "The N-word" and other archaic racial terms which Mankiewicz purposely left in the screenplay for its realism, No Way Out is an unusually gritty noir for 1950 that managed to skirt the production code of the day with some deft editing. It's frank handling of race relations and racism left it with poor box office returns and banned from many cinemas, particular in the South.
The film has grown in reputation over the years and is now considered one of the masterful noirs of the mid-20th century dealing with racism in the era.
The Video
No Way Out hits Blu-ray in a 1.37:1 AVC 1080p encodement. The master presented by Eureka looks generally clean with good contrast, but there is film softness and it is certainly grainy and can get just a bit gritty in some places.
The Audio
No Way Out comes with the original monaural mix in LPCM 2.0 mono. The dialogue is sometimes a little unintelligible and the audio can be a little boxy, but generally this is a good track given its age.
The Supplements
The on-disc special features are superb. First, we get the excellent, well-informed audio commentary by film noir historian Eddie Muller. Second, we get the 1983 two-part documentary on Joseph Mankiewicz from French TV, All About Mankiewicz. This is all worth listening to and watching.
Dual Format Edition with Blu-ray & DVD
Audio Commentary by film noir historian Eddie Muller
All About Mankiewicz – Part One (1.33:1; 1080p/24; 00:53:53)
All About Mankiewicz – Part Two (1.33:1; 1080p/24; 00:52:52)
Fox Movietone Newsreels (1.33:1; SD; 00:00:59)
Original Theatrical Trailers (1.33:1; SD; 00:02:35)
Collector's booklet featuring a new essay on the film by Glenn Kenny
Reversible Sleeve
The Final Assessment
An intense noir that offers some powerful performances from Sidney Poitier, Richard Widmark and Linda Darnell, and stark black and white imagery –literally and figuratively – No Way Out gets a satisfying Blu-ray release from Eureka Entertainment's Masters of Cinema series.
No Way Out [Masters of Cinema] is out on June 11, 2018 in Dual Format Edition from Eureka Entertainment
[amazon_link asins='B07BX6Q789′ template='ProductAd' store='theaterbyte-21′ marketplace='UK' link_id='3686099b-74d5-11e8-9ddb-bf866c644f9c']
Joseph L. Mankiewicz
Director
Joseph L. Mankiewicz | Lesser Samuels
Writer
English LPCM 2.0 Mono
Audio
Summary
When a black doctor (Sidney Poitier) is tasked with treating two white prisoners, the Biddle brothers, shot by the police during a robbery attempt, the racist Ray Biddle (Richard Widmark) refuses his treatment and his brother John dies under his care. This causes Ray to refuse an autopsy and seek vengeance for what he is sure was murder, leading to violence bubbling over in the already tense community. This 1950 noir from Joseph L. Mankiewicz was a box office failure due to its frank discussion of racism and being banned from certain theaters, but the powerful message, performances and visuals helped it to grow in reputation over the years and maintain status among critics.
What people say... Login to rate
Be the first to leave a review.
Show more