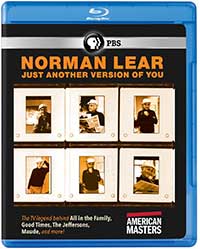 This American Masters documentary looks at the life and career of TV titan Norman Lear who is most famous for the innovative 1970s sitcoms All in the Family, Maude, Good Times, and The Jeffersons, which brought a number of social issues revolving around race, gender, and sexuality into American living rooms in a frank way that had never been seen before. While the man was certainly genius, mostly, at television for a time dominating the airwaves during the era, this documentary is more of a fawning than anything informative about a human being. This is god worship at its finest. Now at 94, Just Another Version of You whistles past the bad things in Lear's life like divorces and multi-million dollar divorce settlements, and focuses solely on his apparently wonderful marriage to his third and much younger wife, his marvelous relationship with their kids (he wasn't much around for the kids from previous marriages), and how much of a groundbreaker he was in television. And the hat; the signature hat must be mentioned as well. Now, I'm not judging Mr. Lear's life choices, what I am judging is a documentary on a person that only highlights all the good and leaves out the flaws. None of us is perfect.
The Video
The quality of the AVC 1080p encodement for Norman Lear: Just Another Version of You varies depending on the source material. The film includes a number of clips of Lear's TV shows from the '60s and '70s as well as archival photographs and these aren't always of the highest video quality, but the presentation is preserved as well as can be. The HD interview segments look good with crisp detail and natural flesh tones.
The Audio
There isn't anything special about the audio mix for this documentary and in fact they are both in lossy Dolby Digital. We get a 5.1 mix and a 2.0 stereo mix. Either is sufficient for this documentary material and presents clean dialogue with good enough stereo separation. The 5.1 mix included some mild ambience in the surround channels and subtle low end in the LFE.
The Supplements
The supplements are just additional interviews on Norman Lear and some of the works from his career. The most interesting are those relating to Mary Hartman.
Special Features (1.78:1; 1080p/24):
What do a 92 year old Jew and the world of hip hop have in #Common?
Mary Hartman Breakdown
Mary Hartman Casting
Not Dead Yet
Bill Moyers on Norman Lear
The Shrink and Syndication
The Final Assessment
If you are looking for an informative documentary on Norman Lear, then this is not it. If you'd like a retrospective of some of the great TV sitcoms that Lear was responsible for, then this is the doc for you.
Norman Lear: Just Another Version of You (TheaterByte Blu-ray Review)
PBS
Studios & Distributors
Heidi Ewing | Rachel Grady
Director
$29.99
MSRP
English DD 2.0 Stereo
Secondary Audio
Summary
This Norman Lear documentary is heavy of praise and light on detail on Lear's life, sticking mainly to his '70s TV successes.
What people say... Login to rate
Be the first to leave a review.
Show more