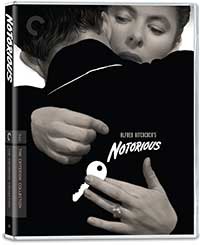 Alfred Hitchcock's 1946 work Notorious is a masterpiece of film-noir. The film stars Ingrid Bergman as Alicia Huberman, a woman who begins spiraling into an abyss of alcoholism after her father, a convicted Nazi spy, kills himself. Secret agent Devlin (Cary Grant) – it is worth noting that references to the FBI were purged from the film at the behest of then FBI director J. Edgar Hoover — is ordered to recruit Alicia's aid to spy on her friends in Brazil, including one Alexander Sebastian (Claude Rains), the head of a Brazilian neo-Nazi group. Things begin to get complicated as Devlin, aware of Alicia's not so secret past of promiscuity, finds himself both attracted to her, but also pushing her further into her personal demons to trap the people they are after and recover a cache of uranium ore —  the classic "MacGuffin" driving the plot forward in this Hitchcock film and a plot device that brought Hitch directly under the scrutiny of the FBI.
Notorious is a brilliantly executed film, one of the auteur's most masterful and mature at that point. From the suggestive subject material including a libidinous woman, alcoholism and, post-war fascism, the topics were certainly boundary pushing for 1946, but it is just that, that leads to the film's greatness. The mystery in Notorious is like intricate clockwork – a shifting mechanism of pieces that moves together effortlessly while maintaining a sense of mystery and suspense throughout each stage.
This is all set against a stunning visual aesthetic in which Hitchcock pulls no punches, laying out his signature visual style of angular shots, long-takes, and, of course, the stark black and white noir imagery. Never mind the fake Brazilian backdrops, the love scene between Bergman and Grant that takes place in front of it heats up the screen so passionately one forgets they're fully clothed and all we hear in the background are the soft splashes of waves against the shore rather than the typical swell of an orchestra.
Notorious is a classic in all senses. The performances from both leads are without reproach, and while it is a nominally a thriller, this film-noir is more a tragic romance. Whichever way you categorize it, it is must-see filmmaking at its finest.
The Video
This is a new digital restoration of Notorious undertaken by The Walt Disney Company and the Criterion Collection created in 4K resolution on a Lasergraphics Director film scanner at Warner Bros. Motion Picture Imaging in Burbank, California from three elements. The 35mm original camera negative (the primary source for the restoration) and 35mm nitrate fine-grain, both held by the Museum of Modern Art, were used, as well as a 35mm safety fine-grain held by the British Film Institute. Several areas of the original negative sustained major damage over the years and were replaced by duplicate negatives. This restoration utilized the fine-grains in place of those portions of the original negative. MTI Film' DRS was used to remove thousands of instances of dirt, debris, scratches, splices and warps manually while Dolby Vision's Phoenix was also used for further image manipulation to reduce jitter, flicker, small amounts of dirt, grain, and for noise management.
The film is presented on Blu-ray in its original aspect ratio of 1.37:1 in an AVC 1080p. The resulting restoration and transfer is nothing short of phenomenal. Notorious looks gorgeous given its vintage. The noir production really comes through here in inky blacks and whites that pop. There's a lot of detail and the various sources materials are brought together magnificently for a pleasing whole.
The Audio
The original monaural soundtrack for Notorious was first restored in 2001 from a 1954 35mm acetate release print and a 35mm nitrate fine-grain master. Criterion Collection performed additional restoration work in the soundtrack for this release using Pro Tools HD iZoTope RX. The audio is presented in LPCM 1.0. It's clear and intelligible, free from major amounts of hiss and crackle.
The Supplements
Criterion has packed this release of Notorious with an abundance of riches, including two expert audio commentaries and numerous interviews. Everything is worth going through.
Audio commentary by Hitchcock scholar Marian Keane, recorded by the Criterion Collection in 2001.
Audio commentary by film historian Rudy Behlmer, recorded by the Criterion Collection in 2001.
Once Upon a Time… "Notorious" (1.78:1; 1080i; 00:52:02) – Directed by David Thompson, this 2009 documentary made for the French DVD series Once Upon a Time… details the making of Notorious and the sociopolitical climate in which it was created. It features interviews with actors Ingrid Bergman and Isabella Rossellini; filmmakers Alfred Hitchcock, Peter Bogdanovich, Claude Chabrol, and Stephen Frears; and others.
Powerful Patterns (1.78:1; 1080p; 00;29:42) – This 2018 program by the Criterion Collection features film scholar David Bordwell analyzing the climactic final scene of Notorious, in which, he believes, all of director Alfred Hitchcock's cinematic preoccupations during this period of his career can be discovered.
Glamour and Tension (1.78:1; 1080p; 00:23:25) – Conducted in 2018 by the Criterion Collection, this interview features cinematographer John Bailey discussing the visual style of Notorious.
Writing with the Camera (1.78:1; 1080p; 00:15:54) – In this new program, featuring new and archival interviews with scholars Steven D. Katz and Bill Krohn, storyboard artists Gabriel Hardman and Harold Michelson, production designer Robert F. Boyle, and others, filmmaker Daniel Raim delves into the extensive preproduction and previsualization processes Alfred Hitchcock undertook to ensure his cinematic vision for Notorious would be realized precisely.
Lux Radio Theatre (1.78:1; 1080p; 00:59:56) – originally broadcast on January 26, 1948, this radio adaptation of Notorious features Ingrid Bergman reprising her screen role. Also appearing are Joseph Cotton, Joseph Kearns, Gerald Mohr, and Janet Scott.
Pathé Reporter Meets (1.37:1; 1080p; 00:00:48) – This 1948 newsreel, in which Alfred Hitchcock interviews Ingrid Bergman two years after the release of Notorious, evinces the chemistry between director and star.
Trailers:

A Notorious Woman of Affairs!
Gems in Her Hair and Ice in Her Heart!
Notorious! Notorious! Notorious!
All She Was Was All He Wanted

Booklet features an essay by Angelica Jade Bastien, cast and production credits, and information on the transfer.
The Final Assessment
The Walt Disney Co. and the Criterion Collection have done fantastic work bringing this Hitchcock gem back to life in this new 4K restoration on Blu-ray. The feature-packed release is a must for any cineaste.
Notorious is out on Blu-ray and DVD January 15, 2019 from the Criterion Collection
---
RKO Radio Pictures | Vanguard Films | The Criterion Collection
Studios & Distributors
$39.95
MSRP
AVC 1080p (Black & White)
Video
English LPCM 2.0 Mono
Audio
Summary
A sexy woman (Ingrid Bergman) who is spiraling into alcoholism when her father is convicted of being a Nazi spy and kills himself after World War II is recruited by a dashing secret agent (Cary Grant) to infiltrate and spy on her father's friends in Brazil, a group of neo-Nazis planing to build an atomic bomb with a cache of uranium, but sparks soon begin to fly begin the two of them complicating the mission. Notorious is one of Alfred Hitchcock's most engaging noir's, a visually stunning and mature piece of art with strong lead performances. Criterion Collection's new restoration is a must-see release.
What people say... Login to rate
Be the first to leave a review.
Show more