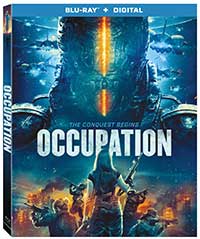 Occupation is an Australian indie sci-fi film from writer/director Luke Sparke (Red Billabong). The story doesn't take long to get right into the action. It follows a group of residents in a small Australian town who have to band together after a surprise aerial attack from an unknown force.
It turns out the attack is an alien invasion and the occupying force is taking over the entire planet. They could be the last remaining humans in the world and they could be humanity's last line of defense against the vastly superior invaders.
Occupation has some good parts and many weaknesses. While the group that assembles together – ex-con Peter (Temuera Morrison) just back together with his family, his independently-minded stepdaughter Bella (Izzy Stevens), recently pregnant nurse Vanessa (Rhiannon Fish) and her hyper-completive Aussie Rules football player boyfriend Jackson (Charles Terrier), his main rival, former captain of their team and de facto leader of their band of resistance fighters Matt (Dan Ewing), his girlfriend, Amelia (Stephany Jacobsen), homeless sketch artist Dennis (Zac Garred) and others – are interesting, their lack of backstory leaves us not really caring about what happens to them and their interactions together. Other flaws are some minor issues with the CGI visual effects. Early on, the RV the group escape the town in is fired at and swerves on the road and the effect looks obviously unrealistic.
That said, most of the action sequences are gripping, the aliens are intimidating, and there's a good overall premise. But, once again, Occupation gets in its way with its clumsy and cliché dialogue, with phrases like "Would somebody please tell me what the hell is going on!" Oh, boy.
The Video
The film arrives on Blu-ray in an AVC 1080p encodement framed at 2.39:1. The film is what looks to be a digital production and it is pleasing on Blu-ray with a fine amount of detail, natural flesh tones, and no edge enhancement, but there is a bit of color banding and slight bits of noise especially in the shadows.
The Audio
Occupation comes with a solid English DTS-HD Master Audio 5.1 mix as the sole option. While the low frequencies are just a tad anemic given all the explosions and gun fire, it is beefy enough and has good dynamic range, clear dialogue, and a nice balance of sounds mixed through the room.
The Supplements
This barebones release of Occupation from Lionsgate comes only with a Digital Copy. No featurettes or commentaries are included, but there are trailers for other Lionsgate releases.
The Final Assessment
If you can turn off your mind a bit and overlook some of its rough patches, Occupation is an okay time waster, but I would recommend renting it on VOD on a slow weekend or something.
Occupation is available on Blu-ray & DVD September 25, 2018 from Lionsgate
R (for some language)
Rating Certificate
SparkeFilms History Design | Lionsgate Home Entertainment
Studios & Distributors
Luke Sparke | Felix Williamson (additional dialogue)
Writer
$21.99
MSRP
English DTS-HD MA 5.1
Audio
English SDH | Spanish
Subtitles
Summary
A group of strangers in a small Australian town band together to fight a global alien invasion in this flawed indie sci-fi thriller that still has a lot for genre fans to enjoy.The Blu-ray is bare bones, lacking any special features, but audio and video ae more than satisfying.
What people say... Login to rate
Be the first to leave a review.
Show more