`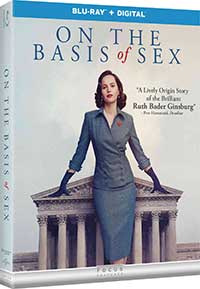 On the Basis of Sex is the 2018 biopic about the early college life and career of United States Supreme Court Justice Ruth Bader Ginsburg (played here by Felicity Jones). The film tells the true story of Ginsburg's early struggles against gender discrimination at Harvard, where she attended law school with her husband Martin Ginsburg (Armie Hammer), before later transferring to Columbia to finish her degree when Martin was diagnosed with testicular cancer. After graduation, Ginsburg would struggle to find a job in a law firm due to be a woman and would eventually have to settle for being a law professor at Rutgers.
The film then shifts forward about eleven years, to 1970, where, now an established professor, Ginsburg comes across a tax law case presented to her by her husband Martin, now a well-established tax attorney, where a bachelor is being denied a tax credit for being a caretaker for his elderly mother simply because the credit is not allowed for single men who never married. Ginsburg sees the case as an opening to finally challenge all the legal gender discrimination laws on the books in the United States that target women and manages to secure the backing of the American Civil Liberties Union in her fight. The case will lead to other cases dealing with women's equality, and her success in these early cases will help her build a career with will lead to her elevation to the Supreme Court.
As biopics go, On the Basis of Sex is neither terrible nor a revolutionary entry in the genre. It doesn't completely avoid the pitfalls of lionizing its subject, but it also doesn't sidestep Ginsburg's imperfections such as her initial weakness as an orator or her ability to rub people the wrong way with her bluntness. It also shows her at times confrontational relationship with her strong-willed daughter Jane (Cailee Spaeny), who would herself go on to teach law at Columbia.
Director Mimi Leder only has a few feature film directorial credits to her name, including 2000's Pay it Forward, but her command of the material and economy of pacing, most likely from her extensive work in television, is clear. The film's two-hours breeze by and there isn't a moment that doesn't command attention, even if at the end of it all the story feels more like the Diet Coke version of the early life of RBG.
The Video
On the Basis of Sex was originally shot on the Arri Alexa Mini and Arri Alexa SXT cameras with Panavision Primo lenses at 2.8K resolution. It is brought to Blu-ray in a wonderful AVC 1080p encodement from Focus Features. The film has a somewhat reserved color palette, perhaps to help place us in the past, so nothing 'pops' strongly, but it looks cool and surprisingly textured and filmic for a digital production. There are no issues with compression noise, banding or edge enhancement to be seen.
The Audio
On the Basis of Sex comes to Blu-ray with an English DTS-HD Master Audio 5.1 audio mix.  This is basically a dialogue-driven film, so there aren't too many moments for this mix to breakout and dazzle, but it does what it is meant to do well, and that is provide clean dialogue, a good balance of sound and the occasional atmospheric sounds such as street traffic mixed through the surround channels.
The Supplements
We get a few brief featurettes exploring the making of the film and this era of Ginsburg's life. Nothing is extremely essential viewing, and there is only a bit of information provided beyond what is shown in the film.
Movies Anywhere Digital Code — Code included for streaming or downloading from iTunes, Vudu, Prime Video, Fandango Now, Google Play, and the Movies Anywhere app.
A Supreme Team: Making On the Basis of Sex (1.78:1; 1080p; 00:06:24)
Legacy of Justice (1.78:1; 1080p; 00:03:04)
Martin and Ruth: A Loving Partnership (1.78:1; 1080p; 00:03:04)
The Final Assessment
On the Basis of Sex is a competent and enjoyable biopic following the early emergence of Ruth Bader Ginsburg as a powerful civil rights attorney. The performance from Felicity Jones is captivating and the direction from Leder is solid. This Blu-ray release provides excellent picture and sound and a decent amount of special features.
On the Basis of Sex is out on Blu-ray on April 9, 2019 from Focus Features
---
PG-13 (for some language and suggestive content)
Rating Certificate
Amblin Partners | Participant Media | Robert Cort Productions | Focus Features
Studios & Distributors
$34.98
MSRP
English DTS-HD MA 5.1
Audio
: English SDH | French | Spanish
Subtitles
English DVS | French DTS 5.1 | Spanish DTS 5.1
Secondary Audio
Summary
The early career of United States Supreme Court Justice Ruth Bader Ginsburg (Felicity Jones) as she emerges as a powerful attorney championing equal rights is examined in this competent biopic from director Meme Leder (Pay it Forward).
What people say... Login to rate
Be the first to leave a review.
Show more