– –

The Film
[Rating:4/5]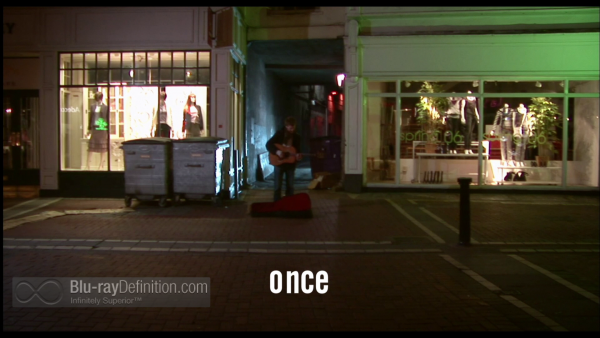 Writer/Director John Carney succeeded in updating the romance and musical film genres all at once with his 2006 film Once.
A melancholy Dublin busker (Glen Hansard) and vacuum repairman meets an immigrant florist and pianist who can't afford her own piano. An immediate friendship with a passionate musical rapport ensues after she approaches him on the street one evening and brings him her vacuum to repair the next day. Eventually their relationship evolves into something more romantic, but the duo never consummate the relationship. Instead, they continue to strengthen their musical bond to where they are playing and writing music together and she inspires the singer/songwriter to record an album with her and a few fellow street musicians.
Once very much revolves around the music, which mostly matches the mood and circumstances of the story. The songs are straight AAA material, very similar to Damien Rice or James Blunt. Mostly, however, it's a beautifully done slice of life story, a snapshot of a couple of weeks in two people's lives. John Carney is careful not to get caught in the pitfalls of a typical romantic comedy or musical drama. Despite a "meet cute" involving the vacuum cleaner, the relationship does not veer off in the direction we expect it too. The love remains unrequited and, refreshingly, the story doesn't get bogged down in the tribulations of "Guy" AKA the busker and the "Girl" trying to navigate the difficulties of the music business. It remains clearly focused on a life altering experience that the two will remember for their lifetime.
Video Quality
[Rating:3/5]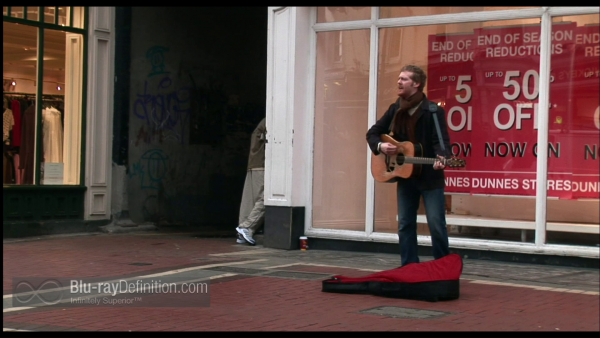 Once hails from 2006 and was also shot on an HD camera from the same era, the Sony HVR-Z1, one of the earliest "affordable" professional HD cameras. It is hardly up to the standards of the HD cameras around today from Sony, Arri, and Red, and that shows in this AVC 1080p transfer to Blu-ray from Fox. One can spot lots of banding, posterization, and heavy doses of video noise. This is not a reference quality image, but good enough for a small, low budget film on Blu-ray.
Audio Quality
[Rating:3.5/5]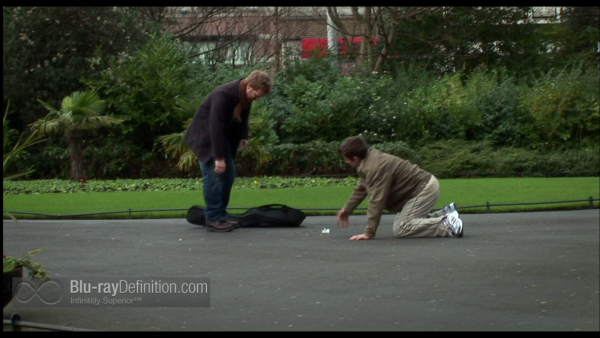 I was disappointed when I realized this musical only came with a stereo soundtrack in DTS-HD Master Audio 2.0 (48kHz/24-bit). Though it is driven by its dialogue and songs, the musical performances might have been helped along by a bit more atmosphere and low end. That said, the two-channel mix isn't bad at all. It presents clear dialogue and the music, while a little on the thin side, comes across with good warmth and separation.
Supplemental Materials
[Rating:2/5]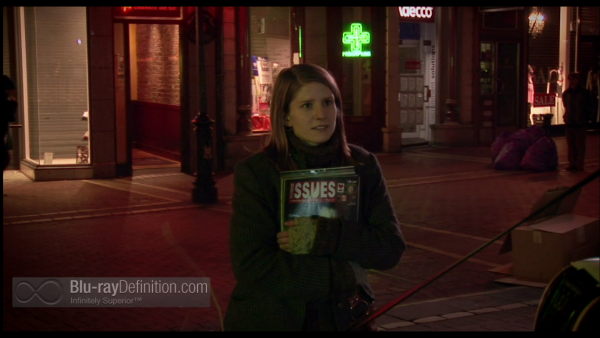 Outside of the two commentaries, everything included here is typical EPK type material.
Commentary with writer/director John Carney and actor/musicians Glen Hansard and Markéta Irglová
Musical commentary with writer/director John Carney and actor/musicians Glen Hansard and Markéta Irglová
Making a Modern Day Musical (1.33:1; SD: 00:12:43)
More Guy, More Girl (1.33:1; SD; 00:09:39)
Webisodes: Brokenhearted hoover fixer sucker guy (1.33:1; SD; 00:00:56)
The Definitive Word
Overall:
[Rating:3.5/5]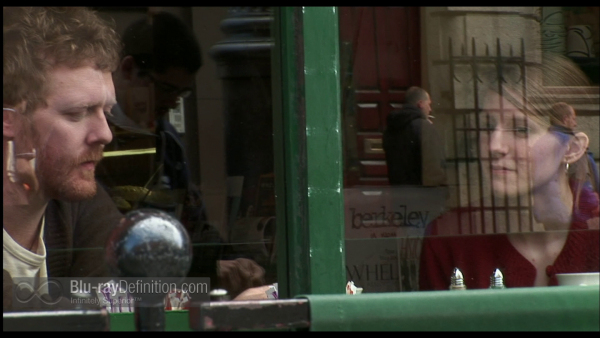 Once is a musical and emotional treasure. A different sort of slice of life film about a guy and a girl who are drawn to one another for one reason or another and profoundly changed by the experience, then ready to move on. John Carney captures the experience effortlessly and the low budget production keeps it feeling quite intimate and grounded.
Additional Screen Captures
[amazon-product]B00I6OVHHM[/amazon-product]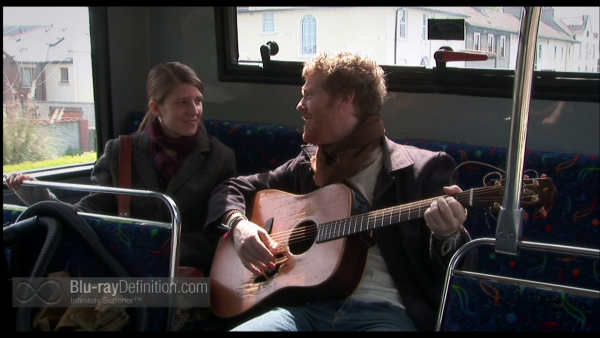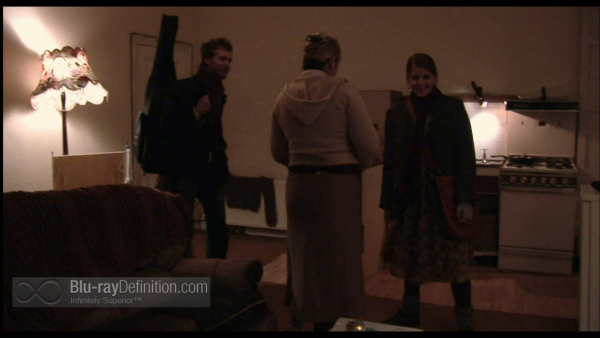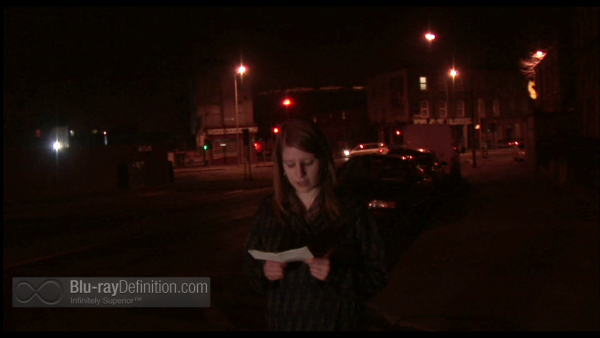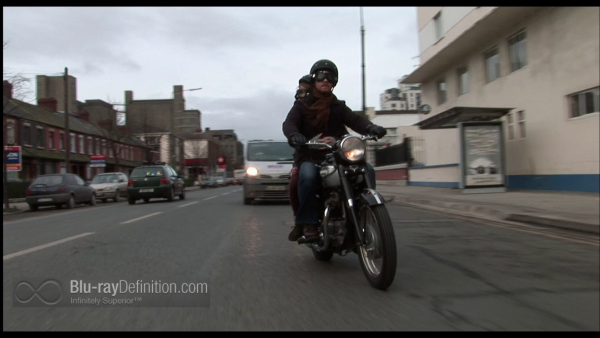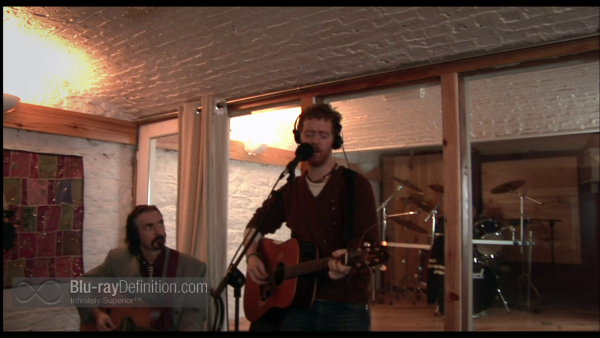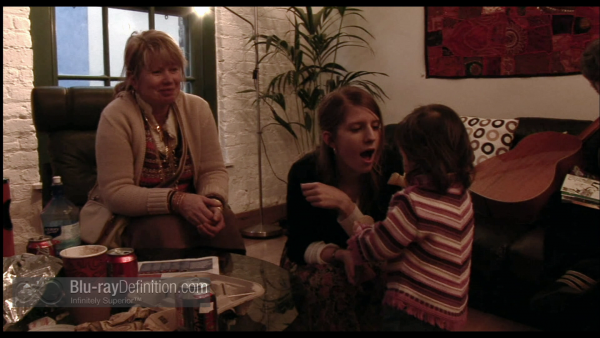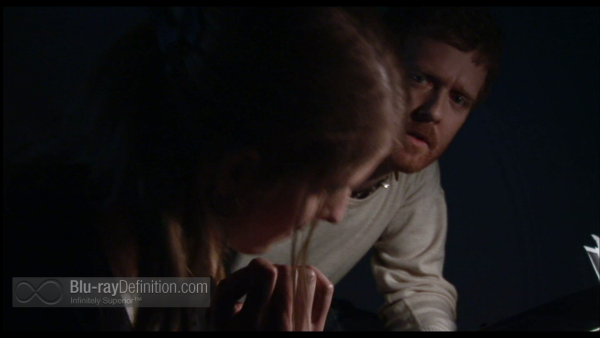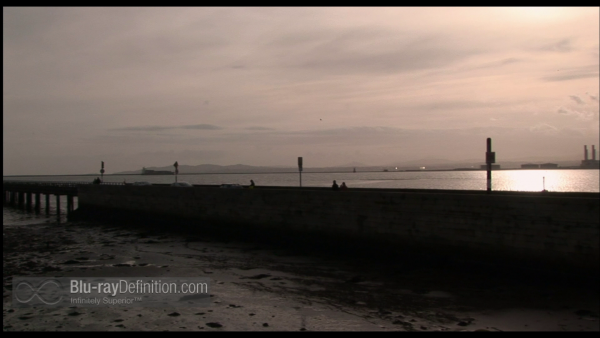 [amazon-product]B00I6OVHHM[/amazon-product]