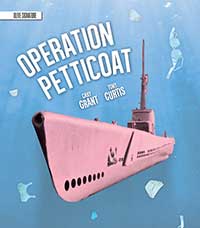 1959's Operation Petticoat pairs Cary Grant (Father Goose) and Tony Curtis (Some Like It Hot), two of the era's hottest actors, under the forces of director Blake Edwards (The Pink Panther) for a World War II farce on the high seas. Grant is Lt. Cmdr. Matt T. Sherman who finds himself partnered with Curtis, the con artist Lt. JG Nicholas Holden, in order to upright and repair the aged submarine USS Sea Tiger. Many scavenged parts later, the Sea Tiger is on its way, but when the ship is forced to divert and take onboard a group of stranded military nurses, things really things to heat up aboard. Then, when an accidental pink paint job makes them the target of both Japanese and American forces, it begins to get a little rocky even as passions rise.
Operation Petticoat was a product of Cary Grant's production company and a dream for Hollywood boardrooms that salivated at the thought of getting the now aged, but still big-ticket Grant on screen together with new Hollywood heartthrob Tony Curtis, who'd recently made his big splash with Some Like It Hot, doing his best imitation of his longtime idol Grant.
While the film is typical latter Hollywood Golden Age sugar, the performances are all up to snuff and provide for some pleasantries and plenty of laughs. Tony Curtis, with his unmistakable Brooklyn accent is a believable conman, and the ladies, such as Joan O'Brien (The Alamo), Dina Merrill (The Sundowners), are absolutely charming. Add in the beautifully filmed scenery and settings by Russell Harlan (Red River, Rio Bravo) and you get a rather delightful even if not great film.
The Video
Operation Petticoat comes to Blu-ray in an AVC 1080p encodement framed at 1.85:1. The grain is a bit coarse and there is some definite film softness and some frames where scratches can be seen, but these are relatively minor. For the most part this 1959 color film looks vibrant and in good shape for its age.
The Audio
The original monaural mix for Operation Petticoat is provided in DTS-HD 2.0 and it offers clear enough dialogue and a reasonable amount of dialogue with relatively little noise given its age.
The Supplements
There's a strong slate of special features accompanying Operation Petticoat in this release, including a magnificent audio commentary that tells a lot about the film and Cary Grant, an interview with Grant biographer Marc Elliot and interviews with actors Gavin MacLeod and Marion Ross. Everything here is informative and worth watching. The essay by critic Chris Fujiwara is also a great read.
Audio Commentary by critic Adrian Martin
"That's What Everybody Says About Me' – with Jennifer Edwards and actress Lesley Ann Warren (1.78:1; 1080p/24; 00:11:29)
"The Brave Crew of the Petticoat" – with actors Gavin MacLeod and Marion Ross (1.78:1; 1080p/24; 00:20:10)
"The Captain and His Double: Cary Grant's Struggle of the Self" – with Marc Eliot, author of Cary Grant: A Biography (1.78:1; 1080p/24; 00:28:41)
Universal Newsreel footage of Cary Grant and the opening of Operation Petticoat at the Radio City Music Hall (1.33:1; 1080p/24; 00:04:05)
Archival footage of the submarine USS Balao, which doubled as the USS Sea Tiger in the film. (1.33:1; 1080p/24; 00:17:10)
Essay by critic Chris Fujiwara appears on disc and with the included booklet
The Final Assessment
Operation Petticoat was nominated for an Academy Award for Best Original Screenplay, 1959, and this Olive Signature edition offers a perfect opportunity to see why. Set aside a lazy afternoon and check it out.
Operation Petticoat [Olive Signature] is out now on Blu-ray from Olive Films.
[amazon_auto_links id="107444"]
Universal International Pictures (UI) | Granart Company | Olive Films
Studios & Distributors
Stanley Shapiro (screenplay) | Maurice Richlin (screenplay) | Paul King (suggested by a story by) | Joseph Stone (suggested by a story by)
Writer
English DTS-HD MA 2.0 Mono
Audio
Summary
During World War II Lt. Cmdr. Matt T. Sherman (Cary Grant) must deal with a con artist second in command (Tony Curtis), a flagging submarine that's been painted pink, and a group of stranded female army nurses aboard his ship in this lighthearted, often charming Blake Edwards (The Pink Panther) directed comedy with beautiful photography from Russell Harlan (Red River, Rio Bravo).
What people say... Login to rate
Be the first to leave a review.
Show more