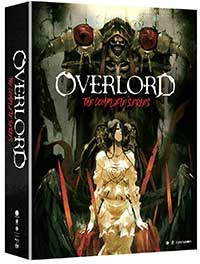 This series from Madhouse, based on the series of light novels by Maruyama Kugane, is like a wet dream for anyone who his rabidly addicted to MMORPGs. Overlord traces the male protagonist Momonga whose favorite MMORPG Yggdrasil is about to be shutdown, so on the final night he plays until the end, but when the last moments tick down on the server, something strange happens. Momonga finds himself not only still logged into the server, but actually trapped in the game itself. All of the overwhelming powers and items he acquired his has still retained, and his loyal NPCs begin to act on their own showing sentience. Rather than freak out like many people would, Momonga embraces his situation, adopts his role as the all-powerful overlord Ains Ooal Gown, and seeks to expand his dominance in this new virtual world by finding other powerful beings to defeat.
This is a quite interesting plot that explores how one person responds when given absolute power. Even though Overlord misses the opportunity to completely delve into the darker side of the human psyche by keeping Momonga pretty grounded, even when he is seemingly faced with a double-cross by one of his loyal servants that leads to a big battle to end the season.
For the most part, while the NPCs could have been expanded to show more individual personality thereby making this a much more complex series, I see were the series was going in appealing to gamers' fantasies of living out the ultimate RPG, and on that level it is a resounding success.
The animation is also superbly done with very little to complain about. The character designs mix some horror elements with kawaii and the sexier, fan service-laden, buxom designs of Momonga's lovelorn right-hand woman while also providing much detail in the backgrounds.
The Video
The AVC 1080p encodement of Overlord, framed at 1.78:1, looks pleasing enough, but there is a hint of softness to the image and the artistically applied veil or soft glow doesn't help matters. Still, with only some slight banding from time to time, there isn't much to complain about.
The Audio
Overlord gets the original Japanese-language soundtrack in Dolby TrueHD 2.0 stereo and an English dub in TrueHD 5.1. The 5.1 mix adds a good bit off atmospherics and slightly more dynamic range to the sound while the stereo mix is is good, but a little less dynamically appealing. Both voice casts do a good job overall, but Hino Satoshi sounds a bit more stentorian as Ains Ooal Gown.
The Supplements
This limited edition set from Funimation is packed with two audio commentaries, a video commentary, the usual promos, TV spots and trailers, plus a collection of limited edition art cards. It's all packed together in a glossy chipboard slipcase.
2 DVDs of the series are also included
Episode 2 Commentary
Episode 9 Commentary
Episode 13 Video Commentary
Play Play Pleiades (1.781; 1080p/24; 00:24:16)
Special Preview Collection (1.78:1; 1080p/24; 00:09:00)
Episode I Preview (00:00:35)
Promotional Videos (1.78:1; 1080p/24; 00:03:35)
TV Spots (1.78:1; 1080p/24; 00:00:49)
DVD/BD Spots (1.78:1; 1080p/24; 00:00:34)
Textless Opening Song "Clattanoia"
Textless Closing Song " L.L.L."
Funimation Trailers
The Final Assessment
One of the best gamer-focused anime series to come along in a while, it seems to capture the essence of gaming without being confusing or sacrificing plot. The character development could have been stronger, because only the protagonist seems to show significant growth, but the animation, designs, and video game references are more than enough to make up for any deficits.
Overlord: The Complete Series [Limited Edition] (TheaterByte Blu-ray Review)
Funimation Entertainment
Distributor
$84.98
MSRP
Japanese Dolby TrueHD 2.0 Stereo
Audio
English Dolby TrueHD 5.1
Secondary Audio
Summary
Gorgeous animation, wink and a nod gaming references, and a cool "NEET" protagonist should make Overlord a pretty popular series. This limited edition set is a boon for collectors as well.
What people say... Login to rate
Be the first to leave a review.
Show more