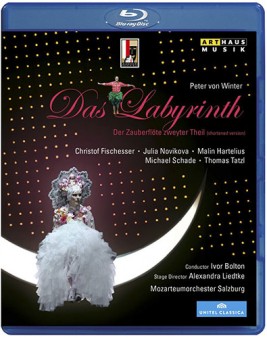 Aspect Ratio: 1.78:1
Video Codec: AVC/MPEG-4
Resolution: 1080i/60
Audio Codec: LPCM 2.0 (48kHz/24-bit), DTS-HD Master Audio 5.1 (48kHz/24-bit)
Subtitles: English, French, German, Italian, Spanish, Korean
Region: ABC (Region-Free)

Running Time: 158 minutes
Rating: Not Rated
Discs: 1 (1 x Blu-ray)
Studio: Arthaus Musik
Blu-ray Release Date: April 30, 2013
List Price: $39.99
Overall
[Rating:4/5]
The Performance
[Rating:4/5]
Video Quality
[Rating:4.5/5]
Audio Quality
[Rating:4.5/5]
Supplemental Materials
[Rating:0.5/5]
Click thumbnails for high-resolution 1920X1080p screen captures
(The below TheaterByte screen captures were taken directly from the Blu-ray Discs and losslessly compressed in the PNG format. There should be no loss of picture quality with this format. All screen captures should be regarded only as an approximation of the full capabilities of the Blu-ray format.

–
The Performance
[Rating:4/5]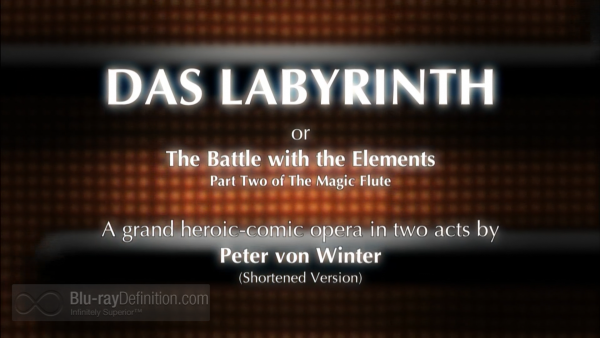 Did you know that Mozart's Die Zauberflote (The Magic Flute) had a sequel? I certainly did not nor had I ever heard of his contemporary, Peter von Winter, until I received this Blu-ray Disc premiere, Das Labyrinth oder Der Kampf mit den Elementen (The Labyrinth or the Battle with the Elements). The link between these two operas comes from their common librettist, Emanuel Schickaneder. This 2012 Summer Salzburg Festival production was staged at the Residenzhof, an outdoor venue with open seating.
Composed in 1798, Das Labyrinth's musical style is typical of the Mozart era, and, like its predecessor, this opera is a singspiel or sung/spoken opera.  Act I opens in the high priest Sarastro's (Christof Fischesser) palace before the wedding of Prince Tamino (Michael Schade) and Pamina (Malin Hartelius). The Queen of the Night (Julia Novikova), Pamina's mother, has transformed her Three Ladies (Nian Bernsteiner, Christina Daletska, and Monika Bohlnec) into Venus, Amor, and Page to break up the nuptials. She receives aid from Monostatos (Klaus Kuttler) and King Tipheus (Clemens Unterreiner) who wants Pamina for himself. Meanwhile, Tamino and Pamina must undergo another trial, surviving a trip to an underground labyrinth. Papageno (Thomas Tatzl) and Papagena (Regula Muhlermann) are also targeted by Monostatos. Despite help from Sarastro and the Priests, Pamina is abducted by the Queen of the Night.
Act II finds Papageno and Papagena successfully parted by Monostatos. Meanwhile a depressed, lonely Tamino has been unable to find his Pamina. Finally, Papageno agrees to help search for Tamino's bride. The Queen of the Night has pressured Pamina into marrying Tipheus but she refuses. When Papageno arrives to bring Pamina back to her husband, she is once again abducted, this time by the Three Ladies. Tamino has now reached the Queen's realm, assisted by Three Spirits (Paul Schrader, Benedikt Guntner, and Johannes Fiedler). He plays his magic flute and Pamina rejoins him. The Papagenos are also happily reunited.  In a battle with Tipheus, Tamino emerges victorious and reclaims his bride, a final defeat for the evil Queen.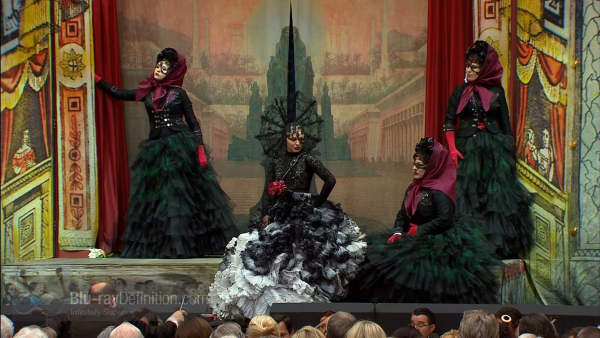 This is a charming work with familiar sounding music replete with arias and ensemble numbers. Given spritely direction by conductor Ivor Bolton, this work moves along at a quicksilver pace. With the exception of bass Fischesser, tenor Schade and soprano Hartelius, the other cast members seem to be quite young with voices that are still maturing.
Video Quality
[Rating:4.5/5]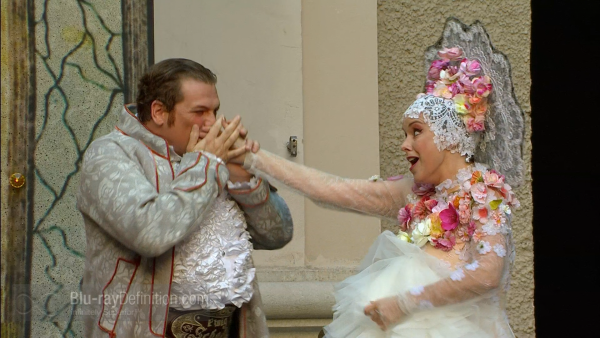 Simply put, we get absolutely superb videography that conveys the live performance in "you are there" terms.  Colors are splendid and there is plenty of eye-catching detail. In spite of the rather small stage (or lack thereof), I never felt that this was a "bargain-priced" production. Costumes are a range of styles and periods with delightful bird-creature dress for the Papagenos and slinky black gowns for the Queen and her court.
Audio Quality
[Rating:4.5/5]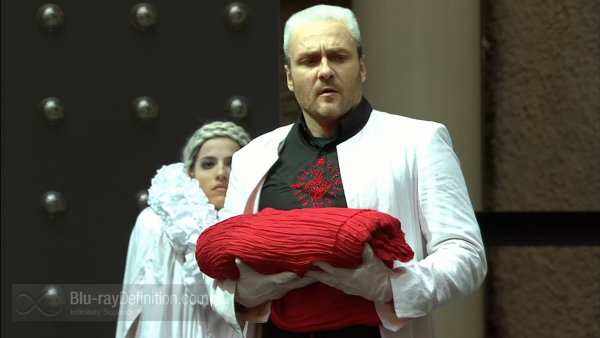 Considering that this was an outdoor performance with miked singers and a small orchestra in the pit, the balance is excellent. And yes, glockenspiel fanciers can rejoice; there is one here in abundance. The surround soundtrack was quite lively and warm. The two-channel version was very listenable albeit less airy and focused.
Supplemental Materials
[Rating:0.5/5]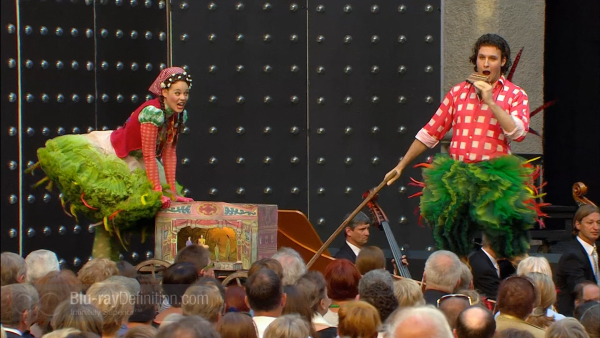 The accompanying booklet provides a nice backstory on this opera, its composer, and includes a detailed plot synopsis. Unfortunately, except for trailers, we get nothing else.
The Definitive Word
Overall:
[Rating:4/5]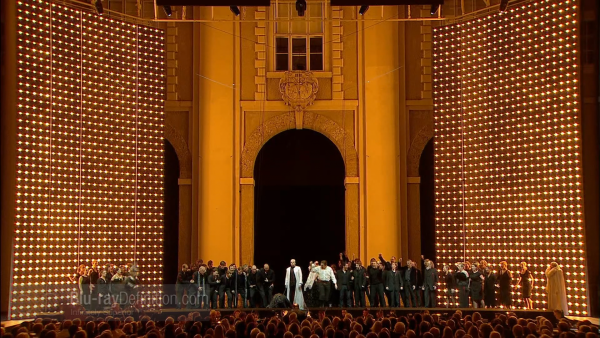 Discovering a "new" opera can be a most enjoyable experience and Das Labyrinth easily qualifies for this category. Granted, there is some unevenness in the singing particularly when leads Hartelius and Schade bring such a depth of stage experience to their roles, thus making some of the other singers appear to be at more of a novice level.  This is not a major gripe since there is so much to enjoy here. Clever staging, great videography and sound recording, and secure musical direction make for two and a half hours that will pass by at the virtual speed of light. No doubt, there are many shadows of the Mozart oeuvre cast over this opera written by a virtually forgotten composer who, in his day, was actually quite successful. I can assure opera fans that this Blu-ray disc will be the only way to see this work for the foreseeable future. If you cannot get enough of The Magic Flute, take a chance on this sequel and come away delighted as I was.
Additional Screen Captures
[amazon-product region="uk" tracking_id="bluraydefinit-21″]B00BK6HRY0[/amazon-product]
[amazon-product region="ca" tracking_id="bluraydefinit-20″]B00BK6HRY0[/amazon-product]
[amazon-product]B00BK6HRY0[/amazon-product]
Shop for more Blu-ray titles on Amazon.com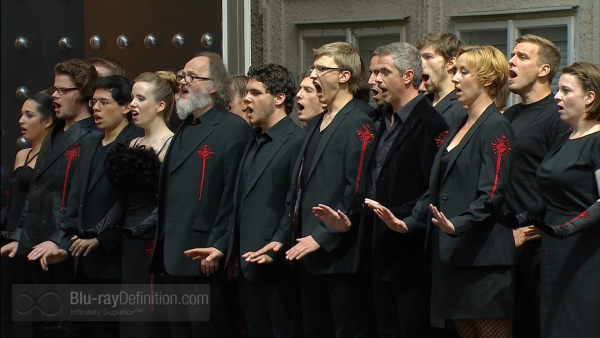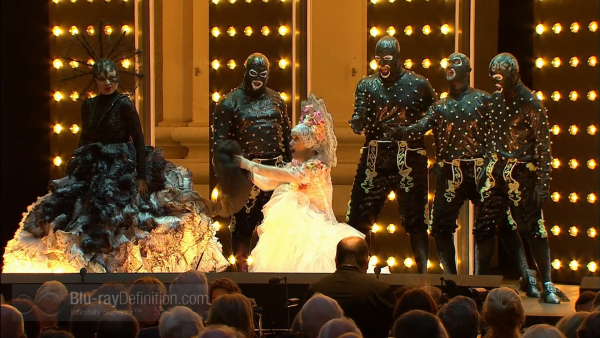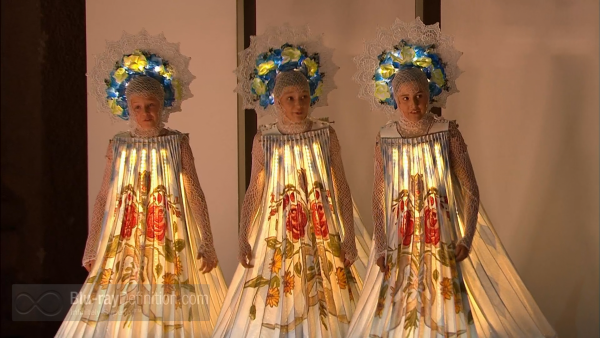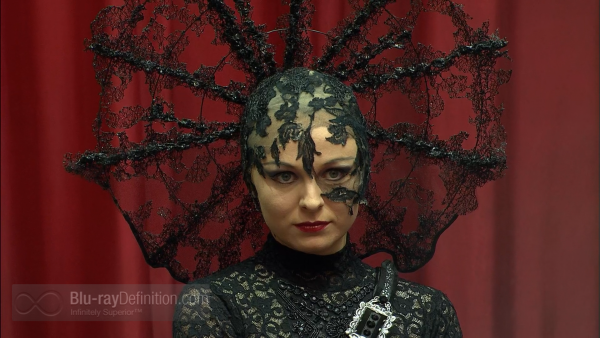 [amazon-product region="uk" tracking_id="bluraydefinit-21″]B00BK6HRY0[/amazon-product]
[amazon-product region="ca" tracking_id="bluraydefinit-20″]B00BK6HRY0[/amazon-product]
[amazon-product]B00BK6HRY0[/amazon-product]
Shop for more Blu-ray titles on Amazon.com
 Overall
[Rating:4/5]
The Performance
[Rating:4/5]
Video Quality
[Rating:4.5/5]
Audio Quality
[Rating:4.5/5]
Supplemental Materials
[Rating:0.5/5]