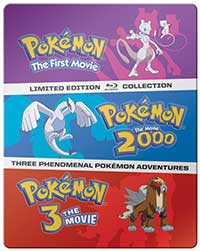 This three-disc collection brings together three theatrical Pokémon adventures following Ash, Pikachu and their friends and usual foes.
The first film, Pokémon the First Movie introduces the bio-engineered Pokémon Mewto who, after escaping the lab where he was created, is determined to prove its superiority. Mewto lures Trainers and Pokémon from all over the world to his island lair for a battle royale like never seen, but Ash, Pikachu, and his pals all start to worry after they realize Mewto's plans for world domination.
Pokémon the Movie 2000 finds Ash and the gang summoned to Orange Islands south of Kanto where a Trainer named Lawrence is on a quest to capture the legendary trio of Pokémon Articuno, Zapdos, and Moltres to awaken Lugia, guardian of the sea. When Ash and his friends arrive, they are tasked by the islanders to locate three elemental orbs from three separate islands and they notice that the captured legendary trio has thrown the entire world's environment out of balance. It becomes abundantly clear that they must recover the orbs to save the planet.
Finally, in the last of the three films, Pokémon the Movie 3, Ash, Pikachu, and friends must rescue Ash's mom after she is kidnapped into the strange dreamworld of a girl whose dreams are turning into a nightmarish reality.
The premise of each of these three films isn't too difficult to follow. The Trainers, led by Ash and the ever-popular Pikachu encounter a serious a danger that threatens the world. They must overcome the challenge and their fears using all of their abilities to save the day. The films have the same easygoing mixture of comedy, adventure, and sci-fi as the series and are ret lighthearted fun for kids and older anime fans looking to for something a bit nostalgic and a little less serious.
The Video
Each film in this Pokémon limited edition collection arrives with a 1.85:1 AVC 1080p encodement on Blu-ray from Viz Media. While they aren't all absolutely flawless reference quality, they do look good and consistent given the spread in age. All three films seem have had a bit of DNR applied and look a tad softened, but they remain natural looking with some grain present and hints of sparkle. The final film in the collection, Pokémon 3, is the best looking of the bunch with the cleanest imagery and the most vibrant colors.
The Audio
All three films are given the dubbed English DTS-HD Master Audio 2.0 stereo mixes that sound poor to average, but Pokémon the Movie 2000 is off. The sound favors the right channel so much that, at first, I thought perhaps there was something wrong with my sound system. I realized soon enough that this is just how it is. Dialogue manages to come through centered perfectly. But discrete sound effects and music all favor the right channel. Even the opening theme song had the vocals coming mainly from the right channel. I don't know if this was an oversight or as intended, but it is very distracting. Pokémon 3 the Movie has an extremely narrow stereo mix. Also missing in their entirety are the original Japanese-language tracks and English subtitles, which purists will likely miss.
The Supplements
This collection from Viz Media contains no supplements whatsoever, but it does come in a shiny collectible Steelbook case.
The Final Assessment
This Limited Edition Collection doesn't offer anything outside of its steelbook case and good , but not great, video transfer. The audio is below average on two of the releases and there are no extras. Still, if you are a fan of the Pokémon franchise, having these three films together in decent quality video transfers are a good thing. Too bad they couldn't see fit to include the Japanese tracks and any extras at all.
Pokémon: The Movies 1-3 Steelbook Collection (TheaterByte Blu-ray Review)
Viz Media
Studios & Distributors
$39.99
MSRP
English DTS-HD Master Audio 2.0 Stereo
Audio
Summary
This Pokémon three-movie collection has pleasing video transfers, but disappoints with its lack of extras and Japanese-language tracks.
What people say... Login to rate
Be the first to leave a review.
Show more