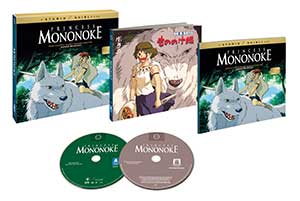 Miyazaki Hayao's 1997 ecological epic Princess Mononoke (もののけ姫) was the great animator's first real breakthrough outside of Japan is a wonderful fantasy, visually and thematically. The story pits the modern world against the old, mankind against nature, and places at the center of it an unlikely love story between two young people caught on either side.
When his village is attacked by an ancient wild boar-turned demon, Ashitaka finds himself infected by the demon's essence and must travel to the forest of the Deer God to find a cure. On the outskirts of the forest he finds the mining colony Tatara, run by Lady Eboshi, who is determined to wipe out the forest, all of its animals, and its old gods. Meanwhile, in the forest, the old, sentient animals – wolves, boar, apes – are at odds with one another over the human threat, but one young woman, San, Mononoke-hime, a human girl raised by wolves, is determined to kill Lady Eboshi and defend her clan and the forest. Ashitaka finds himself caught in the middle of the fight between Lady Eboshi, Mononoke-hime, and the animals of the forest while trying to find his cure from the great and elusive Deer God.
With its beautiful and signature animation style, a riveting blend of action, adventure, fantasy, and young romance, Princess Mononoke has broad appeal and is one of the most beloved films from the powerhouse Japanese animation studio Studio Ghibli.
The English dub, translated by Neil Gaiman, author of Anansi Boys and American Gods (now a Starz TV series), features a star-studded voice cast, including Billy Crudup as Ashitaka, Billy Bob Thornton as Jigo, Minnie Driver as Lady Eboshi, Claire Danes as San, Jada Pinkett Smith as Toki, and Gillian Anderson as Moro.
The Video
Princess Mononoke arrives in this Blu-ray release in an AVC 1080p encodement framed at 1.85:1. This is the same transfer from the previous Shout! Factory/GKIDS release which looks magnificent. The color and detail in this presentation is beautiful, with a natural, organic layer of film grain still present, while the picture is clean and free from source damage.
The Audio
Princess Mononoke has always sounded excellent on Blu-ray and that continues with this Collector's Edition from Shout! Factory/GKIDS. The original Japanese-language track and the star-studded English dub translated by Neil Gaiman are both included in DTS-HD Master Audio 5.1. They are both lush with atmospherics, have good amounts of solid sound effects mixed through the surround channels, the low-end, while it does not blow up the china cabinet, is meaty and full, and dialogue is clean.
The Supplements
This Collector's Edition of Princess Mononoke is packed with cool on-disc special features and collector's items, like a 40-page book and CD soundtrack. It's all housed in a gorgeous hard slipcover.
Feature-Length Storyboards
Princess Mononoke in USA (1.78:1; 1080i; 00:19:55) (Japanese)
Behind the Microphone (1.78:1; SD; 00:05:13) – A look at the English voice cast and crew
Original Theatrical Trailers (1.78:1; 1080p;00:16:36)
TV Spots (1.33:1; SD; 00:13:32)
CD Soundtrack
40-page book features new essays by film critic Glenn Kenny (The New York Times, RogerEbert.com), alongside imagery and statements from director Miyazaki Hayao and producer Suzuki Toshio, and Miyazaki's poems about the characters.
The Final Assessment
Princess Mononoke is a beautiful film to watch and skips by in a blink of an eye given its quick pace and captivating characters. It is dense with intricate artwork, complex characters, and a colorful visual palette. This new release isn't a new restoration over the previous issue from Shout! Factory/GKIDS, but it is a wonderful edition for collectors and looks and sounds amazeballs!
Princess Mononoke Collector's Edition is out May 14, 2019 from Shout! Factory/GKIDS
[amazon_link asins='B07NRF9S54′ template='ProductCarousel' store='theaterbyte-20′ marketplace='US' link_id='9c71e720-870e-4e45-ac4c-d0082d4881ef']
---
Studio Ghibli
Animation Studio
Shout! Factory | GKIDS
Distributor
Miyazaki Hayao | Neil Gaiman (adapted by: English version) 3
Writer
Japanese DTS-HD MA 5.1
Audio
English DTS-HD MA 5.1
Secondary Audio
English SDH | English for Original Language Version | French
Subtitles
PG-13 (for images of violence and gore)
Rating Certificate
Summary
While on a journey to find a cure for a curse from a demon, Ashitaka becomes embroiled in a battle between forest gods and Lady Eboshi, the ruler of a powerful mining colony, who wants to kill them all and control the forests for herself. Miyazaki Hayao's 1997 classic anime feature film is lush with detailed artwork, complex characters, and masterful sound design. The collector's edition is housed in a beautiful hardcover slipcase, comes with a 40-page book with essays and artwork, and a CD of the soundtrack.
What people say... Login to rate
Be the first to leave a review.
Show more