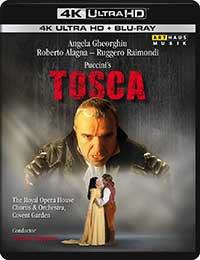 French film director Benoit Jacquot reimagined Giacomo Puccini's operatic masterpiece in a 2001 film that has now been upscaled to 4K Ultra HD for this re-release. Famously referred to as a "shabby little shocker" by musicologist Joseph Kerman, Tosca is in its second century of staged performances of which this filmed version is most definitely not. Maestro Antonio Pappano, one of the great opera conductors of the present times, leads his familiar Royal Opera House forces in support of what must have been considered an "all-star" cast sixteen years ago.
Like many operas, this one involves a love triangle: opera singer Floria Tosca (Angela Gheorghiu), her lover, the painter Mario Cavaradossi (Roberto Alagna), and the malevolent chief of police Baron Scarpia (Ruggiero Raimondi). The three acts cover a single afternoon, evening, and morning from June 17 to June 18.
The Sant'Andrea della Valle church finds Cesare Angelotti (Marizio Muraro), a political prisoner, hiding in the Attavanti chapel. Cavaradossi is painting the Madonna as his assistant Sacristan (Enrico Fissore) is waiting to make off with the artist's lunch. Tosca arrives to set up an assignation with Cavaradossi and when she leaves, he discovers Angelotti and offers him a safe haven. Baron Scarpia, accompanied by his aide Spoleta (David Cangelosi), pursues Angelotti, and then plans to kill the painter and have the singer to himself.
Scarpia waits for Tosca to finish her performance and has already arrested Mario. When Tosca arrives and hears her lover's moans, she reveals Angelotti's location. Later, Scarpia brokers a deal with Tosca: her favors for a safe conduct passage for her and Mario, after he has staged a fake execution. Tosca gets Scarpia's letter and then stabs the police chief to death. Mario is awaiting the firing squad when Floria arrives and tells him about the "arrangement." The soldiers assemble and shoot Cavaradossi, but when Tosca tries to revive him, she realizes that Scarpia has betrayed her. Before the guards can arrest her, Tosca jumps to her death from the parapet of the Castel Sant'Angelo.
From a vocal standpoint, this is as good as it gets. The chemistry between Alagna and Gheorghiu, then husband and wife in real life, is white-hot and Raimondi is the embodiment of absolute evil. Maestro Pappano paces this one deftly and gives excellent support to the singers. For the most part, when director Jacquot lets this Tosca play as a conventional opera it is sensational. However, his cuts to the black-and-white studio sessions like the big choral conclusion of Act I and the blurry outside shots are serious missteps that will turn off traditional operaphiles. The brief interjected spoken passages (not in the libretto) are yet another distraction. Absent these regie-theater distractions, this is a stunning performance.
The Video
The cameras treat this opera as a chamber work in which there are more closeups than the eye can count placed against a stark black background. The "set" is a church in Koln, Germany but remains pretty much out of the picture. The 4K Ultra HD picture from a 35 mm source is terrific and makes the singers literally pop out of the screen. The Blu-ray is nearly as good and perhaps a tad more filmic with less emphasis on detail.
The Audio
This is a studio recording with dubbed-in vocals but with the exceptions when the singers' lips are closed and we get "inner dialogue," the synchronization is nearly flawless. There is not much to choose from between the two-channel and surround soundtracks since nearly everything is upfront. That said, the treatment of the voices is top-notch.
The Supplements
A slim program booklet with cast and production credits, track listings and a background essay and synopsis is all that Arthaus Musik gives us.
The Final Assessment
There is no shortage of Blu-ray Toscas including one with the same musical forces led by Maestro Pappano and featuring Gheorghiu, Jonas Kauffmann, and Bryn Terfel. Going for this one will depend on whether the studio cutaways and deliberately blurry outdoor scenes will be off-putting issues, particularly when these images offset the visual advantages of a 4K Ultra HD remastering. Hopefully, the 4K-barrier for opera performances, now breached, will be expanded to give us better realizations of staged masterpieces.
Tosca is out now on 4K Ultra HD Combo Pack from ArthausMusik
[amazon_auto_links id="107825"]
Not Rated
Rating Certificate
Arthaus Musik
Studios & Distributors
$39.98
MSRP
HEVC (H.265) 2160p (4K) | AVC 1080p (Blu-ray)
Video
DTS-HD MA 5.1
Primary Audio
LPCM 2.0 Stereo
Secondary Audio
Italian | English | French | German | Spanish | Korean | Japanese
Subtitles
HDR Effect (If Applicable)
Summary
A 4K premiere for an evergreen Puccini masterpiece that features excellent vocals and a directorial approach that may not please traditional operagoers.
What people say... Login to rate
Be the first to leave a review.
Show more