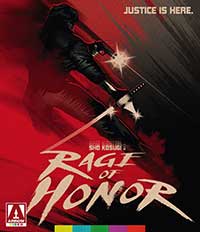 Rage of Honor is a latter 1980's martial arts action film starring Sho Kosugi as a United States federal agent who lives for his career and not his social life. After a drug bust goes wrong Shiro (Sho Kosugi) and his partner is killed – he ends up on a mission to track those responsible down and hand them some personal vengeance…of the "ninja" variety.
I kid about the ninja part obviously, but Shiro is quite proficient in several martial arts disciplines, weapons, tactics, etc. Shiro will be taken all over the world into parts unknown and such while laying waste to many foot soldiers of this crime syndicate that is spreading drug and filth on the city streets.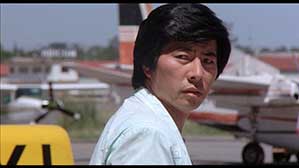 I remember watching Rage of Honor as a kid and I had gone through a "ninja movie" phase and thought Sho Kosugi was a ninja God. The marketing and artwork for Rage of Honor leads one to make that assumption but it's not necessarily true. At this point in his career – Sho wanted to be taken a bit more serious and not necessarily as that "ninja guy" but as a more viable action hero that American audiences could embrace. That's why we see Sho playing an American Federal Agent and not a shadowy ninja figure. He also has a pretty female love interest as opposed to being a loner.
I don't think it worked out all that great in that respect, because the film and Shiro are awfully incongruent. The dialogue is quite laughable and the acting is cheese ball. Yes, it's a cheesy 1980's film, so what do you expect, right? Well, Sho's fighting abilities are what makes the film shine and it's too bad that that's all that shines in Rage of Honor. It is a product of its times but I am glad that a studio like Arrow Films has dug it out of relative obscurity, so that some of the masses out there may give it another look. Outside of the martial arts sequences and Sho Kosugi there really isn't all that much to see here, in my opinion. You can give it a skip unless you're a serious Sho Kosugi/ninja fan – even then I should warn you, again, that it's not a ninja film.
The Video
Rage of Honor is presented in 1080p, 1.85:1. The film is almost 30-years-old, but this fine print sourced from materials from MGM Studios is rather nice. Grain structure is consistent throughout and so are the sharpness and contrast levels. Dirt and scratches do creep up once in a while and the color levels are nicely balanced, with no signs of banding or pixilation. The transfer benefits from shooting in exotic locations around the world.
The Audio
Rage of Honor is presented in LPCM 2.0. The soundtrack is typical of a cheesy 1980's martial arts actioner. The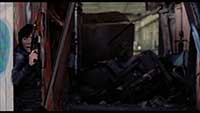 sound field is split to the front channels, which handle dialogue and action. Depth is poor and lacks true separation. It is what it is and it's the best we've got. The action scenes could have benefitted from a nice lossless surround push but no dice.
The Supplements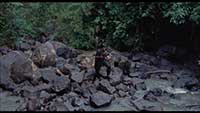 There are a few special features on this Blu-ray, with Part 2 of an interview with Sho Kosugi that was started on a previously released Arrow Films Blu-ray. Sho is a gentleman and a sweetheart of a human being. I could listen to him all day. He talks about his life's experiences, current training regiment, and projects for the future. It's a really cool segment and was filmed in Japan a few months ago.
High Definition Blu-ray (1080p) presentation from a transfer of original elements by MGM
Optional English SDH subtitles for the deaf and hard of hearing
Sho and Tell Part 2: The Domination brand new interview with star Sho Kosugi on Rage of Honor and the later stages of his film career (HD)
Sho Kosugi Trailer Gallery: Enter the Ninja (1981), Revenge of the Ninja (1983), Pray for Death (1985) and Rage of Honor (1987) (HD)
Reversible sleeve featuring original and newly commissioned artwork by Matthew Griffin
The first pressing includes a collector s booklet featuring new writing on the film and an extract from Kosugi s upcoming book
The Final Assessment
I've always been a fan of Sho Kosugi but he didn't necessarily appear in the best films. This Blu-ray release from Arrow Films is essentially the best release out there to date
. The video and audio are about average and the special features hold their own. If you are not a ninja completest then you could go ahead and skip it but if you're a die-hard Sho Kosugi fan then this Blu-ray belongs in your collection.
Rage of Honor (TheaterByte Blu-ray Review)
R (for action violence)
Rating Certificate
Arrow Video
Studios & Distributors
Robert Short, Wallace C. Bennett
Writer
$29.95
MSRP
Summary
Rage of Honor will be only for the ninja completists and die-hard Sho Kosugi fans. Despite the acceptable picture and sound on what is a feature-rich set, this one can safely be passed over.
What people say... Login to rate
Be the first to leave a review.
Show more