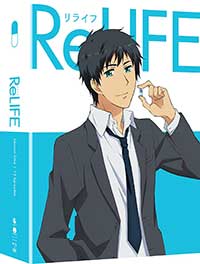 ReLIFE: Season One is based on the Japanese sci-fi drama seinen web manga series written and illustrated by Yayoiso. In some ways this series is quite inventive – it revolves around an unmotivated 27-year-old male protagonist, Arata Kaizaki, who has been basically unemployed and not living up to his potential ever since quitting his job at a 'black company' (an exploitative business, akin to a sweat shop, but in an office setting). Kaizaki is given an opportunity by a mysterious corporation's scout to join an experimental project called "ReLIFE" where taking a pill will make him outwardly appear ten years younger. In exchange, he will be given one full year of living expenses, but he must re-enter high school as a third year student and be observed by his handler, Yoake Ryō.
This premise is one of the more original I have come across in anime recently and is fertile ground for a lot of possibilities. That said, it's not as if we haven seen these sorts of age defying devices before in other genres, but they often go in the opposite direction, most famously as portrayed by Tom Hanks in Big or Jennifer Garner in 13 Going on 30. In an anime setting, however, this twenty-something going undercover in high school is a tricky proposition, especially given the genre's proclivities toward often less than appropriate loli goth and brocon/siscon. This sets up some odd situations in ReLIFE, because, although it is inventive in ways, it also falls back on some tried and true tropes.
Arata Kaizaki does in facts find himself back in high school so ReLIFE becomes basically a high school anime series with a 27-year-old in the guise of a 17-year-old surrounded by a bunch of hormonal teens. Oh what will Kaizaki do? For one thing, he becomes fascinated with his highly intelligent, but socially awkward classmate Hishiro Chizuru, and must keep reminding himself that she's only 17. When left alone in his apartment with another classmate who makes sexual advances– An Onoya, a girl who has been failing all of her tests just like he has and is forced to do the same make-up exams – Kaizaki almost gives in to temptation before politely telling her he can't. But – SPOILER ALERT – she turns out to be his junior observer.
Those awkward moments and the series' fallback on some tried and true anime tropes aside, the strengths of the show outweigh the minor issues. Those strengths include how ReLIFE delves into what one might do if given the opportunity to reorder their life, revisit their past in a way, particular at that crucial crossroad in life in their late-twenties when you're not very young anymore, but not quite old enough for your future to be set in stone. It isn't just Kaizaki who's life is changed by this ReLIFE program, but Kaizaki must decide how much he wants to excerpt an influence over the impressionable youngsters he has been put together with once more, such as Rena Kariu, his classmate who has begun to develop a seething jealously of Chizuru who beat her out as class representative. Kaizaki notices it, but is it better to let things play out so Kariu can learn from her own mistakes or to save her from making a terrible mistake that could ruin her life?
The animation in this ReLIFE is solid. The character designs are consistent with what one sees in most high school series and backgrounds are somewhat detailed, although I wouldn't call the imagery in this series groundbreaking or stunning. It's satisfying and steady with no major flaws. It varies between straightforward design and whimsical.
The Video
We get a relatively crisp and clean 1.78:1 AVC 1080p encodement of ReLIFE: Season One on Blu-ray from Funimation. There are only mild hints of color banding on occasion that can be spotted in the color fills and backgrounds and slight hints of noise, but these things are not very obtrusive and see to be par for the course with the majority of anime releases. This is a strong release.
The Audio
The original Japanese-language stereo mix of ReLIFE: Season One is supplied Dolby TrueHD 2.0 and the English dub in Dolby TrueHD 5.1. neither mix has reference sound quality or balance. The 5.1 seems to be mastered rather low with a narrow dynamic range and mild surround effects and the stereo mix is louder, but narrower still in dynamic range. Better results were gained by reprocessing the 2.0 mix into surround, but the dialogue did get pushed a bit too forward. As for the dub itself, it is one of the better ones. The translation seems good and the English voice actors for Kaizaki Arata (Micah Solusod) and Hishiro Chizuru (Jeannie Tirado) seem to really nail their characters' listlessness in their deliveries.
The Supplements
The Limited Edition set is where the art card goodies and solid chipboard box are, so if you're a collector, that will be the one for you, although I'm not sure it's really enough to justify the price for this particular set.
Standard DVDs included (standard and limited edition combo packs)
Episode 13 audio commentary
Promo Video
Textless Opening Song
Funimation Trailers
7 colorful character bio and art cards (Limited Edition Only)
Limited edition housed in a sturdy matte chipboard slipcover.
The Final Assessment
This is a thoroughly enjoyable series with engaging characters and a bit of a cliffhanger in the episode 13 that isn't entirely unforeseen, but it has left me wanting to see where the series goes from there. This one is a bit of fresh air that doesn't quite fit directly into the high school, harem, comedy, or sci-fi genres, and that's a good thing.
ReLIFE: Season One [Limited Edition] is out now from Funimation.
[amazon_auto_links id="106465"]
TMS Entertainment
Animation Studio
Funimation Entertainment
Distributor
Yokote Michiko | Hyodo Kazuho
Writer
$66.74
MSRP
Japanese Dolby TrueHD 2.0 Stereo
Audio
English Dolby TrueHD 5.1
Secondary Audio
Summary
A listless, unemployed twenty-something is given a chance to reset his life by taking a drug that makes him look ten-years younger and going back to high school for a year in this thoughtful adaptation of the Japanese web manga series.
What people say... Login to rate
Be the first to leave a review.
Show more