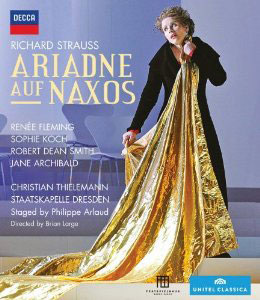 Click thumbnails for high-resolution 1920X1080p screen captures
(The below TheaterByte screen captures were taken directly from the Blu-ray Disc and losslessly compressed in the PNG format. There should be no loss of picture quality with this format. All screen captures should be regarded only as an approximation of the full capabilities of the Blu-ray format.
The Performance
[Rating:4/5]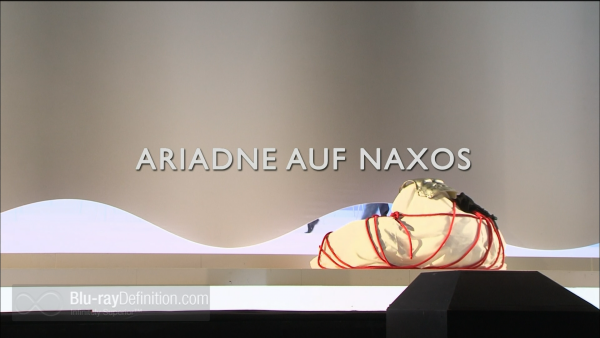 The ultimate Viennese composer of his era, Richard Strauss was an unabashed lover of the female voice, no doubt influenced by his wife, Pauline, who was a soprano. Moving easily between heavy drama like Salome and comedy like Der Rosenkavalier, Strauss took on an unimaginable challenge: to write an opera about an opera composer who must subjugate his art to a commedia dell'arte play! This is the plot of Ariadne auf Naxos, a work that differs radically from all of the Strauss operas that preceded or followed.
A wealthy (and unidentified) gentleman has arranged for an opera, "Ariadne auf Naxos" to be performed in his home. However, there is a slight complication. A comedy will also be performed on the same evening, followed by fireworks as explained by the major-domo (famed tenor Rene Kollo).  The opera's composer (Sophie Koch) has entered the premises to rehearse his masterpiece. However, no one is available and to complicate matters further, the comedy troupe's Zerbinetta (Jane Archibald) appeals to the composer who must then separate her from the prima donna undertaking the role of Ariadne (Renee Fleming). Another complication:  Because the fireworks display has a tight schedule, the opera and comedy must be performed together. The composer balks but is assuaged by Zerbinetta and so the show goes on.
The second half of Ariadne is sheer delight. The Naiad (Christina Landshamer). The Dryad (Rachel Frenkel) and Echo (Lenneke Ruiten) mourn Ariadne's situation, not just abandoned on an island, but forced to deal with a comedy troupe, Harlequin (Nikolay Borchev), Scaramuccio (Kenneth Roberson), Brighella (Kevin Conners), and Truffaldino (Steven Humes) who taunt her about being deserted by her lover, Theseus. Zerbinetta then launches into the show-stopper aria of the entire opera "Grossmachtige Prinzessin." Unexpectedly, the god Bacchus (Robert Dean Smith) arrives, transforms the landscape and takes Ariadne away to her new existence.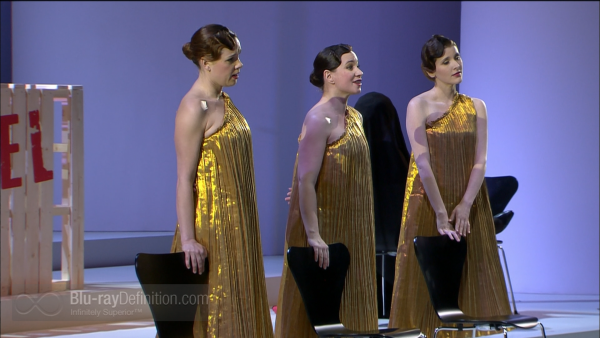 We are fortunate to have this 2012 Festspielhaus Baden-Baden video that gives us a new take on an opera that is nearing its centenary. The headliner in this cast is superstar soprano Fleming who debuts in the title role with the exemplary accompaniment of maestro Christian Thielemann and his personal band, the Staatskapelle Dresden.
Video Quality
[Rating:5/5]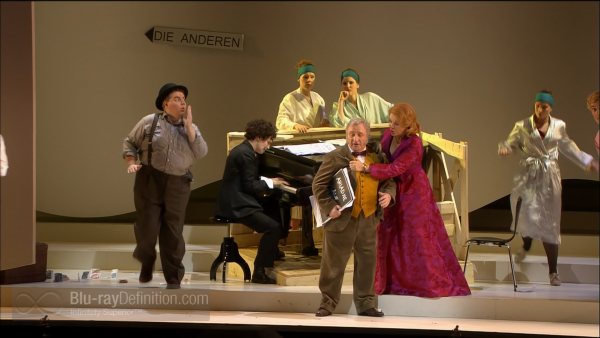 Brian Large who is a video legend when it comes to opera production makes sure that we see the essential elements of this work. There is a lot of stage business and it is captured perfectly by the timing of his cameramen.  Colors are appropriately bright and bold. Detail is life-like, nearly holographic at times. Director Philippe Arlaud's sets are pretty bare bones, almost concert-performance in concept,  not making much of the contrast between the lavish home of the evening's host and the set of the opera/commedia dell'arte performance.
Audio Quality
[Rating:4.5/5]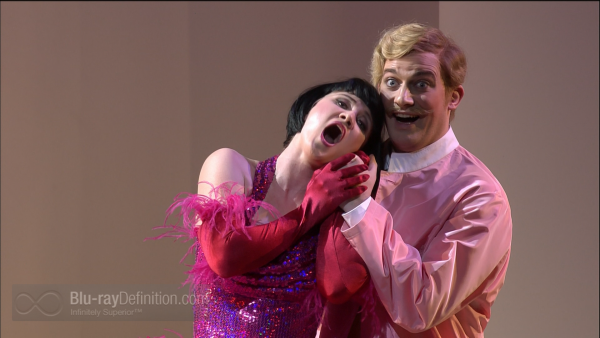 This opera has most of its action captured with the words of a brilliant libretto and the recordists get this down perfectly. Of course, maestro Thielemann milks this score for everything that it is worth and we hear those little details in the score that are sheer delight. The DTS-HD Master Audio surround track is spacious and warm, much better than its two-channel companion.
Supplemental Materials
[Rating:1/5]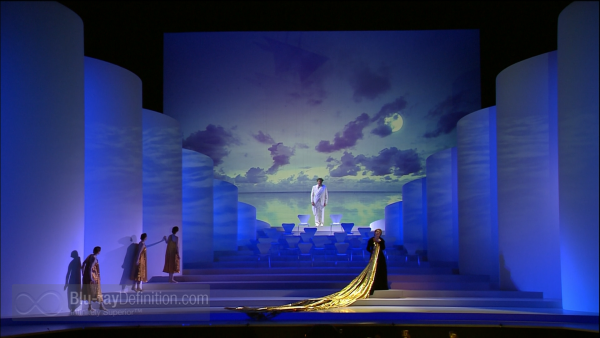 Besides curtain calls, there is a nice booklet that gives a background essay on the opera and a synopsis with track cues.
The Definitive Word
Overall:
[Rating:4/5]
The acceptance of this performance or  a lack thereof is how well you think that Renee Fleming fits in with a generally much younger cast. For my part, this is a mélange that favors youth over age. While Ms. Fleming turns in her usual "star" billing performance, her voice being a natural for the vocal colors and tessitura favored by Richard Strauss, this role debut comes about a decade too late to get Renee's absolute best. Still, late-career Fleming is better than much of what we get to see on today's opera stages. The supporting cast is generally decent with special kudos to tenor Smith and the sexy, stratospheric soprano Archibald. The real strength of this production, shortchanged in my view by the minimalist sets, is maestro Thielemann's loving treatment of this score that more than meets the challenge posed by the composer's intent. There is significant video competition, including a well-received 2006 Blu-ray Disc from Zurich and two Met Opera DVDs led by James Levine, one starring Jessye Norman, Kathleen Battle and Tatiana Troyanos, the other with Debra Voigt, Natalie Dessay, and Susanne Mentzer. Fleming fans will certainly go for the current release while I can easily recommend either Met performance as the current pick of the litter.
Additional Screen Captures
[amazon-product region="uk" tracking_id="bluraydefinit-21″]B00B0D29TG[/amazon-product]
[amazon-product region="ca" tracking_id="bluraydefinit-20″]B00B0D29TG[/amazon-product]
[amazon-product]B00B0D29TG[/amazon-product]
Purchase on Blu-ray at CD Universe
Shop for more Blu-ray titles at Amazon.com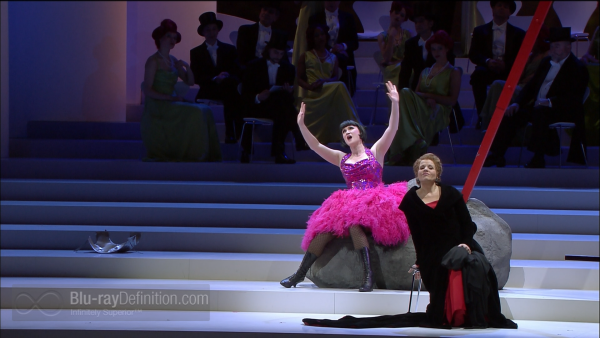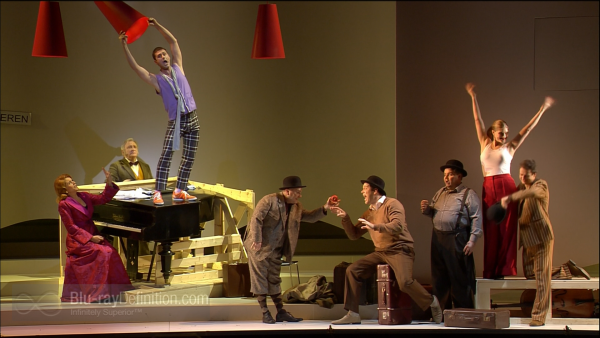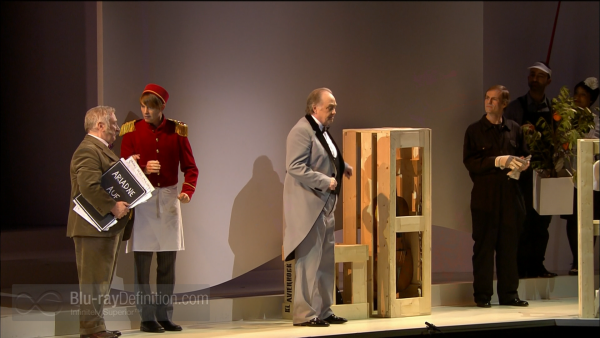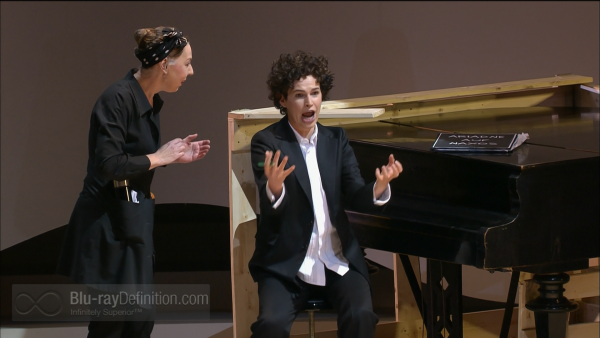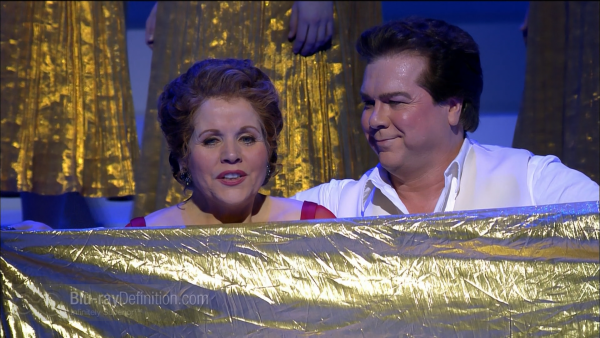 [amazon-product region="uk" tracking_id="bluraydefinit-21″]B00B0D29TG[/amazon-product]
[amazon-product region="ca" tracking_id="bluraydefinit-20″]B00B0D29TG[/amazon-product]
[amazon-product]B00B0D29TG[/amazon-product]
Purchase on Blu-ray at CD Universe
Shop for more Blu-ray titles at Amazon.com
Overall
[Rating:4/5]
The Performance
[Rating:4/5]
Video Quality
[Rating:5/5]
Audio Quality
[Rating:4.5/5]
Supplemental Materials
[Rating:1/5]