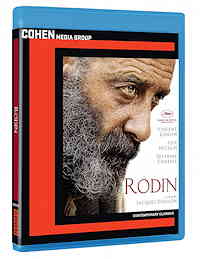 Rodin from director Jacques Doillon traces the period in time during the life of the famous sculptor (Vincent Lindon, Diary of a Chambermaid, Betty Blue). It's Paris in 1880 and the sculptor has finally garnered his first state commission, "The Gates of Hell", which will include "The Kiss" and "The Thinker", two of Rodin's most famous sculptures. The artist works alongside his lifelong companion Rose (Séverine Cameele) and his mistress, his young assistant and apprentice Camille Claudel (Izïa Claudel, Summertime), a beautiful and talented sculptor who eventually goes on to become a highly regarded sculptor in her own right. After a painful breakup from Camille, Rodin continues to work on his creations, throwing himself into his work and indulging his passions with his models to cover up the pain of loneliness, insecurity, and artistic rejection.
While the film is often a sultry and impassioned journey through the life of the artist and his thought process, with Doillon using the camera to focus on his subjects and the surroundings in the way an artist may scrutinize the world to create something, it also tends to become painfully slow and monotonous. One can only take so much of the quiet, sexual indulgence and observing an artist observing over the course of two hours. That said, Lindon plays the role of the sculptor with a perfect amount of reserved passion and Doillon does easily interweave the passion of Rodin's love life with his passion for creation.
The Video
Rodin was shot on a Red Weapon and brought to Blu-ray in an AVC 1080p encodement from Cohen Media Group. There is a lot of crisp detail and excellent front-to-back extension. Colors are a bit desaturated, so nothing necessarily 'pops' but flesh tones look natural. There are some issues with color banding and posterization in shadows.
The Audio
Rodin comes with two audio options, a French DTS-HD Master Audio 5.1 mix and a French Dolby Digital 5.1 mix. As I have found on almost every Cohen Blu-ray release with this configuration, the DTS-HD Master Audio track seems to be mastered much louder and lacks a bit of dynamic range. The lossy Dolby Digital track, while losing a bit of clarity in the dialogue, is less grating, not mastered as loudly and comes across as more dynamic and natural to the ears.
The Supplements
There isn't much included here, only a half-hour 'making of' and the theatrical trailer. The  feature is an interesting watch.
Sculpting Rodin (1.78:1; 1080p/24; 00:31:12)
Theatrical Trailer
The Final Assessment
One will come away from this film feeling like one has seen a passionate, visually moving and sensual film that captures the intersection of love and art superbly. However, as entertainment, it is sorely lacking as its two-hour run time feels like double that with its painfully slow and deliberate pacing, and the fact that one still doesn't get much more insight into Rodin the man, just his lifestyle.
Rodin is out on Blu-ray & DVD October 2, 2018 from Cohen Media Group
[amazon_link asins='B07FQ6GTL4,B07FQ321JH' template='ProductCarousel' store='theaterbyte-20′ marketplace='US' link_id='1e96bb30-ce6a-11e8-b2f3-758452621c18′]
Les Films du Lendemain | Artémis Productions | Wild Bunch | France 3 Cinéma | Cohen Media Group
Studios & Distributors
$27.36
MSRP
French DTS-HD MA 5.1
Audio
French DD 5.1
Secondary Audio
Summary
In 1880 sculptor Auguste Rodin (Vincent Lindon) garners his first state commission, "The Gates of Hell", which will include two of his most famous works, "The Kiss" and "The Thinker". In the meantime, he breaks up with his longtime mistress and assistant Camille Claudel (Izïa Higelin) and indulges in his sexual urges brought on by his work with the models for his sculptures in this passionate yet excruciatingly slow and deliberate biopic from director Jacques Doillon.
What people say... Login to rate
Be the first to leave a review.
Show more