–
The Film
[Rating:3/5]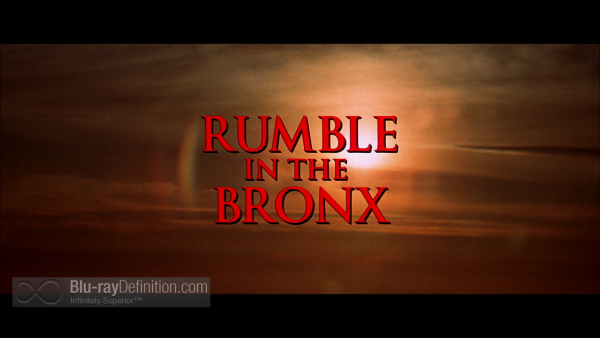 Jackie Chan was already a super star in Hong Kong and many other parts of the world before he finally broke out to major North American success with Rumble in the Bronx, a re-dubbed and re-edited version of the film Hung Fan Kui.
Like with many martial arts films, the plot doesn't much matter as much as the action, but for what it's worth, Chan plays Keung, a Hong Kong police officer who is on vacation in New York to attend his uncle Bill's (Bill Tung) wedding. Is uncle is selling his grocery store to Elaine (Anita Mui) and going on a honeymoon. Keung finds Elaine charming enough that he decides to stay on and help her out in her new store for a week, but a local gang of motorcycle-riding ruffians begin to terrorize the shop and Keung uses his superhuman martial arts skills to ward them off, ending up on their bad side. Elaine is scared and ready to move on, but Keung persuades her to stay. His defense of the store gets sidetracked when he drops her like a cold sack of mashed potatoes for his uncle's gorgeous next door neighbor, Nancy (Françoise Yip), the sister of a disabled kid who looks up to Keung like a big brother. Making the situation even more complicated is that Nancy also happens to be a part of the local gang that's after Keung, but he doesn't seem to mind, after all, she's so hot and all. And just to make it it even more crazy, Keung ends up helping the gang when a local group of mobsters looking for a cache of priceless diamonds that one of the gang members stole from them kidnaps Nancy, her brother, and the gang leader.

You'd be forgiven of you lose track of what's going on, but the action is quick, and Jackie Chan is at his best here. He's charming, his martial arts skills are fantastic, and, as is his signature, he does all of his stunts. There are no stunt doubles used here, so when you see Keung getting dragged on the water by a hovercraft, that's Jackie.
For anyone keeping track, you'd also be forgiven for wondering why "the Bronx" doesn't look anything at all like the Bronx in this movie. Well, that's because it isn't, It's Vancouver, British Columbia. Look closely, and you can see mountains in the background of some the scenes, mountains that do not exist in flat New York City. But, don't strain your brain too hard, this film isn't about the plot and the details, it's about the action and choreography, and those it has in abundance.

Video Quality
[Rating:3.5/5]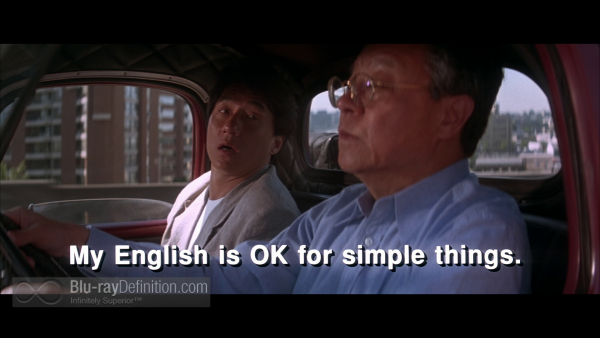 Rumble in the Bronx was shot on 35mm Eastman EXR 100T 5248 and EXR 500T 5296 film stock on an Arriflex 35 BL4 camera with Technovision lenses. The film hails from 1994, making it just over twenty-years-old. Given its two decade vintage and the usual budget limitations of these Hong Hong martial arts productions, it actually looks quite good and the AVC 1080p encodement to Blu-ray from Warner stacks up nicely. It suffers from some occasional softness, but colors looks vibrant and contrast is strong. Film grain is present and natural without being overwhelming and we do get lots of very clear, pristine imagery in the brightly lit outdoor shots.

Audio Quality
[Rating:3.5/5]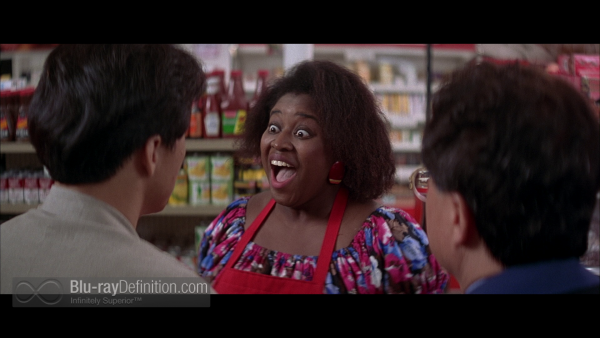 An English DTS-HD Master Audio 5.1 (48khz/24-bit) soundtrack for Rumble in the Bronx is supplied on Blu-ray by Warner Bros. The sound isn't awe inspiring, but for this sort of film, it is more than serviceable given that it provides a decent amount of balance, atmospherics, stereo effects, and good low end to support the various kicks and punches in the fight sequences. Dialogue sounds clean, but just a little thin.

Supplemental Materials
[Rating:0.5/5]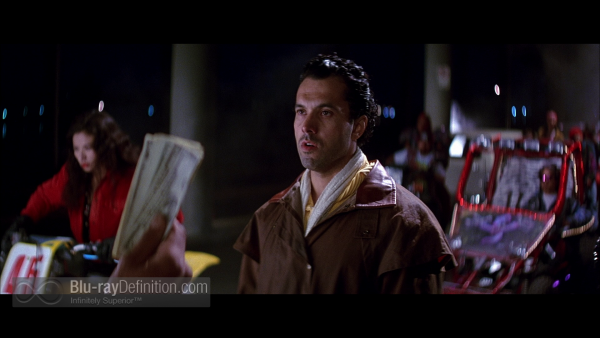 Only the original theatrical trailer (HD) is included.

The Definitive Word
Overall:
[Rating:3.5/5]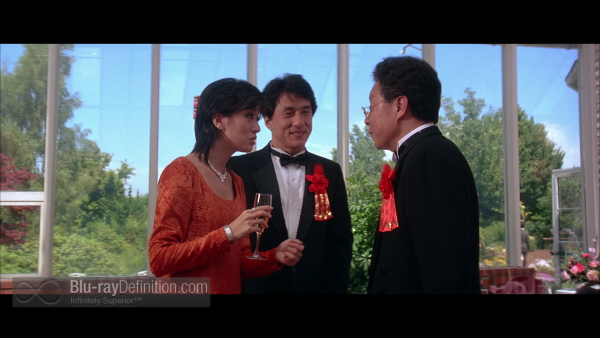 Jackie Chan's North American breakthrough Rumble in the Bronx is finally available on Blu-ray from Warner Bros. It looks much better than one could hope and fans of Jackie Chan should be pleased with this release.

Additional Screen Captures