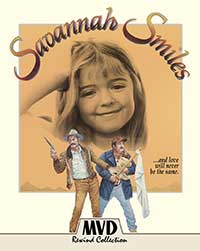 Savannah Smiles opens with a literal bang as ex-con Boots "Bootsie" McGaffee (Donovan Scott) "busts" his buddy Alvie Gibbs (Mark Miller) out of jail, ironically just a few days before Alvie was to be paroled. The two men begin a rough-and-tumble road trip, riding in one stolen rattletrap after another. As awkward as their prison break was, these guys manage to bungle a simple general store robbery with some hilarious results.
Millionaire Senate-candidate Richard Driscoll (Chris Robinson) and his wife Joan (Barbara Stanger) are dining with political cronies and, as usual, ignoring their young daughter, Savannah (Bridgette Andersen). Savannah takes matters into her own hands and drops off the "I'm leaving home" note for her parents to find that, of course, goes unnoticed. Savannah sneaks away during a hide-and-seek game at the amusement park, and ends up in the backseat of Alvie's get-away car. She manages to stick with the men as they make an abandoned house their new hideout. The next day, Savannah's disappearance is front-page news and the $100,000 reward for her safe return immediately gets the two crooks' attention.
Richard hires private detective Harland Dobbs (Peter Graves) to help Salt Lake City Police Chief Pruitt (Philip Abbott) and Lieutenant Savage (Michael Parks) find his daughter.  Meanwhile, Alvie, Bootsie and Savannah have bonded, as each day brings new and fun experiences for the little girl.   Assisted by family priest Father O'Hara (Pat Morita), the lawmen inevitably close in on the trio but numerous plot twists precede the expected "happy ending" where Mom and Pop Driscoll get taught a  life lesson about the importance of family.
Savannah Smiles was a low-budget indie ten years in the making and is a feel-good film from opening titles to end credits. French director Pierre De Moro may not be well known to American audiences but he has crafted an absolute winner out of Mark Miller's rather modest script. The late Bridgette Andersen is the consummate scene-stealer whether she gets Donovan Scott to wear silly hats or she worms her way into tough-guy Mark Miller's heart. The backdrop of Salt Lake City's natural surroundings adds nice window-dressing and Ken Sutherland's catchy C&W score keeps us from taking everything too seriously.
The Video
This 1982 vintage film was shot on 35 mm original release print provided by the Library of Congress. It does not appear that time has been kind to this source and, in spite of the restoration team's best 2K high-definition transfer efforts, the final product has considerable grain, occasional blurring and streaking, and a somewhat muted color palette.
The Audio
The only audio option is a boxy LPCM 1.0 (48kHz/16-bit) soundtrack that maintains a steady grip on the dialogue and delivers the music with a modest amount of sonic bloom.
The Supplements
The extras include the following:
The Making of Savannah Smiles(English Dolby Digital Stereo 48kHz/16-bit) (28:44): Scriptwriter/actor Mark Miller, Bridgette's mother Teresa, co-star Donovan Scott, and composer Sutherland give viewers a taste of the creative process that went into this film.
Memories of Bridgette (English Dolby Digital Stereo 48kHz/16-bit) (20:53): Teresa Andersen provides a mini-biography of her daughter. Miller, Scott, and Sutherland add their own fond memories of this little star that left us far too soon.
The Words & Music of Savannah Smiles (English Dolby Digital Stereo 48kHz/16-bit) (16:28): Interviews with the Andersen, Miller, Scott, and Sutherland.
A standard definition DVD (MPEG-2) of the film
The Final Assessment
There is a handful of family-friendly films that, like fine wine, age well over the years. Savannah Smiles definitely belongs in that category and will surely make its viewers smile through their occasional tears. In spite of its obvious audio/video shortcomings, this Blu-ray belongs in every film-lover's library. Highly recommended.
Savannah Smiles is out on Blu-ray Combo Pack Collector's Edition from the MVD Rewind Collection May 22, 2018
PG (for profanity, smoking, drinking)
Rating Certificate
Savannah Smiles Productions | MVD
Studios & Distributors
Summary
When young Savannah (Bridgette Andersen) feeling neglected by her politician father runs away from home, she winds up hiding away in the car of two bumbling crooks (Mark Miller, Donovan Scott) who end up become like surrogate parents to her. Savannah Smiles is heart-warming dramedy about a lonely little girl who acquires a new "family" in the presence of two ex-convicts on the run. This MVD Rewind edition is not up to today's standards for sights and sounds, but sill a Blu-ray that belongs in everyone's library.
What people say... Login to rate
Be the first to leave a review.
Show more