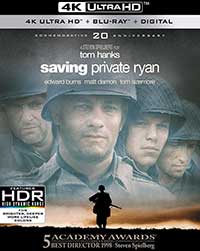 With Saving Private Ryan, director Steven Spielberg picked up where he left off five-years earlier with the film that finally cemented him in the minds of filmgoers and critics alike as a serious filmmaker, Schindler's List. He returned to the topic that seemed to bring out the best in him, World War II, and this time, like with many war films that had gone before it, he did not hesitate to show the brutality of war.
The film begins on D-Day with the invasion of Omaha Beach, in Normandy. After a successful taking of the landing site, but one filled with massive losses for the allied forces, Captain James Miller (Tom Hanks) receives orders to lead a small group of men behind enemy lines to find Private James Ryan (Matt Damon), whose three brothers had already been killed in combat.
Spielberg shifts the film from the shockingly visceral onslaught of the battle on the beach to one of more subtlety, but not immune to bursts of violent warfare, as Miller and his band of soldiers from disparate backgrounds make their way across the French countryside on a mission they find it difficult to come to terms with – saving one man when they've just witnessed so many of their own friends die.
The film is more than effective in building the narrative and the character dynamics, making us care about the soldiers, so that by the time it culminates in its dizzying, chaotic battle sequence, we are fully invested in the outcome.
The one weakness in Saving Private Ryan is that Spielberg, true to his style, can't allow the film to begin or end on its dire tone and must buttress it with his usual sentimentality — a prologue and epilogue that serves only to talk down to the audience and drag us out of the mood of the film.
The film won five Academy Awards including Best Director (Steven Spielberg).
This slideshow requires JavaScript.
The Video
Saving Private Ryan is a rather gritty looking film that was shot on 35 mm Eastman EXR 200T 5293 and it has a purposely desaturated color pallet that is mainly grey and earth tones. This new 4K Ultra HD arrives with an HEVC 2160p (4K) encodement with Dolby Vision HDR and framed at 1.85:1. The WCG (Wide Color Gamut) of the Dolby Vision helps add some much needed 'pop' to the drab imagery through flames that shimmer hot orange that much more. In scenes in the dark the shadow and light interplay really shows off the dynamic range capabilities as well. The added resolution means the finer details are more apparent and everything has more crispness than what can be seen on the Blu-ray, even the grain structure looks sharper.
The Audio
Saving Private Ryan gets a stellar English Dolby Atmos mix on 4K Ultra HD from Paramount that rocks the floorboards and rattles the walls, but also has enough headroom and air to present the moving score from John Williams with a natural presence and superb balance. The added height channels bring you right onto the battlefield, which is either a good or bad thing depending on your perspective.
The Supplements
The special features for Saving Private Ryan are provided on their own, separate Blu-ray Disc and are superb, in-depth documentaries on the making of the film and background into the history of war films in Hollywood. These are, however, port overs in standard definition and nothing new is included.
iTunes Digital Copy & UltraViolet
Blu-ray with main feature
Saving Private Ryan (1.33:1; SD):

An Introduction
Looking into the Past
Miller and His Platoon
Boot Camp
Making Of Private Ryan
Re-Creating Omaha Beach
Music and Sound
Parting Thoughts
Into the Breach
Theatrical Trailer
Re-Release Trailer

Shooting War (1.33:1; SD; 01:28:05)
The Final Assessment
With its stellar cast, dynamic action sequences, and big themes of honor and duty, Saving Private Ryan shocked the world with its realistic depictions of warfare. It arrives in a fantastic 4K Ultra HD Combo Pack from Paramount that will rock your home theater.
Saving Private Ryan is out on 4K Ultra HD Combo Pack from Paramount on May 8, 2018
R (for intense prolonged realistically graphic sequences of war violence, and for language)
Rating Certificate
DreamWorks | Paramount Pictures | Amblin Entertainment | Mutual Film Company | Mark Gordon Productions | Paramount Home Entertainment
Studios & Distributors
HEVC (H.265) 2160p (4K) | AVC 1080p (Blu-ray)
Video
Dolby Vision (Compatible w/ HDR10)
HDR Format
English Dolby Atmos (Compatible w/ Dolby TrueHD 7.1)
Primary Audio
English DD 5.1 | French DD 5.1 | German DD 5.1 | Japanese DD 5.1 | Portuguese DD 5.1 | Spanish (Castilian & Latin American) DD 5.1
Secondary Audio
English | English SDH | Danish | Dutch | German | Finnish | French | Italian | Japanese | Norwegian | Portuguese | Spanish (Castilian & Latin American) | Swedish
Subtitles
HDR Effect (If Applicable)
Summary
In what was considered one of the most realistic portrayals of warfare at the time from the unexpected lens of the typically safe Steven Spielberg, a group of soldiers led by Captain John Miller (Tom Hanks), after successfully taking Omaha Beach on D-Day are ordered behind enemy lines to find and bring back Private James Ryan (Matt Damon) whose three brothers were all killed during combat. A powerful character study and exploration of honor and duty, Saving Private Ryan won five Academy Awards including Best Director (Steven Spielberg). This new 4K Ultra HD Blu-ray with Dolby Vision and Dolby Atmos is a must.
What people say... Login to rate
Be the first to leave a review.
Show more