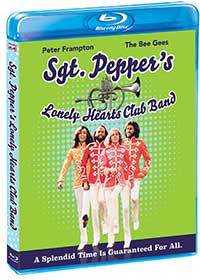 Fifty years ago, The Beatles released their first "concept" album, Sgt. Pepper's Lonely Hearts Club Band that featured the eponymous group (actually just John, Paul, George and Ringo) on a 13-track LP. SPLHCB was inspired by the Beach Boys' Pet Sounds album from the previous year and also marked the end of the Fab Four's touring career. A decade later, American director Michael Schultz and screenwriter Henry Edwards collaborated on a filmed musical bearing the same title with a new storyline that traced the band's humble origins in the mythical town of Heartland to the present times. The legendary comedian George Burns serves as narrator and plays the town's elderly mayor, Mr. Kite.
During a concert, old Sergeant Pepper suddenly drops dead, and it looks grim for the band's future, until grandson Billy Shears (Peter Frampton) picks up the figuratively dropped baton. With  money-hungry stepbrother Dougie (Paul Nicholas) as his manager, Billy recruits the Henderson brothers Mark (Barry Gibb), Dave (Robin Gibb), and Bob (Maurice Gibb). In no time flat, record producer B.D. "Big Disco" (Donald Pleasance) invites Sgt. Pepper's new band to Hollywood, and Billy bids a tearful farewell to girl friend Strawberry Field (Sandy Farina). Once in LaLa Land, the boys are overwhelmed by B.D.'s massive mansion, the gorgeous singer Lucy (Diane Feinberg), and her Diamonds (Stargard). After an evening of epic wining, dining, and some consciousness-altering substances, the band mates begin their rapid ascent to commercial success and have now forgotten about Heartland and the folks that they left behind.
Following the orders of "F.V.B." or Future Villain Band (Aerosmith), mean insurance agent Mr. Mustard (Frankie Howerd) and the Brute (Carely Struycken) drive a robot-charged van into Heartland and steal Sgt. Pepper's original instruments that were the key to the town's well being. Heartland descends into a maelström of moral turpitude, pornography, public drunkenness, and houses of ill repute. Strawberry takes off for LA to find Billy and the boys and bring them back home. For starters, the band must contend with mad scientist Dr. Maxwell (Steve Martin) who has Sgt. Pepper's treasured cornet and then recover the tuba, saxophone, and drums that will restore Heartland to its pristine condition. No spoiler alert here because the Hollywood ending is telegraphed so far in advance that you would have to have been comatose not to figure it out.
Cribbing cinematic styles from films like the Beatles' Help, the Monkees' Head, and The Rocky Horror Picture Show, Sgt. Pepper's Lonely Hearts Club Band is a cobbled together mess of a movie, with little going for it except some cameos by Aerosmith, Alice Cooper, Billy Preston, Earth, Wind and Fire, and a closing party of Who's Who in this era's music. I can honestly say that, regardless of what the artistic team (I use this term cautiously) was thinking, it was painful to watch period pop stars deliver forgettable covers of some iconic Beatles' numbers, let alone suffer through Sandy Farina's insipid delivery of Here Comes the Sun.
The Video
Considering that this is a 40-year old film, the visuals are surprisingly good on this new Blu-ray edition of Sgt. Pepper's Lonely Hearts Club Band. There are excellent colors and just a smattering of grain and blur here and there.
The Audio
Originally a multi-track 70mm recording, there are DTS-HD MA 5.1 and 2.0 options on this Blu-ray release of Sgt. Pepper's Lonely Hearts Club Band from Shout!. The former is actually quite spacious for the better or, in most cases, for the worse given the quality of the musical performances. The modest amount of forgettable dialogue is clearly reproduced.
The Supplements
Sgt. Pepper's Lonely Hearts Club Band comes with the following extras:
Audio Commentary by pop culture historian Russell Dyball.
Original Theatrical Trailer
Galleries
The Final Assessment
Director Schulz has spent most of his career creating shows for the small screen, and, fittingly, Sgt. Pepper's Lonely Hearts Club Band is feature-length equivalent of The Gong Show. While the latter's episodes were all less than 30 minutes, the former subjects viewers to an unrelieved two hours. Just skip this one, and get the recently remastered Sgt. Pepper CD: it will make you feel like "it's getting better all the time," since this film most definitely will not.
Sgt. Pepper's Lonely Hearts Club Band is available on Blu-ray from Shout! Factory September 26, 2017.
[amazon_auto_links id="104738"]
Robert Stigwood Organization | Universal Pictures | Shout! Factory
Studios & Distributors
$19.99
MSRP
26 Sept. 2017
Release Date
English DTS-HD MA 5.1
Audio
English 2.0
Secondary Audio
Summary
A mindless re-conceptualization of The Beatles' brilliant concept album that is undermined by less than memorable covers of some great songs and meandering plot that quickly wears thin.
What people say... Login to rate
Be the first to leave a review.
Show more