Mouse-over Cover Art for Details
Click thumbnails for high-resolution 1920X1080p screen captures
(The below TheaterByte screen captures were taken directly from the Blu-ray Disc and losslessly compressed in the PNG format. There should be no loss of picture quality with this format. All screen captures should be regarded only as an approximation of the full capabilities of the Blu-ray format.)
The Film
[Rating:4.5/5]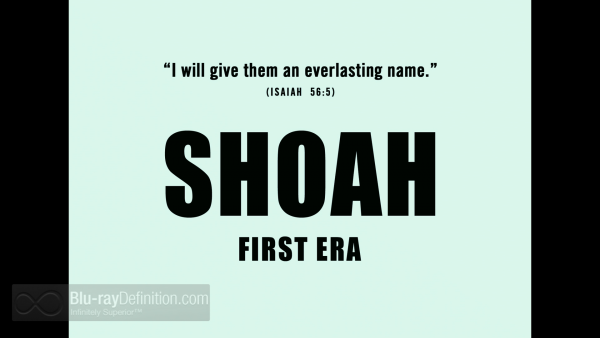 Few historical events have had the profound and lasting impact of The Holocaust. The largest documented mass extermination of human beings resulted in the deaths of more than six million Jews and many others imprisoned in Nazi death camps. French director, Claude Lanzmann, himself a Jew and investigative journalist, reconstructs this dark period through interviews of Holocaust survivors, local bystanders, and even some Germans involved in carrying out the mission of the camps. Shoah (the Hebrew word for holocaust), records Lanzmann's eleven-year cinematic journey using verbal accounts rather than  historical footage. Shoah is actually four linked films, each lasting two-plus hours and mostly focused on four locations: the Nazi death camps at Chelmno, Treblinka and Auschwitz-Birkenau, located on German-occupied territory in Poland and the Warsaw ghetto.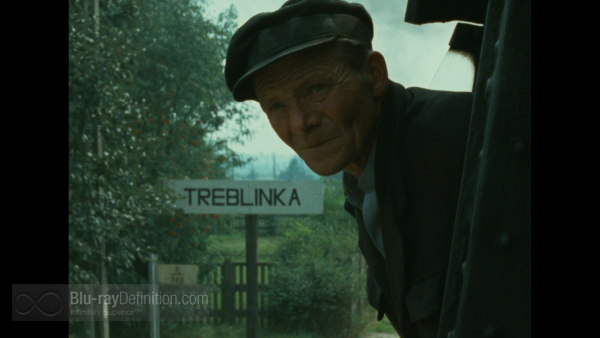 The film opens as a Chelmno camp survivor, 47 year-old Simon Srebnik, rides a boat down the Narew River,  singing just as he did while a prisoner. Srebnik then takes us on a tour of the former camp's location and  we get his story of survival in bits and pieces, a story that will be reprised a number of times by other Holocaust survivors. Treblinka is described by a barber, Abraham Bomba, inmate Richard Glazar, and a former SS officer, Franz Suchomel (caught on a hidden camera). Auschwitz is recalled by Rudolf Vrba, a camp escapee, and Filip Muller who operated the ovens that burned the corpses of the gassed victims. Finally, and possibly the most emotionally invested segment, are remembrances of the Warsaw ghetto by a Pole, Jan Karski, who worked as a secret courier for the Polish government-in-exile, and a former Nazi official, Franz Grassler (also caught on hidden camera).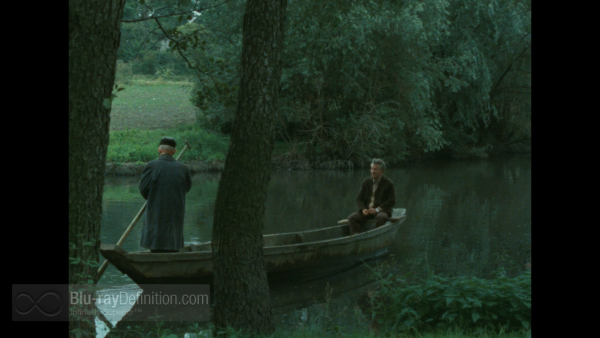 There are English subtitles, given the many languages (besides English) of those interviewed by Lanzmann's translators, French, Italian, Polish, German, Hebrew, Yiddish. Frequently, the subtitles summarize rather than translate every word of the interviewees' conversations.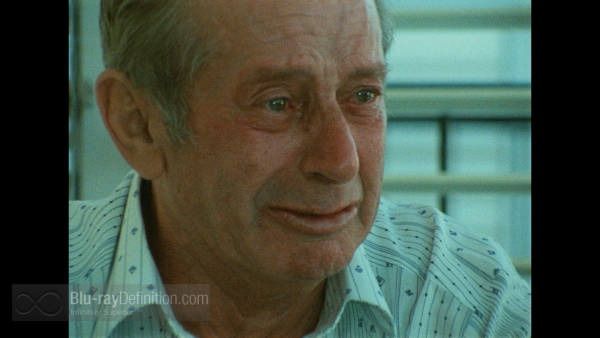 Contrasting with the seemingly endless stories of horror and death are cutaways to scenes of the camps' locations, captured at the time of the filming, some now transformed into peaceful and bucolic settings. The raw human element occasionally comes to the forefront when we see those being interviewed being overcome with emotion as their painful memories are dredged up and exposed.
Video Quality
[Rating:3/5]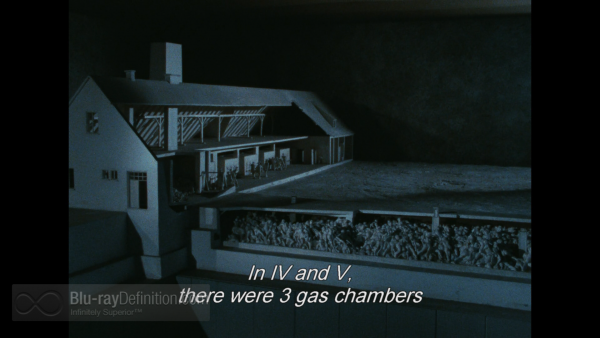 The remastering was accomplished in 4K resolution with an Arriscan II scanner from an original 16 mm negative. Further processing in 2K resolution used Image Systems Phoenix and DaVinci's Revival software. Finally, there was meticulous color correction supervised by the original assistant camera person, Caroline Champetier. Taken as a whole, this visual aspect of this film often has the look of home movies, with considerable grain and occasional shaky images produced by hand-held cameras. Not surprisingly, the hidden cameras that captured images of the former Nazi perpetrators are quite blurry. There is progressive improvement in the image quality of the more recently filmed segments.
Audio Quality
[Rating:3/5]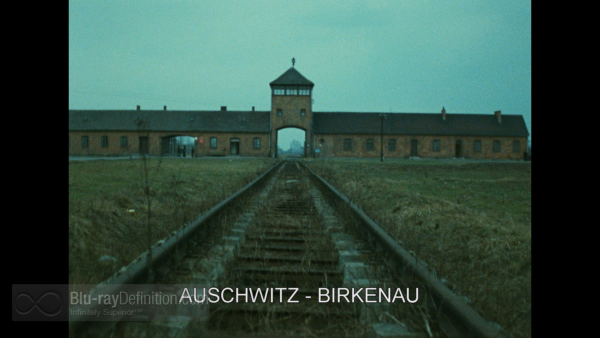 A Chase Optical Sound Processor was used to clean up the original soundtrack. While a bit boxy, the LPCM 1.0 track is generally quite acceptable and enables the dialogue to come across quite clearly.
Supplemental Materials
[Rating:4.5/5]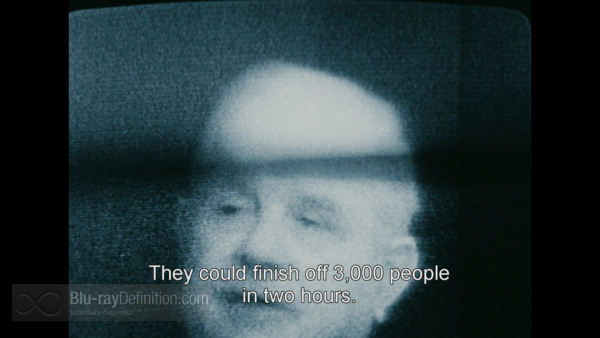 The thick program booklet gives viewers an essential chapter by chapter synopsis with thumbnail pictures of the entire film. There are two essays by director Lanzmann ("Here there is no why" and "From the holocaust to 'holocaust'"), and an excellent discussion of the film by critic Kent Jones.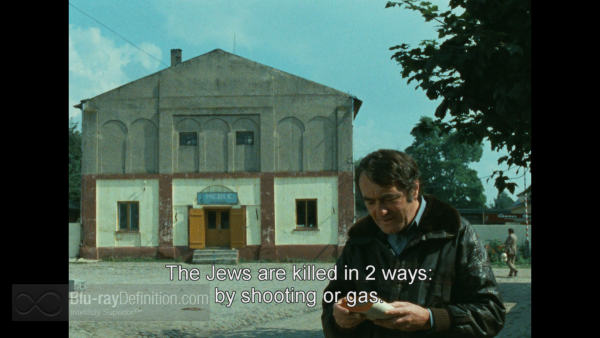 A third Blu-ray disc contains the following features:
Three additional Lanzmann films:

A Visitor from the Living (1999): 68:00 (French Dolby Digital Mono, 48kHz/24-bit). This documentary, originally intended for Shoah, looks at Theresientstadt, a  town chosen by the Nazis as a "model ghetto".  Lanzman interviews Maurice Rossel, a Red Cross delegate who surveyed its living conditions in June 1944.
Sobibor, October 14, 1943, 4 PM (2001): 102:00 (Hebrew Dolby Digital Stereo, 48 kHz/24-bit). Lanzmann interviewd Yehuda Lerner, an inmate at this camp, who was involved in the uprising referred to in the title and, touched on in Shoah, but which the director believed should be its own film.
The Karski Report (2010): 49:00. (English Dolby Digital Mono, 48 kHz/24bit). Jan Karski recounts his secret missions to the Allies in attempts to convince their leaders, including President Roosevelt, about the dire conditions in the Warsaw ghetto.

New interview of Lanzmann by critc Serge Toubiana : (60:47) (French Dolby Digital Mono, 48kHz/24-bit). The director describes the inspiration for this film.
2003 Interview with Lanzmann about A Visitor from the Living and Sobibor (14:00) (French Dolby Digital Mono, 48kHz/24-bit)
New 2013 interview with assistant camera person Champetier and filmmaker Arnaud Desplechin (33:00) (French Dolby Digital Mono, 48kHz/24-bit)
Trailers
The Definitive Word
Overall:
[Rating:4.5/5]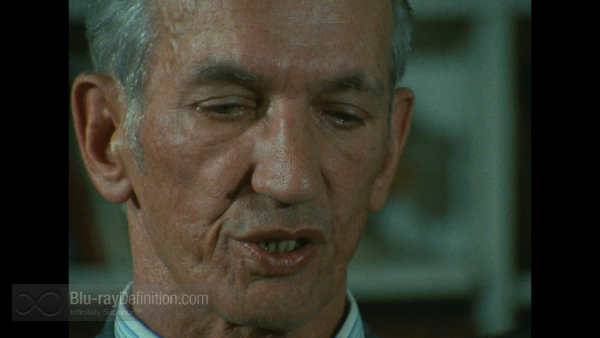 Since the end of World War II, more than one hundred Holocaust documentaries have been released but Shoah is unlike any that have preceded or followed. Yes, there is inevitable repetition and overlap in the events covered but as director Lanzmann's interviews and his essays demonstrate, this approach arose out of the spontaneous and often improvised nature of this film's creation. Understandably, this is not an easy movie to watch. Yet, seeing history through the eyes of those who actually lived it tells a powerful story to those willing to set aside the nearly ten hours required for this film's entire running time. I would strongly recommend taking breaks between the four films as each is quite overwhelming. The Criterion Collection deserves the highest praise for restoring this amazing body of work for all of us, regardless of our backgrounds or beliefs, to experience.
Additional Screen Captures
[amazon-product]B00BX49B6G[/amazon-product]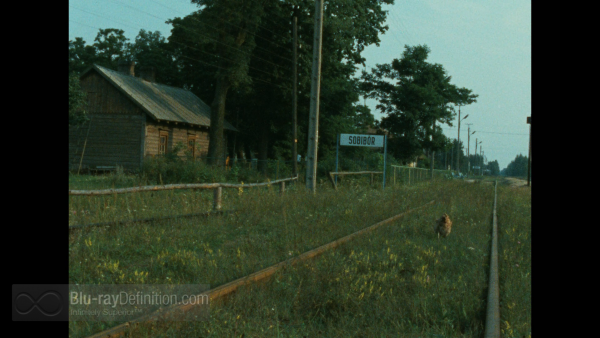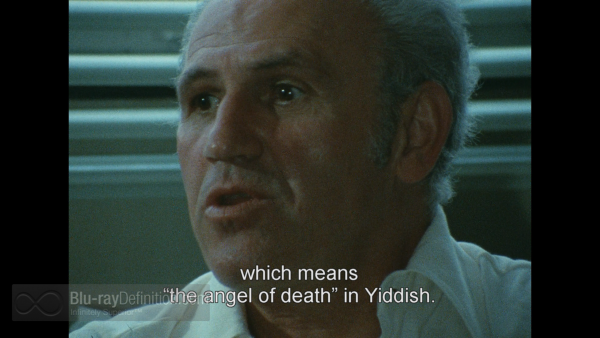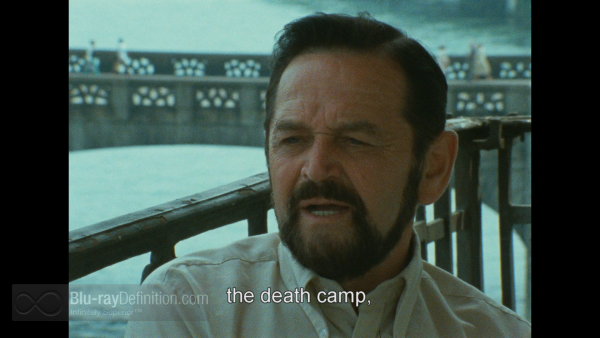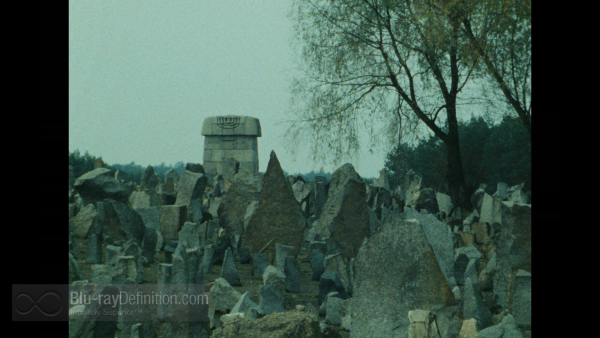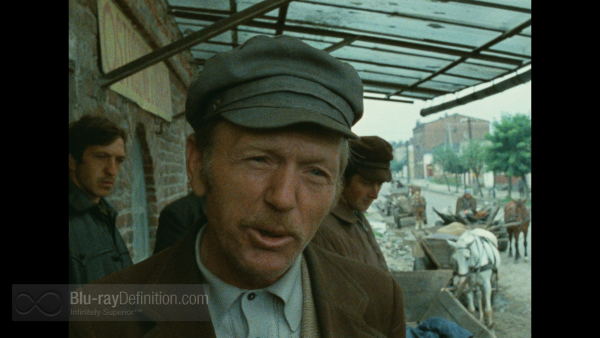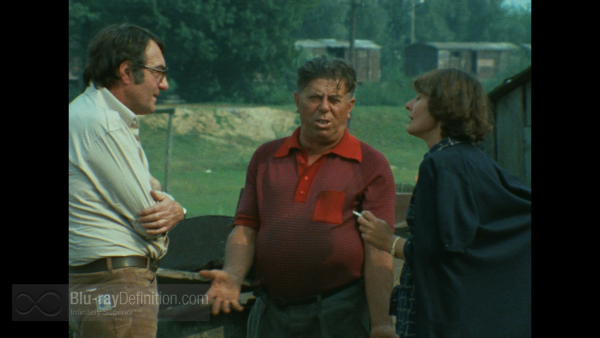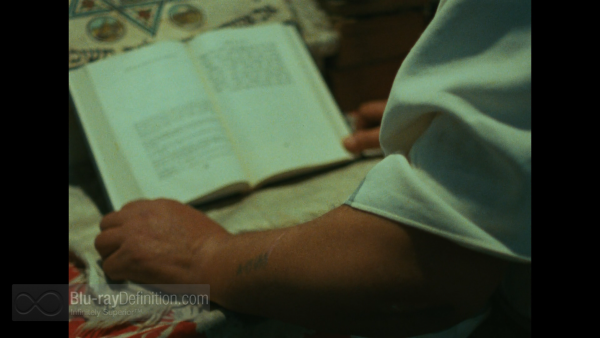 [amazon-product]B00BX49B6G[/amazon-product]