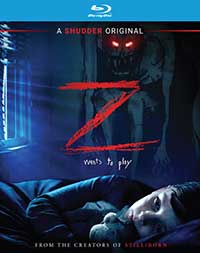 The Shudder Original Z is a horror/thriller film from director/co-writer Brandon Christensen (Still/Born) starring Keegan Connor Tracy (The Magicians, Final Destination 2) and youngster Jett Klyne (The Boy).
The story is about a family, the Parsons, whose son Joshua (Klyne) has an imaginary friend named 'Z'. Joshua's mother Elizabeth (Tracy) has concerns over her son's psychological help because she feels that he is losing touch with reality and using Z to do bad things. But things take a strange turn when Elizabeth starts to believe she can also see Z and that some weird and starts to blame some weird and terrifying things happening around the house on the imaginary entity.
This film has some plot twists, so without giving that away, let's say that, it takes a while to build up. The first half of the film is very slow-burn without much action and what feels like forced-fed tension. Christensen manages to turn things around, however, and by the second half of this horror film, there's a real organic sense of tension through the use of atmosphere and scares, clever camera angles, use of lighting, and cinematography. The pace becomes quicker and a little frenzied, but the direction keeps it from spinning out of control.
The big reveal, which sort of comes earlier in the film still remains a bit of a question to the end and perhaps that lack of absolute clarity is intended to keep things open for a possible sequel as these horror films go. In the end, this horror film may be flawed in places but it is still an enjoyable one to watch and in only his second feature film at the helm, Brandon Christensen shows a remarkable capability to craft a quality horror film visually and atmospherically.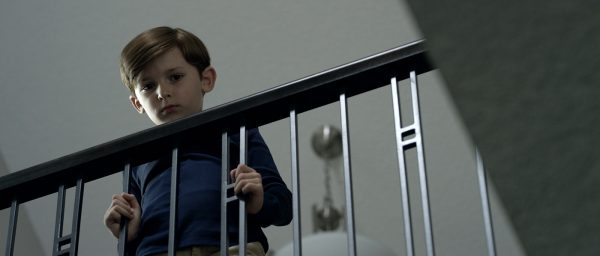 The Video
This Shudder Original, Z, was shot digitally on the Red Scarlet-W Dragon and comes to Blu-ray in an AVC 1080p encodement from RLJE. The picture is nearly flawless. Some ever so slight banding in some frames of shadows can be seen, but other than that it is a clean, crisp, and nuanced encodement with excellent dynamic range and inky blacks.
The Audio
The sole audio mix provided for the Shudder Original Z Blu-ray Disc release is an English DTS-HD Master Audio 5.1 track and it's a good one for a horror film. There's lots of ambiance, solid foley effects mixed into the surrounds, good dynamics, and clear dialogue. The superb balance of the eerie score into the mix also helps to set the mood quite well.
The Supplements
As if to provide further evidence of the decline of physical media formats, this Blu-ray release of Z is a barebones release with no bonus features, however, the iTunes digital release comes with a rather decent digital extras package:
iTunes Extras package (not included with the disc):
Audio Commentary with Director Brandon Christensen
Behind The Scenes of Z
The Stair Scare
Train Day
The Creepy Kid
The Music of Z
VFX Reel
Deleted Scenes
Gag Reel
The Final Assessment
Despite being somewhat flawed, Z turns out to be an enjoyable horror film with legitimate scares, a tense atmosphere, and slick production values on an 'indie' budget. The downside to this otherwise high-quality Blu-ray release is it comes barebones despite the digital iTunes release having a strong extras package.
Shudder Original Z is out on Blu-ray Disc, DVD, Digital HD, and VOD September 1, 2020 from RLJE
Stream on Amazon.com:
---
The Creative Content: 3.0/5
The Video: 4.0/5
The Audio: 4.5/5
The Supplements: 0/5
Studios & Distributors: Digital Interference Productions | Hadron Films | RLJE
Director: Brandon Christensen
Written By: Brandon Christensen | Colin Minihan
Run Time: 83 Mins.
Street Date: 1 September 2020
Subtitles: English SDH | Spanish