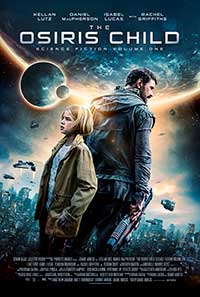 The Aussie indie sci-fi drama The Osiris Child from director and co-writer Shane Abbess (Infini) is the best tradition of philosophical allegories, dressed up in visual eye candy.
Set in a future of interplanetary colonization, escaped prisoner Sy Lombrok (Kellan Lutz), who is haunted by his mysterious past, must form an alliance with Kane Sommerville (Daniel MacPherson), a mercenary contracted with the nefarious Exor corporation whose plans are about to cause disastrous changes on the planet Osiris. The two men must work together to rescue Kane's young daughter Indi (Teagan Croft) from the monstrous results.
While the lack of a massive Hollywood budget does hinder some of the visual effects from having the same sort of impact they may have had had this been a big blockbuster, The Osiris Child is a film that is still visually striking and has strengths beyond its surface. Abbess' film is one that raises questions about who or what a monster is and forces us to examine the proverbial evil within, as the twist ending shows.
The young Teagan Croft is a revelation who, with perhaps some coaxing from an even stronger director, would shine even more. Overall, however, the cast of the film performs admirably and this is a sci-fi film that genre fans will love, continuing Abbess' command of this indie sci-fi sub-genre.
The Video
We get a clean and crisp AVC 1080p encodement of The Osiris Child framed at 2.66:1 on Blu-ray. Apart from the slightest hint of occasional banding in areas like the skies that may be in-camera issues as opposed to the encodement, this one looks bright, has excellent shadow details, and lots of depth of field.
The Audio
The Osiris Child gets a DTS-HD Master Audio 5.1 mix on Blu-ray from RLJ Entertainment. The audio is not exactly aggressive, but it has good balance with lots of atmospherics and clear dialogue and a decent amount of dynamic range.
The Supplements
We get a small collection of self-explanatory special features plus a DVD with the feature film. The half-hour making of with cast and crew is the strongest inclusion.
DVD
Making The Osiris Child (1.78:1; 1080p/24; 00:28:56)
Deleted Scenes (2.40:1; 1080p/24; 00:05:27)
The Visual Effects (2.40:1; 1080p/24; 00:07:15)
"Mama I Miss You So" Music Video by Claude Hay and Brian Cachia (2.35:1; 1080p/24; 00:03:26)
Photo Gallery (1080p/24)
Concept Art Gallery (1080p/24)
The Final Assessment
Science Fiction Volume One: The Osiris Child is a thoughtful and deftly handled piece of sci-fi diversion. It feels like a film that could be the beginning of a franchise, and not just because of the awkward name. It's a satisfying film overall for fans who love traditional sci-fi.
The Osiris Child is out December 5, 2017 on Blu-ray and DVD from RLJ Entertainment
[amazon_auto_links id="106983"]
Storm Vision Entertainment | Eclectik Vision | Storm Alley Entertainment | Cutting Edge
Studios & Distributors
Shane Abbess | Brian Cachia
Writer
$34.97
MSRP
English DTS-HD MA 5.1
Audio
English SDH | French | Spanish
Subtitles
Summary
An escaped prisoner haunted by his past (Kellan Lutz) forms an alliance with mercenary Lt. Kane Sommerville to help the latter save his young daughter (Teagan Croft) from a global disaster about to be caused by the corporation he is contracted to in this visually exciting, indie sci-fi thriller from director/co-writer Shane Abbess.
What people say... Login to rate
Be the first to leave a review.
Show more