Aspect Ratio: 1.78:1
Video Codec: AVC/MPEG-4
Audio Codec: English & French DTS-HD Master Audio 5.1
English & French Dolby Digital 5.1
Subtitles: English & French
Region: A

Directors: Robert Rodriguez, Frank Miller, Quentin Tarantino
Actors: Bruce Willis, Jessica Alba, Alexis Bledel, Rosario Dawson, Carla Gugino, Mickey Rourke
Studio: Alliance
List Price: CDN$25.99

Click thumbnails for high-resolution 1920X1080p screen captures
The Film

Sin City, the dark, gritty film adaptation of the Frank Miller graphic novels took the cinematic world by storm upon its release in 2005. Up until that point, Frank Miller had been most noted for his 1982 graphic novel The Dark Knight Returns, which resurrected the caped crusader from the campy world of spoof television series and men-in-tights, and along with other graphic novels of the 80's such as Arkham Asylum helped to recreate the legend of Batman and inspire Tim Burton's Batman film of 1989.
Frank Miller, however, had also penned seven even darker graphic novels throughout the 1980's — the Sin City series of novels. Taking for the themes the dark underbelly of the seedy world of a place called Basin City, the term 'graphic' is indeed a fitting designation. Sin City never rose to the heights of comic book popularity, but it carved out its own niche of comic book noir and director Robert Rodriguez has done well bringing it to the big screen.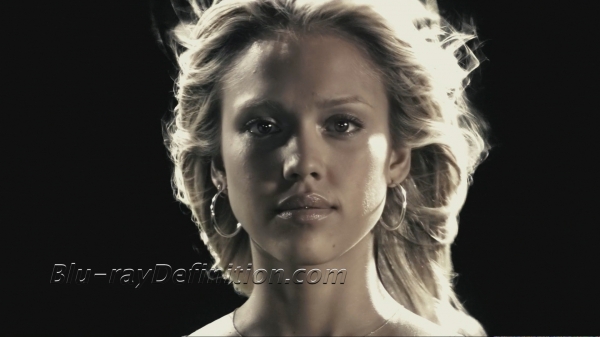 Hunting down Frank Miller to aid him in adapting three of the seven novels to films, the director went as far as to give up his membership in the DGA (Director's Guild of America) when the guild took umbrage at Miller being given a co-directing credit. The results of the decision were well worth it, Sin City is pure film noir and crime pulp and one of the best — if not the best — comic book adaptations brought to film ever done.
Rodriguez' years spent perfecting his craft as a digital filmmaker payoff as he brilliantly captures the stark black and white imagery of Miller's original novels in the four stories interpreted here in an intertwined fashion, beginning with the prologue and epilogue The Customer is Always Right. Miller's fourth graphic novel, That Yellow Bastard, is the second story on tap, split into two segments. Starring Bruce Willis, it tells of a gruff old detective Hartigan who rescues a little girl from the sexually depraved son of a corrupt politician, only to be betrayed by his partner. After spending years locked away in prison, Hartigan is set free, and he goes to find the now 19-year-old Nancy who had been sending him letters under the alias 'Cordelia' the whole time. Unwittingly, he leads 'that yellow bastard' straight to her; he thought he'd killed him, but he was only severely wounded.
Next up is The Hard Goodbye, with Mickey Rourke as Marv, a rough-and-tumble guy with a disfigured face who spends a night of bliss with a beautiful blonde named Goldie (Jaime King) only to awake with her murdered in his bed the next morning. Marv then goes on a violent spree to find Goldie's killer, even eventually involving her twin sister and his gorgeous parole officer, Lucille (Carla Gugino). The search  leads him to a farm where Marv comes up against a cannibalistic killer named Kevin (Elijah Wood) who proves to be the one opponent Marv can't handle.
Finally, there is The Big Fat Kill, which finds Clive Owen as Dwight, a cop who has it really bad for a hooker named Gail (Rosario Dawson). Dwight gets embroiled in a situation with one of his girlfriends', Shellie (Brittany Murphy), ex-boyfriends after he roughs her up, and ends up trailing him, only to find that the ex, Jackie Boy (Benicio Del Toro) was a cop. Unfortunately for Dwight, this is after one of Gail's patrolling girls has killed him. Now, Dwight, already straddling the fence between justice and corruption, is drawn into a fight between the prostitutes of Sin City and the corrupt forces that want to run them out and take over the streets — violently.
Sin City is unquestionably a dark and thought provoking tour de force. There is an undeniable charm to its imagery and bleak and violent tone that draws one in. It makes no apologies for its unhindered lack of moral questioning. It is grey and it is all there in black and white. It is everything the best noir should be, and it is a modern classic of cinema.
Video Quality

If you ever wanted to test how well your HD display was at reproducing blacks, Sin City on Blu-ray Disc is certainly the title to do it with. This 1.78:1 AVC/MPEG-4 1080p/24 transfer has superb, obsidian blacks yet maintains a fine level of shadow delineation. Foreground and background detail is stellar, as every drop of ubiquitous rain in Sin City is visible and fine textures are all reproduced flawlessly, from the wrinkles on people's faces to the creases on their leather jackets. Then, of course, there are the occasional flashes of bold, vibrant primary colours that absolutely jump from the screen. For a film that relies so little colour, Sin City on Blu-ray looks absolutely three-dimensional in this fine transfer.
Audio Quality

This Canadian release of Sin City on BD is provided with both the original English language track and a French dub version in DTS-HD Master Audio 5.1 lossless encodings in addition to Dolby Digital 5.1 versions.
From the beginning, Sin City's lossless 5.1 mix asserts itself as an all-encompassing fully engrossing wonder of sound design. All six channels are used aggressively as the surround channels are filled with the perfect amount of ambience that adds cohesiveness to the entire mix as well as discrete, directional sound effects, such as thunder, gunfire, sirens and more. The front channels are used effectively well, following action on and off screen. Low frequency extension is full, with punches landing thunderously, gunshots booming and explosions rattling the floorboards. Apart from some occasional clipping apparent, dialogue is mostly clean and intelligible and balanced perfectly into the mix. This is reference quality stuff all the way.
Supplemental Materials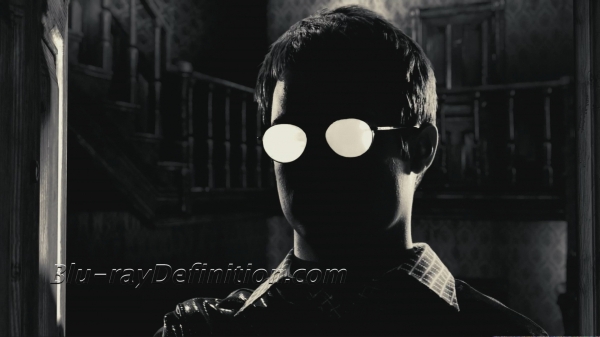 Move along, there's nothing here to see. This release of Sin City is absolutely bare bones with no supplements whatsoever.
The Definitive Word
Overall: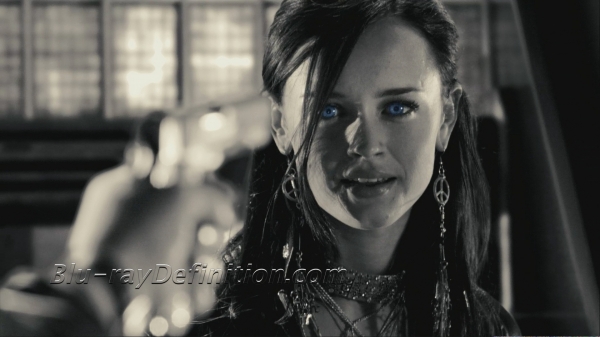 Sin City is one of the most successful adaptations of a graphic novel ever to the big screen. It is yet more evidence of the coming of age of the "comic book" as something worthy of artistic consideration. This release on Blu-ray from Alliance doesn't tack on any extras as added value, but for those in the U.S. who can't wait for the domestic release and are unconcerned about the frills, there's no arguing that this is well done. I do not hesitate to recommend this wholeheartedly as a top-tier addition to any collection.
Purchase Sin City on Blu-ray Disc [Canadian Import] at Amazon.ca
Shop with Us for More Blu-ray Titles at Amazon.com
Shop with Us for More Blu-ray Titles at Amazon.ca