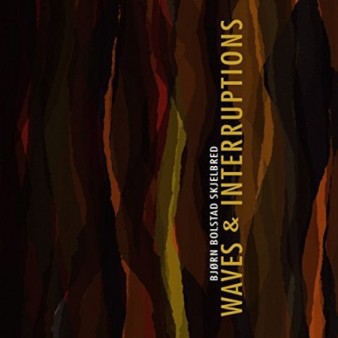 – –

The Album
[Rating:4/5]
40-something Norwegian composer Bjørn Bolstad Skjelbred has been quite busy since the beginning of the 21st century and Waves & Interruptions presents six chamber works written between 2001 and 2013. In his own words, "I think that art is the place where the conclusions are not the most important thing, but the answered questions…I think that most of my composing centres around relations between different things, relations between people, different forms of material, different instruments. I juxtapose elements and often try to observe if they despite their differences can approach each other one way or another."
In approaching Skjelbred's music, each piece involving from one to three instrumentalists has a probing, sometimes tentative quality as if the composer were trying to find his way through a shifting musical landscape. The intimacy of chamber music gives listeners the most direct entry into the composer's thoughts and these works will fall differently on the ears of each listener, each one fascinating in its own way. The playlist is:
Movements (14:40): Eirik Raude (marimba), Ida Bryhn (viola)
Recognizing the Undercurrent (10:42): Erik Raude (vibraphone)
Still Waters… (9:14): Eirik Raude (marimba), Tom Ottar Andreassen (bass flute)
Lines in motion, Entwined (15:35): Eirik Raude (vibraphone, crotales), Tom Ottar Andreassen (flutes), Thomas  Kjekstad (guitar)
Nyx (9:49): Ida Bryhn (viola)
Waves and Interruptions (13:02): Eirik Raude (marimba)
The selections sound mostly aleatoric (think John Cage) where the element of chance appears to play a role in the progression of chords, melodic lines, and rhythms. A case in point is Nyx (Greek goddess of the Night) in which a solo viola intersperses bowed and plucked strings with a melody that appears somewhat circular with the soloist returning to the same point in time. Speaking of the soloists, all are quite adept at handling the vagaries of their respective scores and recreate Skjelbred's intentions quite faithfully. The liberal use of a marimba, particularly in the finale that gives the album its title is a good example of how the composer blends scales and rhythms to give this piece its vitality.
Audio Quality
[Rating:5/5]
2L records in DXD with a resolution of  352.8kHz/24-bit. The Pure Audio Blu-ray™ is  mixed to a 5.1 DTS-HD Master Audio or 2-channel LPCM (both downsampled to 192kHz/24-bit). Once again the Jar Church provides the venue and seems to have just enough echo to make the surround version slightly more ambient. Both mixes are superb.
Supplemental Materials
[Rating:2/5]
2L omits its usual hybrid multichannel SACD but does provide via mShuttle, MP3 and FLAC downloads of the playlist. The program booklet offers a background piece on the composer and brief biosketches of the players. A 12-minute high-resolution film on the recording of some of the musical program is the bonus piece. Besides letting us see the casually garbed players at work, it shows us the recording team at work in the Jar Church. The composer briefly describes his compositional process.
The Definitive Word
Overall:
[Rating:3.5/5]
Cutting to the chase, a program with this modern a musical idiom will not appeal to many listeners who are rooted in more traditional compositions. Those, particularly younger people who are open to new material, will find something in each of the works that will speak directly to them. For this latter group, 2L certainly gives them the best-sounding renditions of Skjelbred's works that they are likely to get.
[amazon-product region="uk" tracking_id="bluraydefinit-21″]B00MNN09OE[/amazon-product]
[amazon-product region="ca" tracking_id="bluraydefinit-20″]B00MNN09OE[/amazon-product]
[amazon-product]B00MNN09OE[/amazon-product]