Aspect Ratio: 2.35:1

Video Codec: AVC/MPEG-4

Resolution: 1080p/24

Audio Codec: Russian PCM 1.0

Subtitles: English

Region: A (Region-Locked)
Rating: PG

Discs: 1

Studio: Criterion Collection

Blu-ray Release Date: May 24, 2011

List Price: $39.95
[amazon-product align="right"]B004NWPY34[/amazon-product]
Purchase Solaris [Criterion Collection] on Blu-ray at CD Universe
Shop for more Blu-ray titles at Amazon.com
Overall
[Rating:4/5]
The Film
[Rating:5/5]
Video Quality
[Rating:3.5/5]
Audio Quality
[Rating:3.5/5]
Supplemental Materials
[Rating:3/5]
Click thumbnails for high-resolution 1920X1080p screen captures
(Screen captures are lightly compressed with lossy JPEG  thus are meant as a general representation of the content and do not fully reveal the capabilities of the Blu-ray format)
–
The Film
[Rating:5/5]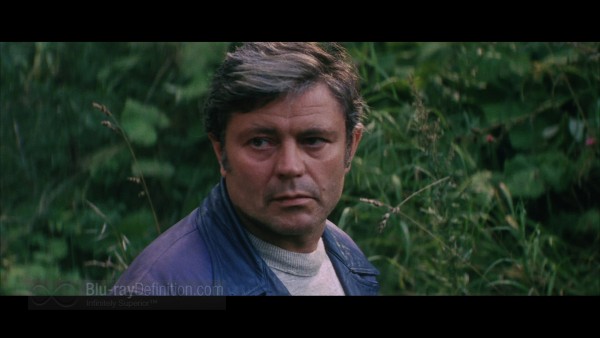 Like his fellow Soviet artists in other fields, Schnittke and Shostakovitch in the musical world for example, filmmaker Andrei Tarkovsky had to learn how to create meaningful works of art, masterpieces, under the rigid, watchful eyes of the commissars. That he was able to do so and to do so to such a great degree is an accomplishment in and of itself, but to have given the world one of its greatest science fiction classics, Solaris, is truly a ark of brilliance.
Often compared to Kubrick's 2001: A Space Odyssey, Tarkovsky himself always saw his work as an opposite of Kubrick's own science fiction classic. But through the lens of time, we can see that the two works are definitely from the same gene pool, though they certainly branch off to different parts of the family tree. Both films use highly stylized visuals to move their stories forward. Both films are rather reserved in their use of dialogue and both films make use of moody pieces of music to underline the atmospheric mood their filmmakers are striving to achieve. There, the similarities begin to dwindle. Where Kubrick's film was an essay on technological advancement and humanity's possible destruction by his own creation, Tarkovsky uses Solaris to question the essence of time, love, reality, and space itself.
Based on the novel by Stanislaw Lem, with major changes to its themes and chronology made my Tarkovsky, Solaris tells the story of the Solaris space station that has gone awry. Ground control has been receiving mysterious transmissions from the last three remaining residents and they need someone to go up and investigate what is happening. They send cosmonaut and psychologist Kris Kelvin (Donatas Banionis). Upon his arrival, he finds that one person he was expecting to meet has already committed suicide and hears further stories of mysterious illusions of people appearing aboard the craft. Sure enough, he soon begins seeing his dead wife Hari, played by the beautiful and charming Natalya Bondarchuk. When he is frightened and tries to kill her by setting her adrift through an escape pod, she only reappears. Slowly, Kris falls deeper in love with the vision of his wife and falls prey to the same mystery that harmed the other members of the crew.
This is a cerebral, slow-burning, and thoughtful piece of science fiction that, like Tarkovsky set out to do, is indeed more concerned with the human experience than with technology and special effects.
Video Quality
[Rating:3.5/5]
This high definition digital transfer was created on a Spirit Datacine from a 35mm low-contrast print made from the original negative. Thousands of instances of dirt, debris, scratches, splices, warps, jitter, and flicker were manually removed using MTI's DRS system and Pixel Farm's PFClean system, while Digital Vision's DVNR system was used for small dirt, grain, and noise reduction.
The stunning visuals of Solaris have probably never looked better than on this Blu-ray release from Criterion, but while they have maintained a superbly film-like quality to the AVC transfer, the intrinsic softness of the color sequences in particular and more instances of surface damage than usual make it one of the less spectacular, but still solid releases in the collection. The black and white sequences, not surprisingly, offer up the best imagery here as far as sharpness and contrast are concerned.
Audio Quality
[Rating:3.5/5]
The monaural soundtrack was remastered at 24-bit from a 35mm optical soundtrack positive. Clicks, thumps, hiss, and hum were manually removed using Pro Tools HD. Crackle was attenuated using AudioCube's integrated workstation.
Not much can be said about this simple PCM 1.0 (48kHz/24-bit) soundtrack. As far as I can tell, since I don't really speak Russian, the dialogue seems clear. There isn't much in the way of dynamic range, but there is a surprising amount of punch to the sound.
Supplemental Materials
[Rating:3/5]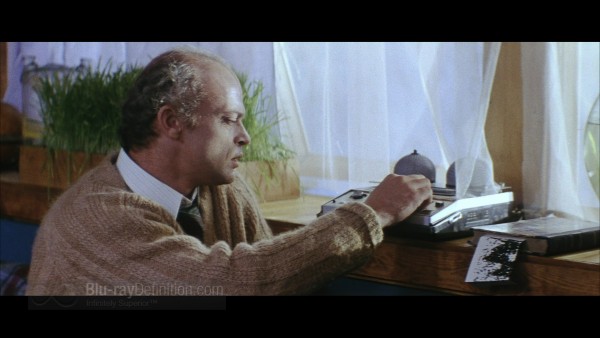 This particular Criterion release is heavy on the interviews of cast and crew, but offers no bonuses such as any additional films, documentaries, or "making ofs" that are always so interesting to view. There are, however twenty-minutes of dented scenes and very interesting essays included in the booklet, including one from the late Akira Kurosawa.
The supplements provided with this release are:
Commentary recorded exclusively for the Criterion Collection in 2002 features film scholars Vida Johnson and Graham Petrie, coauthors of The Films of Andrei Tarkovsky: A Visual Fugue.
Deleted and Alternate Scenes (2.35:1; 1080i/60; 0:25.01) – Director Andrei Tarkovsky cut Solaris significantly before the film went to Cannes in 1972. Long thought to be lost, the original version was, in fact, in the Russian film archive Gosfilmofond. Presented here, courtesy of Mosfilm and Godfilmofond, are the sequences from the original version that differ from Tarkovsky's final cut.
Natalya Bondarchuk (1.33:1; 1080i/60; 0:32.23) – Actress Natalya Bondarchuk, the daughter of Soviet film director Sergei Bondarchuk (War and Peace), went on to act in dozens of feature films after Solaris, but in this interview, she says Hari was her favorite role. Not yet nineteen at the time of production, Bondarchuk was Andrei Tarkovsky's favorite of the film's actors. He wrote in his diary, "Natasha B. has outshone everybody."
Vadim Yusov (1.33:1; 1080i/60;0:33.57) – Director Andrei Tarkovsky relied on cinematographer Vadim Yusov for the stunning images of The Steamroller and the Violin, Ivan's Childhood, Andrei Rublev, and finally, Solaris. In this interview, Yusov reflects on their relationship, Tarkovsky's perfectionism, and their meeting in Italy before Tarkovsky's death in 1986.
Mikhail Romadin (1.33:1; 1080i/60; 0:16.48) – Although Solaris was occasionally marketed as the Soviet 2001, Andrei Tarkovsky actually thought of his film as 2001's opposite – it emphasized humanity and morality over special effects and science fiction. For the creation of Solaris' distinctive look, Tarkovsky turned to art director Mikhail Romadin, interviewed here.
Eduard Artemyev (1.33:1; 1080i/60; 0:21.46) – One of the most distinctive features of Solaris is its innovative combination of different styles of music. Far more than just background, Eduard Artemyev's score contrasts the human culture and family relations of Earth with the impersonal and abstract Solaris Ocean. Here, Artemyev discusses his working relationship with Andrei Tarkovsky and demonstrates his unusual artistic methods.
Stanislaw Lem (1.33:1; 1080i/60; 0:04.57) – One person who decidedly did not like Andrei Tarkovsky's film was Stanislaw Lem, the author of the source novel. Though similar in plot to the book, the film explores completely different themes from Lem's philosophically oriented science fiction. This excerpt from a Polish television documentary discusses the best-selling novel and addresses Lem's attempts to come to some sort of compromise with the intransigent director.
Booklet: The illustrated booklet features an essay on Solaris by Peter Lopate that is both informative as well as interesting to read, an appreciation of the film and Tarkovsky by fellow filmmaker Akira Kurosawa, plus information on the transfer and film credits.
The Definitive Word
Overall:
[Rating:4/5]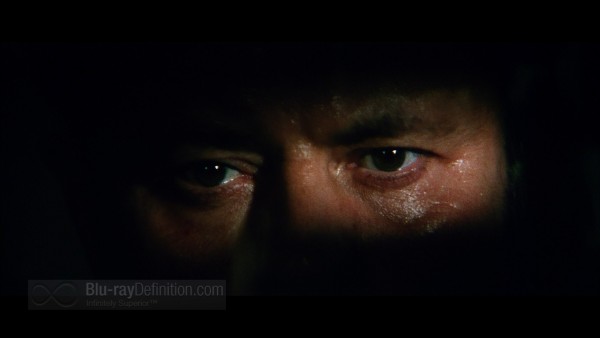 Despite all outward appearances, Solaris is not the Russian 2001. It stands on its own right and it's good to see it finally makes its way onto Blu-ray from Criterion. The studio has been on a hot streak lately with some of the greatest films of the cinema hitting Blu-ray under its label; they keep it going with this one. Recommended.
Additional Screen Captures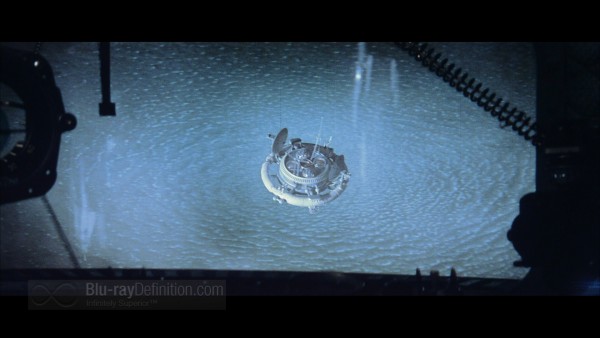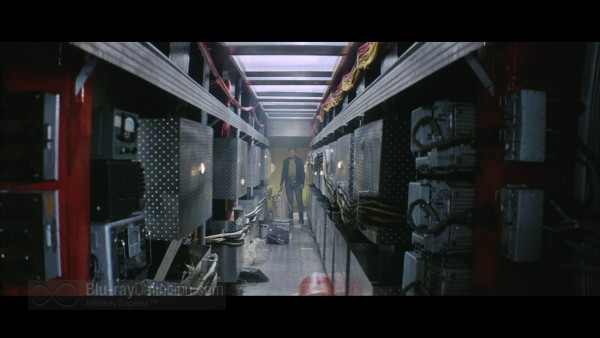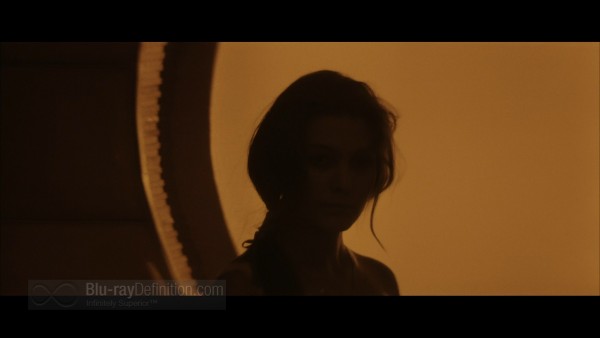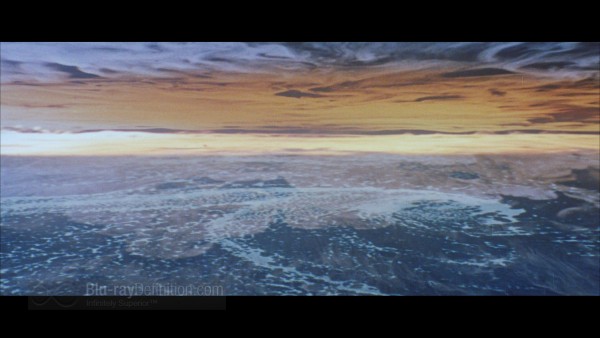 –
[amazon-product align="right"]B004NWPY34[/amazon-product]
Purchase Solaris [Criterion Collection] on Blu-ray at CD Universe
Shop for more Blu-ray titles at Amazon.com
Overall
[Rating:4/5]
The Film
[Rating:5/5]
Video Quality
[Rating:3.5/5]
Audio Quality
[Rating:3.5/5]
Supplemental Materials
[Rating:3/5]