– –
Click thumbnails for high-resolution 1920X1080p screen captures
(The below TheaterByte screen captures were taken directly from the Blu-ray Discs and losslessly compressed in the PNG format. There should be no loss of picture quality with this format. All screen captures should be regarded only as an approximation of the full capabilities of the Blu-ray format.)

The Series
[Rating:4.5/5]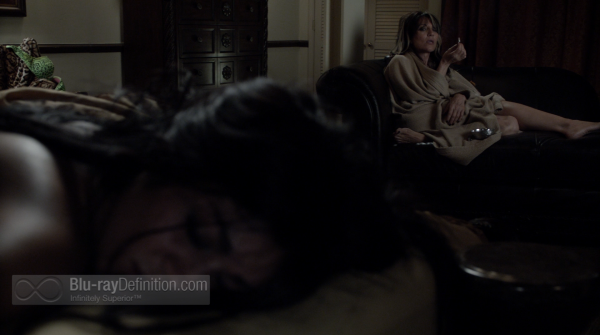 In this fifth season of Sons of Anarchy, we find a series of characters still reeling from the events of the fourth season. Gemma (Katey Seagal), still mentally hurt from her constant battles with Clay (Ron Perlman), seems to have found a new love with Nero Padilla (Jimmy Smits.) On the other hand, Jax (Carlie Hunnam) is still trying to figure out how he should feel after finding out the truth about how his real father died. Having been elected to the head of SAMCRO, Jax also has to deal with increased activity from the Sons' rival gang the Niners.
So what continues to make Sons of Anarchy so good? It's not the acting, the direction, or the dialogue. No, it's more the story and how Series Creator Kurt Sutter has developed these characters into the kind of characters we feel for, we cry for, we connect with, not just the kind of characters who may die and we just shrug our shoulders not minding a bit.
Sutter has created the kind of series that has the depth necessary to keep us watching from episode to episode. As we learn more and more about Jax and his father, particularly in this season, we side with Jax (well, at least I did) and end up actually loathing some of the other members of the Sons (especially Clay.) Gemma, on the other side of the spectrum, continues to shine here as one of the most compelling characters. She commands her scenes delivering raw emotions with each line uttered. Truly, Sons of Anarchy (and I've said this before in reviews of Breaking Bad) just may be one of the best series on television today.
Video Quality
[Rating:4/5]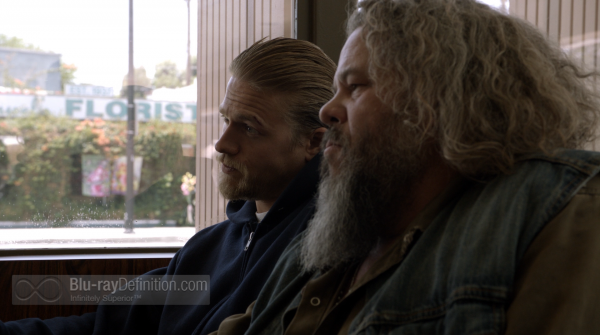 Sons of Anarchy: Season Five arrives with a 1:78:1 framed, AVC MPEG-4 encoded transfer, which for all purposes looks quite solid. Shot using the Arri Alexa HD Camera, Anarchy has always had a very gritty look and feel to its image. The color palette captures the fictional Charming, California locale with a golden/bronze tint to it. The blacks of the SoA's jackets are inky, with fine detail to them. Speaking of detail, facial close ups and flesh tones are accurate, with no notice of smearing or uneven contrast levels. Clarity is top notch, regardless of a well lit exterior shot or the dimly lit boardroom where the members meet. All in all, this transfer captures the essence of what SoA is all about.
Audio Quality
[Rating:4/5]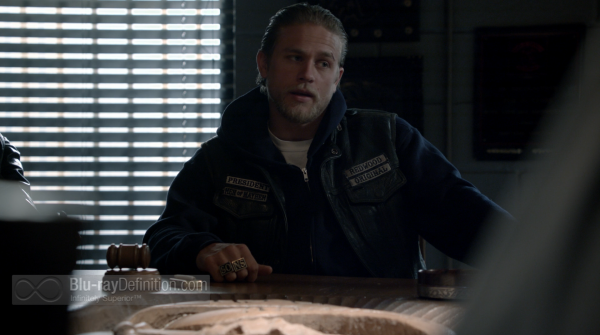 Audio-wise, the series' DTS-HD Master Audio 5.1 track impresses, especially for a TV production. Dialogue is well reproduced throughout, with no real instance of drop out via the center channel. Atmosphere is rock solid, whether it be the roaring motorcycles or simple background chatter. During the heightened action sequences, LFE is deep and immersive, offering up a subtle 'oomph' courtesy of an explosion. Directionality excels as well as we can clearly understand and hear where all effects are coming from. All in all, this mix suits the series with no real issues.
Supplemental Materials
[Rating:2/5]
All included features are presented in High Definition:
Disc One:
Audio Commentary on 'Sovereign' with Kurt Sutter, Katey Sagal, Paris Barclay, Maggie Siff and Dayton Callie.

Deleted Scenes – More an extended ending for the episode 'Huffy' than deleted scenes.
Disc Two:
Deleted Scenes – 5:40 worth of deleted scenes are shown. 
Disc Three:
Deleted Scenes – 4:04 worth of deleted scenes are shown. 

Gag Reel – 4:51 worth of gags are shown proving that the cast and crew enjoy working with each other.
Opie Winston – A rather informative look (6:48) into one of the seasons (and really series) most shocking developments.
Kurt Sutter: Creating Anarchy – A brief 3:41 look into how Creator Kurt Sutter is able to keep the series going after five years.
Fan Concert at the Club House – A 19:29 look into a group of fans who were lucky enough to visit the Club House to watch a concert.
Audio Commentary on 'Darthy' with episode Director Peter Weller.
The Definitive Word
Overall:
[Rating:4/5]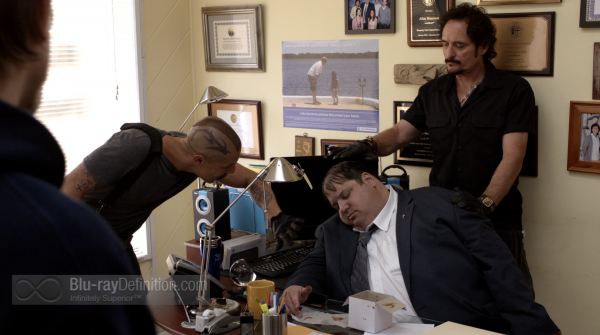 Outside of Breaking Bad, and perhaps Homeland, Sons of Anarchy is one of the more consistent series out today. Like their previous seasons, 20th Century Fox continues the solid Blu-ray treatment for the series fifth season, making this one highly recommended.
Additional Screen Captures
[amazon-product]B0099JKTFO[/amazon-product]
[amazon-product]B00AB65R1K[/amazon-product]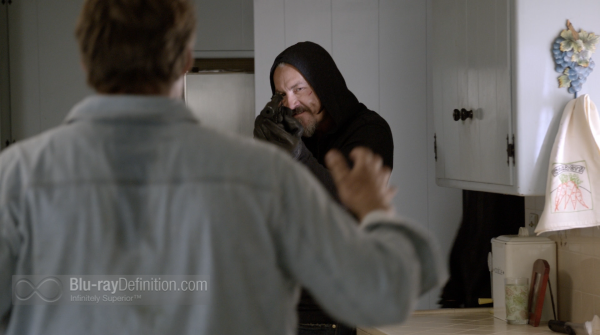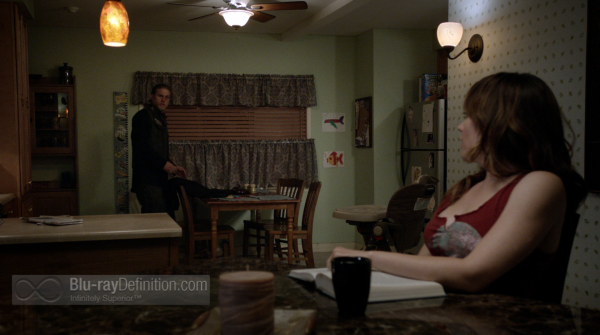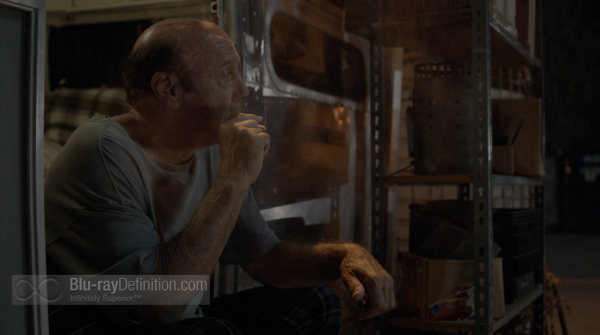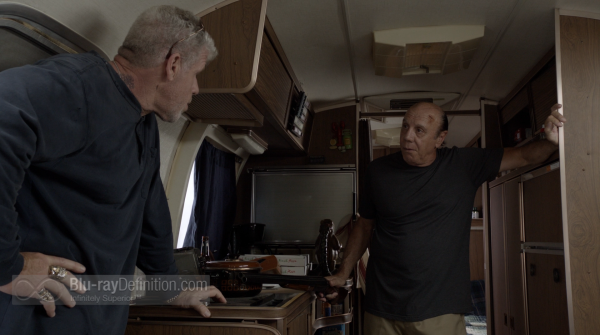 [amazon-product]B0099JKTFO[/amazon-product]
[amazon-product]B00AB65R1K[/amazon-product]