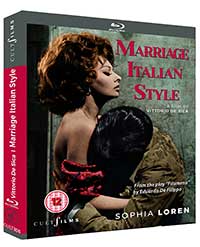 1964's Marriage Italian Style from director Vittorio De Sica (Yesterday, Today, and Tomorrow) is one of the towering romantic comedies of Italian cinema. The film stars the forever linked Sophia Loren and Marcello Mastroianni in another of their onscreen appearances showcasing the uncanny natural screen chemistry between the pair.
Based on the highly successful Italian play Filumena Marturana, Marriage Italian Style has Sophia Loren starring as the penniless prostitute, Filumena Marturano, whose wealthy business owner client, Domenico Soriano (Mastroianni), becomes what in today's terms, would be her "sugar daddy". Over the course of decades, the two eventually move in together and basically become a common law married couple, although Domenico refuses to marry Filumena legally or even acknowledge that he really loves her. Things eventually come to a head when Domenico, always the ladies' man, begins making plans to leave Filumena and elope with one of the young shop girls that work for him. Secrets, long kept hidden away, come to the surface, and the lengths to which Filumena was willing to go to keep her man – and keep herself in luxury — become quite clear.
Marriage Italian Style is not only a treatise on modern love, but also a testament to the magnificence of Sophia Loren and Marcello Mastroianni on screen together. Sica, no doubt, brings out the best of them in this film, but their natural talents go a long way as well. This is a model of timing and farcical writing. It's both romance and tragedy of life hardships wrapped into one.
The Video
CultFilms offers up Marriage Italian Style in a newly restored and remastered HD transfer to Blu-ray encoded at AVC 1080p and framed at 1.85:1. It looks rich, crisp, and organic with textured layer of grain and just a minor amount of film softness here and there. It looks relatively clean, but not scrubbed of its detail and in some areas a bit of unavoidable film damage can still be seen. None of this takes away from what is an overall satisfactory presentation of this fifty-three-year-old film. The dialogue, which is dominated by Sophia Loren and Marcello Mastroianni, comes through clearly.
The Audio
Both the original Italian monaural soundtrack and English dub appear in LPCM 2.0 mono tracks on this Blu-ray release from CultFilms. The Italian track can be accompanied by optional, new and improved English subtitles and every effort has also been made by CultFilms to improve the synch on the English dub. Personally, I would still avoid the dub and go for the excellent performances of Sophia Loren and Marcello Mastroianni in their original language in what sounds like a fine remastering of this 1964 vintage film soundtrack.
The Supplements
The exclusive documentary on the director Vittorio De Sica, featuring appearances from Woody Allen, Clint Eastwood, Giorgio Armani, Mike Leigh, and Ken Loach is an excellent watch, but it also appears on the recent CultFilms release of Yesterday, Today, and Tomorrow. The interview with Loren, which appears on other releases, is also good, but not specific to this release.
Reversible cover sleeve
'Sophia: Yesterday, Today, and Tomorrow' Interview with Sophia Loren
'Vittorio D' Featurette on Vittorio De Sica (Upscaled-1080p/24; 01:35:19)
The Final Assessment
Loren and Mastroianni heat up the screen, make us cry and laugh in this classic of Italian cinema brought to Blu-ray in a gorgeous new restoration from the UK's CultFilms. Marriage Italian Style is highly recommended.
Marriage Italian Style Starring Sophia Loren and Marcello Mastroianni was released on DVD and Blu-ray in the UK from CultFilms July 10, 2017.
[amazon_auto_links id="104106"]
Compagnia Cinematografica Champion | Les Films Concordia (Paris) | CultFilms
Studios & Distributors
Eduardo De Filippo (play) | Renato Castellani (screenplay) | Tonino Guerra (screenplay) | Leonardo Benvenuti (screenplay) | Piero De Bernardi (screenplay)
Writer
114 Mins.
Run Time
Italian LPCM 2.0 Mono
Audio
English LPCM 2.0 Mono
Secondary Audio
Summary
A prostitute and a wealthy businessman form a common law marriage lasting decades in this heartfelt Italian classic featuring a sexy Sophia Loren and dashing Marcello Mastroianni, newly restored by CultFilms.
What people say... Login to rate
Be the first to leave a review.
Show more