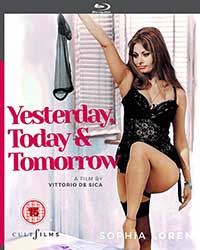 The 1963 Italian anthology film Yesterday, Today, and Tomorrow from director Vittorio De Sica brings together Sophia Loren and Marcello Mastroianni in three distinct stories wherein each actor plays disparate characters, but their innate onscreen chemistry is constantly on display.
The three comedic vignettes turn their attention on Italian society and through sexy, rom-com romps offer up commentary on everything from poverty, disparity of wealth, and the criminal justice system.
In "Adelina of Naples," set in poor Naples, Sophia Loren plays the titular character who supports her unemployed husband Carmine (Mastroianni) by selling black market cigarettes. When she is caught, Adelina faces having to pay a fine and having her furniture sold off. The neighborhood rallies around her and takes up donations to pay off her fine, but it isn't enough. On the advice of a lawyer and facing prison time, Adelina learns that Italian law won't allow a pregnant woman to be imprisoned or for a woman to be imprisoned within six months of giving birth, so she schemes to always remain pregnant. She manages to keep this up for years, having eight children, but wears herself down, and finally faces a choice of having to be impregnated by her husband's friend or going to prison.
The second vignette, "Anna of Milan" shifts the scene to wealthy Milan. Sophia Loren, now decked out by Christian Dior for the role, plays Anna, the bored wife of a super wealthy executive. She's having an affair with her lover Renzo (Mastroianni), whom she takes off with in her Rolls-Royce. The two are enjoying their liaison, but Anna has her doubts about Renzo, and Renzo doubts his feelings about Anna, particularly after her cold response to nearly running over a child.
Lastly, Yesterday, Today, and Tomorrow, ends with "Mara of Rome" in which Sophia Loren plays Mara, a high-end prostitute working from her apartment. One of her clients is the Augusto (again played by Mastroianni), son of a powerful Bologna business person. Mara finds herself the love interest of elderly neighbor's grandson who is studying for the priesthood. Mustering up virtue within herself, she resolves to set the young man back on the path of righteousness and make sure he joins the priesthood. This vignette results in one of the most famous (and steamy) scenes from the film wherein Sophia Loren performs a striptease at the film's climax.
Yesterday, Today, and Tomorrow is at times poignant and at times downright hysterical in its exposure of society's hypocrisy. It goes about it in a tongue-in-cheek manner, or often right in your face. There are some caricatures that are used very successfully to turn a mirror on society such as the prostitute with a heart of gold in "Mara of Rome" or the cold-hearted wealthy man's wife in "Anna of Milan". These may seem like clichés, but used the way they are here, they are quite ingenious narrative tools, and they are aided by brilliant performances from Sophia Loren and Marcello Mastroianni who burn up the screen together.
The Video
Yesterday, Today, and Tomorrow comes to Blu-ray in a newly restored AVC 1080p HD transfer from CultFilms. It looks very film-like and organic with a natural layer of grain. It has been cleaned up just enough so it isn't smooth and devoid of texture. There are some rough spots and few tramlines here and there, but overall this a very pleasing presentation with excellent color reproduction and contrast with relatively crisp detail given its age.
The Audio
Yesterday, Today, and Tomorrow comes with the original Italian monaural soundtrack in LPCM 2.0 and new improved English subtitles and the newly re-synched English dub in LPCM 2.0 as well, but, really, with the two fine Italian actors Sophia Loren and Marcello Mastroianni, why would one want to listen to an English dub? In any case, the Italian track sounds rather good for its age, expected boxiness aside. The English dub has the dialogue pushed much more forward in the mix.
The Supplements
The exclusive documentary on the director Vittorio De Sica, featuring appearances from Woody Allen, Clint Eastwood, Giorgio Armani, Mike Leigh, and Ken Loach is an excellent watch. There is also an interview with Loren that is nearly an hour-long. This archival interview appears on other CultFilms releases, but is still a welcome inclusion and interesting to watch.
'Sophia: Yesterday, Today, and Tomorrow' Interview with Sophia Loren (1.33:1; up-scaled 1080p; 00:54:03)
'Vittorio D' Featurette on Vittorio De Sica (Upscaled-1080p/24; 01:35:19)
The Final Assessment
One of the classics of Italian cinema and also a superb way to see the talents of Sophia Loren and Marcello Mastroianni together on the screen, Yesterday, Today, and Tomorrow on Blu-ray from CultFilms is a must for cineastes.
Yesterday, Today, and Tomorrow starring Sophia Loren and Marcello Mastroianni is available on Blu-ray and DVD from CultFilms in the UK August 21, 2017.
[amazon_auto_links id="104073"]
Compagnia Cinematografica Champion | Les Films Concordia | CultFilms
Studios & Distributors
Eduardo De Filippo (story & Screenplay) | Isabella Quarantotti (screenplay) | Alberto Moravia (novel) (segment
Writer
Italian LPCM 2.0 Mono
Audio
English LPCM 2.0 Mono
Secondary Audio
Summary
This classic Italian comedy/romance anthology turns a mirror on the Italian society of the 1950s and '60s and features fantastic performances from Sophia Loren and Marcello Mastroianni.
What people say... Login to rate
Be the first to leave a review.
Show more