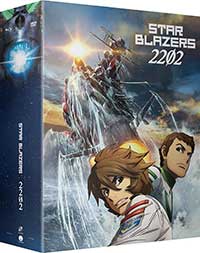 Star Blazers 2202 is a new retelling of Space Battleship Yamato II and Arrivederci Yamato. It follows after the events of Star Blazers 2199, which was itself a retelling of the classic Space Battleship Yamato. In this new series three years after the Gamillas invasion of the Solar system, and the Solar system is now at peace, with Earth's biosphere fully restored with the Cosmo Reverse System that the Yamato brought back at the end of Star Blazers 2199. Now Earth and the Gamillas have joint military forces with a new military fleet led by the Andromeda, but this is causing tension with Starsha Iscandar. When a threat to the new alliance emerges called Gatlantis, the Yamato is pressed into action once again.
As with all of the production in the Space Battleship Yamato franchise, Star Blazers 2202 is an action-packed sci-fi space opera, and it spares no time getting to it. From the opening moments we're tossed into a fracas of pulse-pounding battle. The series rarely lets up. But there is also little time here for exposition. I know this franchise is steeped in tradition and character development, but I can't see how anyone unfamiliar with the background of the story arc would be able to follow anything going on in this series, unlike in Star Blazers 2199, which worked as a stand-alone series even without seeing any of the classic series.
The storytelling here is rather disjointed, shifting from one set piece to another and expecting us to be in on what's going on. By the time the famous Yamato takes center stage, the viewer coming into this series for the first time will be wondering why there's such a fuss over the Yamato. Heck, the English version of the series doesn't even emphasize "Yamato" in its title.
That said, there' plenty still here to enjoy if one can bear with the uneven storytelling lack of background details. The animation is just awesome. Period. The scope of the world the characters exist in seems vast and we always have a real sense about the immense, galactic scale over which the events are playing out. This is helped a lot by the tremendous graphics and backgrounds.
Does Star Blazers 2202 Part One hold up to 2199? In my opinion, no, not on its own. If you play them together then it is an acceptable follow-up. Also, one must keep in mind, this is only the first half. Things have time to improve over the second half, but if the first half is a bit confused, it doesn't bode well.
The Video
Star Blazers 2202 comes to Blu-ray in an AVC 1080p encodement from Funimation. The picture looks good with superb detail and basically clean imagery apart from some slight color banding. Otherwise this is a pleasing presentation with no noise or motion artifacts.
The Audio
Star Blazers 2202 comes with both the original Japanese-language audio mix in Dolby TrueHD 2.0 stereo and the English dub from Funimation in Dolby TrueHD 5.1. The stereo track shows a surprising amount of dynamic range and stereo imaging and the vocal cast are engaging to listen to. The 5.1 mix is mastered a bit too low and the dynamics sound a little narrow. The vocal cast do a decent job, but there's something a bit hammy about the delivery at times and at other times a little stiff.
The Supplements
This limited-edition collection is packed with collectibles and special features that fans will definitely want.
Glossy Chipboard Slipcover
Hardcover Artbook
Art Cards
Funimation Digital Copy
DVDs
Episode 02 Commentary
Interview with Ken Meseroll & Christopher Wehkamp (1.78:1; 1080p; 00:16:26)
Special Theatrical Trailer 1.78:1; 1080p; 00:01:02)
Textless Opening Songs: "Uchu Senkan Yamato 2202" Ver. 1-3
Textless Closing Songs:

"Yamato yori ai o komete"
"Tsuki no Kagami"
"Kimi, Hitohira"
"CRIMSON RED"

Funimation Trailers
The Final Assessment
This is a well-done series with awesome animation and adrenaline-pumping action. While the storytelling is a bit disjointed and not meant for those with no knowledge of the franchise, it will be appreciated by fans of Yamato.
Star Blazers 2202: Part One [Limited Edition] is out March 26, 2019 from Funimation
---
Funimation Entertainment
Distributor
$84.98
MSRP
2.35:1/1.78:1
Aspect Ratio
Japanese Dolby TrueHD 2.0 Stereo
Audio
English Dolby TrueHD 5.1
Secondary Audio
Summary
Three years after the events of Star Blazers 2199, there is peace in the Solar system, an alliance between Earth and the Gamillas, and a new joint military fleet led by the flagship Andromeda, but a new threat will call the Yamato into action yet again. This new retelling of Space Battleship Yamato 2 is an action-packed space opera, with gorgeous animation, but the storytelling will confuse anyone not already familiar with the franchise.
What people say... Login to rate
Be the first to leave a review.
Show more