Mouse-over Cover Art for Details
Click thumbnails for high-resolution 1920X1080p screen captures
(The below TheaterByte screen captures were taken directly from the Blu-ray Disc and losslessly compressed in the PNG format. There should be no loss of picture quality with this format. All screen captures should be regarded only as an approximation of the full capabilities of the Blu-ray format.)
The Show
[Rating:4.5/5]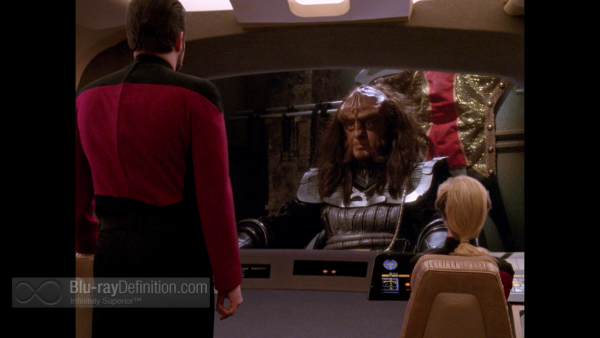 "Redemption" is the two part cliffhanger and subsequent season premiere of Star Trek: The Next Generation's fourth and fifth seasons. Carrying on from the story that began with the fourth season's episode "Reunion" in which Worf (Michael Dorn) finds out he has a son and an internal power struggle begins in the Klingon Empire to determine who will be the next leader and rule over the Empire, this two-parter will find Worf resigning his command in Starfleet to clear his family name and become embroiled in the struggle between Gowron and the Duras sisters for leadership in the Klingon High Council. It also brings back Denise Crosby, the former Tash Yar, as a Romulan commander bearing a striking resemblance to Tasha and claiming to be the former's daughter.
The two-part episode is one of the great cliffhangers in The Next Generation's run on television, is filled with intrigue, lots of Klingon mythology and battles, and ties into not only past episodes from the series, but also carried forward to later creations in the Star Trek universe, such as Deep Space Nine. This is a perfect breakaway doubleheader from The Next Generation.
Video Quality
[Rating:4.5/5]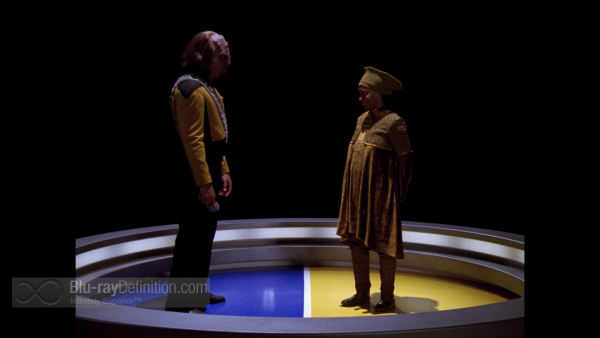 The episodes look great, almost like new again in this restoration. The visual effects, such as the Romulan starships and the skyline of the Klingon home world really look spectacular. Textured, crisp, and film-like, redemption is a fine representation of Star Trek: The Next Generation's restoration effort.
Audio Quality
[Rating:4/5]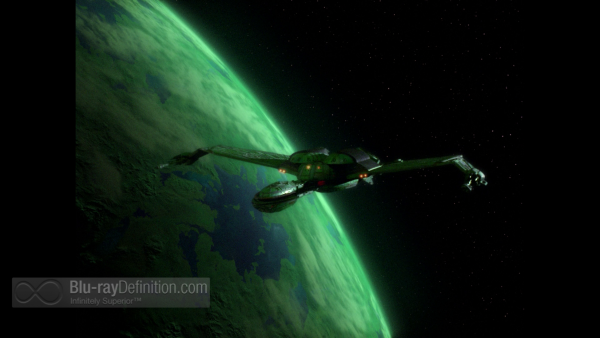 I still think that the 7.1 remixes of The Next Generation sound a little bit overblown and boomy, but they certainly do make the series a little more exciting and up to date. Redemption, as with all the Next Generation restorations, is just a little harsh in the high end, but aggressively mixed and dynamic, with discrete sounds coming from around you, especially during those starship battle sequences. The original English stereo track, in Dolby Digital 2.0, admittedly sounds a bit dated and claustrophobic in comparison to the 7.1, but is a good option for those who remember (or even had the capability for) stereo television broadcasts.
Supplemental Materials
[Rating:3/5]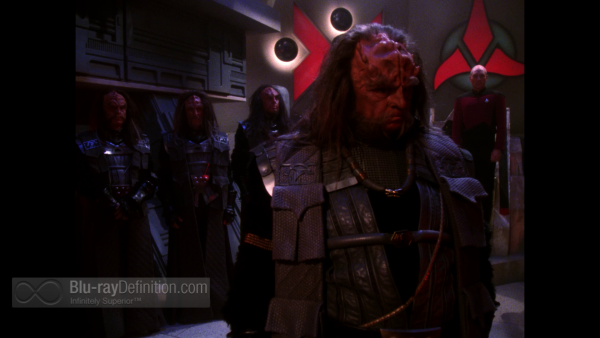 We get the excellent excellent half-hour documentary on this exciting STTNG episode as well as crew commentary and the episodic promos to round it all out.
UltraViolet
Audio commentary by Ronald D. Moore and Mike & Denise Okuda
Additional Data:

Survive and Succeed: An Empire at War (1.78:1; 1080p/24; 00:30:06)
Episodic Promos:

Part 1 (1.33:1; SD; 00:00:34)
Part 2 (1.33:1; SD; 00:00:34)
The Definitive Word
Overall:
[Rating:4/5]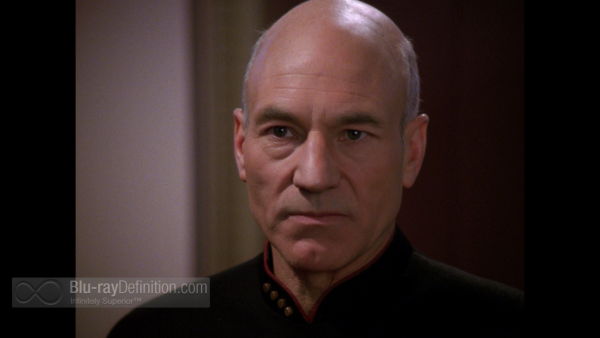 The Klingon empire is on the verge of civil war, Worf must decide between Starfleet and the cry of war, and Tasha Yar returns as a Klingon – what more could a Trekkie ask for? This one is a perfect two-parter to act as a standalone and also makes for some excellent HD entertainment.
Additional Screen Captures
[amazon-product]B00CLA3Y2I[/amazon-product]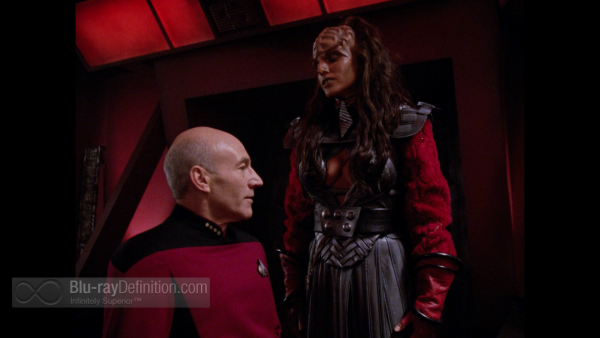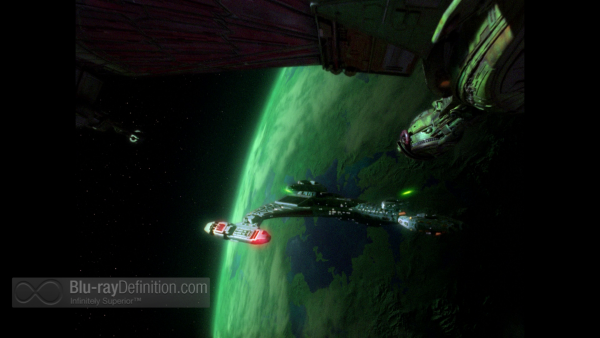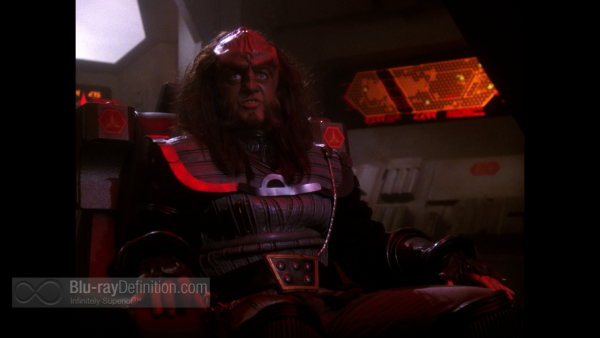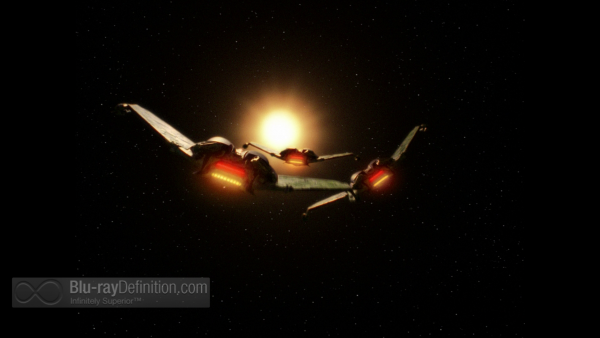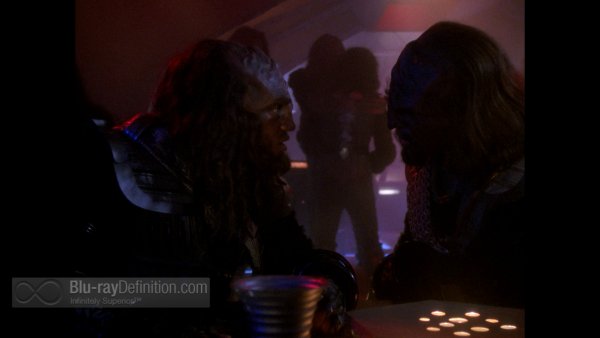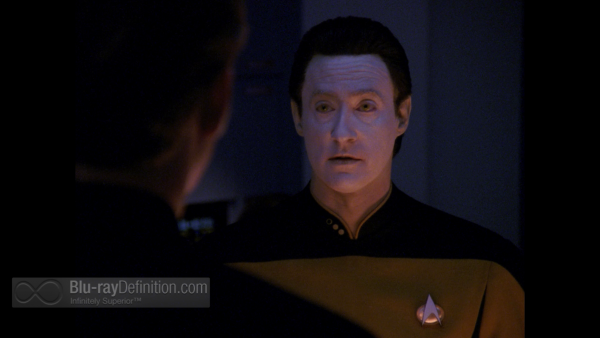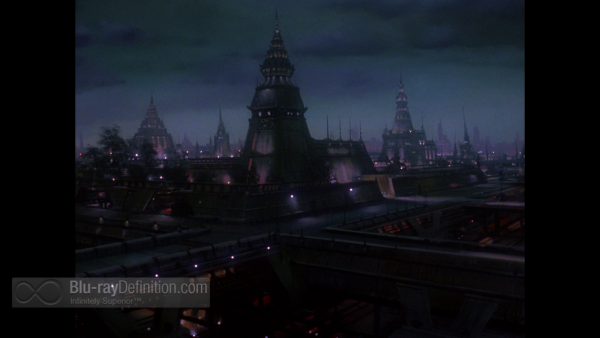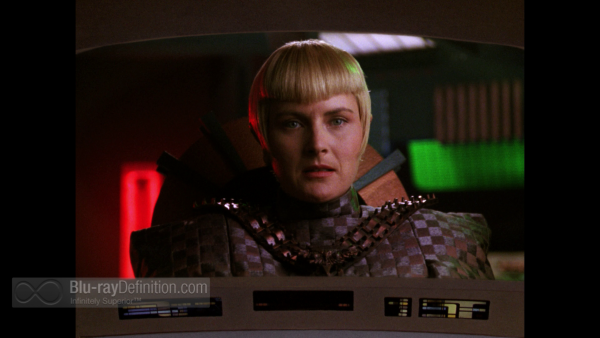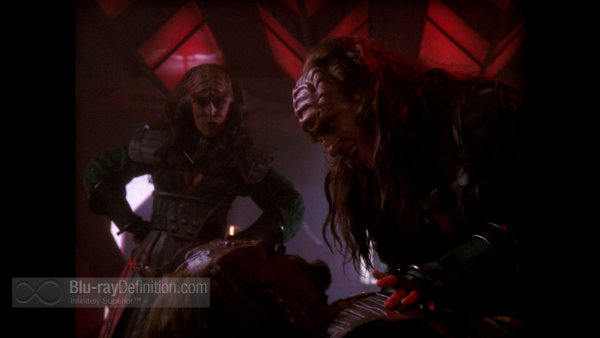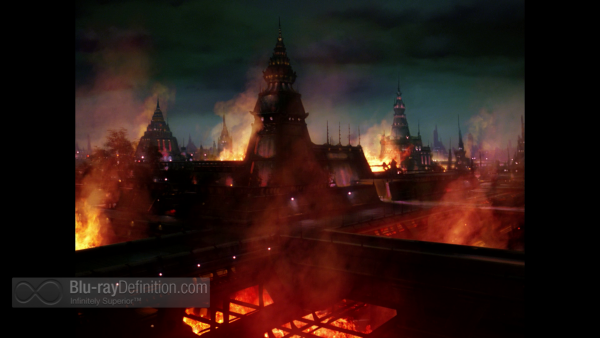 [amazon-product]B00CLA3Y2I[/amazon-product]