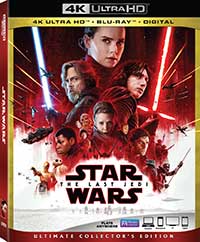 The second installment in the new trilogy and the third overall of the new set of films from this famous franchise, Star Wars: The Last Jedi opened in theaters late last year to big box office numbers and now arrives on 4K Ultra HD Combo pack.
The story picks up where Star Wars: The Force Awakens left off with the Resistance fighting the all-powerful First Order in an epic space battle with the renegade Poe Dameron (Oscar Isaac) leading a fleet of Resistance fighters against a destroyer led by the weasely General Hux (Domhnall Gleeson). Meanwhile, as Finn (John Boyega) recovers from his injuries), Rey (Daisy Ridley) continues to discover the power of the force she holds within herself as she finds the elusive Jedi master Luke Skywalker (Mark Hamill) to convince him to come back with her and help the Resistance fight off the evermore powerful son of Han Solo Kylo Ren (Adam Driver), who, since killing his father, has grown both more powerful but also conflicted, yet still remains under the sway of Supreme Leader Snoke (Andy Serkis). With the Resistance's backs against the way, and Luke Skywalker hesitant to help due to a terrible incident from his past when he was once Kylo Ren's master, Rey takes it upon herself to go and try to save Kylo, to try to save him from the dark side, as it were. The two had been mysteriously linked psychically ever since she got to the secret island Luke had hidden out on and she feels that Kylo is reaching out to her for help.  Meanwhile, Finn, Poe, and their new Resistance acquaintance Rose Tico (Kelly Marie Tran) devise a plan to disable the First Order ships that will require them boarding one with the help of a rogue mercenary (Benicio Del Toro) – all against the orders of an out of commission Princess Leia (Carrie Fisher) and the new in command Vice Admiral Holdo (Laura Dern).
Star Wars: The Last Jedi has many of the elements that have made this franchise a fan favorite from the time A New Hope first hit theaters in 1977 – the stunning visual effects are all here and unlike the George Lucas era "Special Editions" or prequels, the effects fit the film or aren't out of place. There's also the requisite scenes where spaceships battle in space and something big blow up – this starts the film off in the first few minutes of the first act, and Rian Johnson doesn't dig too deeply into the Lucas playbook either as out hero takes has to precisely manipulate his fighter over the First Order destroyers and take out their gunners while his robot BB-8 (oops, was that a spoiler?) has to do a constant run of repairs. Then there are the land battles to defend the Resistance base – and these are stunning with red salt kicking up, lasers blasting, everything one would expect.
The issue with this film is it feels even more contrived than The Force Awakens, which itself felt like an unnamed remake of A New Hope. Here the individual protagonists are all off on separate journeys for nearly the entire film but heading toward what just about what any Star Wars fan could figure is going to be the ending. Luke Skywalker is now an appropriately grizzled and cynical old man made timid by the events of his past, something that many Star Wars fans who expected him to still be the young pie-eyed optimist from the first film complained vocally about. That is not what harms this film, but what makes it a more realistic film. What harms the film most is the still less than convincing villain Kylo Ren who remains a weak substitute for Darth Vader. Even Rian Johnson must have realized this because he has Supreme Leader Snoke say about as much at one point in the film. Snoke would be a much better villain to focus on, but then, he doesn't have a connection to the mythology – that we know of – by being the son of Leia and Han.
There are also some plot holes that are just a little too much to overlook. Without giving anything away, let's say that the psychic connection between Rey and Kylo Ren makes the confrontation between the two of them and Snoke quite troublesome in the way things resolve.
Star Wars: The Last Jedi is a beautiful film with a lot of action and a level of neuroses, conflict, and transitions that make it a worthy centerpiece in a trilogy, but it doesn't live up to the history of this franchise; in other words, it's no The Empire Strikes Back. That said, the parts are better than the whole and it is certainly an excellent popcorn movie that outdoes a lot of others.
The Video
Star Wars: The Last Jedi was shot on various Arri, IMAX, and Panavision cameras in 4K, 65mm and Super 35 in anamorphic format and 4K DI was used in post-processing. It arrives on 4K Ultra HD from Disney in an HEVC 2160p (4K) encodement with Dolby Vision High Dynamic Range framed at 2.39:1. The picture looks film-like and the various formats that were used are blended together flawlessly. In facts, one would think the whole production was done on film given the thin layer of apparent "grain" that appears throughout much of it. There's superb textures and excellent colors thanks to the wide color gamut – in Snoke's throne room, the vermillion red background 'pops' beautifully with a rich red that doesn't look quite as vibrant on the Blu-ray. I have also compared the streaming version in HDR10 and Dolby Vision on Vudu and these scenes in Snoke's throne room show color banding in the streams where here they are pristine, solid. The streaming versions also do not have as inky blacks in the space battle scenes and show some compression noise, as to be expected. Here, thanks to the superior 4K Ultra HD Blu-ray format and Dolby Vision the space scenes are truly magnificent, although I don't think the HDR has the sort of 'pop' in highlights much of the time in this film as I have seen in some other films. It stands out most in the explosions and fires. It is very well done in shadow details, however.
The Audio
Star Wars: The Last Jedi hits 4K Ultra HD in an oddly labeled Dolby Atmos "7.1.4" mix, which isn't really a thing. Atmos is an object-oriented format that isn't channel based. It adapts itself to the number of channels in your system, so while a given Atmos-capable system may be limited to 7.1.4, the mix itself hasn't been mixed to that specific configuration.
That said, this specific mix is aggressive placing sounds pretty much everywhere, but it is not overwhelming. It starts out with the famous score by John Williams under the scrolling prologue, and the brass section and strings are expanded by the height channels perfectly. This is the best this music has ever sounded in my home. There's also good low-end extension. What I found, however, is that the sound was mastered to a pretty low level, so you have to turn it up pretty loud, and, to my ears, the dynamic range is limited somewhat. While I didn't hear the awful low-end distortion that just plagued me no matter where I listened to Episode 7 — even streaming it on Vudu and listening on my very capable B&W P5 headphones – it did notice that the quiet parts never got to a whisper level and the loud parts felt constrained. Also the mid-range could have been a little punchier for my tastes.
The Supplements
Star Wars: The Last Jedi is stuffed with 'making ofs', 'behind the scenes' featurettes, and tons of deleted scenes. Be sure to check out the audio commentary by Rian Johnson and the 95 mins. Long 'making of' documentary The Director and the Jedi.
Blu-ray w/ feature film and audio commentary
Movies Anywhere Digital Copy
Audio commentary by writer/director Rian Johnson (Blu-ray)
Bonus Blu-ray Disc:

The Director and the Jedi (2.35:1; 1080p/24; 01:35:23)
Balance of the Force (2.35:1; 1080p/24; 00:10:17)
Scene Breakdowns (2.35:1; 1080p/24; 00:33:01):

Lighting the Spark: Creating the Space Battle
Snoke and Mirrors
Showdown on Crait

Andy Serkis Live! (One Night Only) (1.78:1; 1080p/24; 00:05:49)
Deleted Scenes with optional commentary by writer/director Rian Johnson (2.39:1; 1080p/24; 00:23:02)

Introduction from Rian Johnson
Alternate Opening
Paige's Gun Jams
Luke Has a Moment
Poe: Not Much of a Sewer
It's Kind of Weird That You Recorded That
The Caretaker Sizes Up Rey
Caretaker Village Sequence
Extended Fathier Chase
Mega Destroyer Incursion – Extended Version
Rose Bites the Hand that Taunts Her
Phasma Squealed Like a Whoop Hog
Rose & Finn Go to Where They Belong
Rey & Chewie in the Falcon
The Costumes and Creatures of Canto Bight
The Final Assessment
Star Wars: The Last Jedi is a fantastic looking film with a ton of action and excellent performances that looks superb in this new 4K Ultra HD Combo Pack release from Disney. Although some plot holes and a bit of a diffuse script and direction hurt the story, it still makes for satisfying popcorn entertainment.
Star Wars: The Last Jedi is out on 4K Ultra HD Combo & Blu-ray March 27, 2018 from Disney
PG-13 (for sequences of sci-fi action and violence.)
Rating Certificate
Rian Johnson | George Lucas (based on characters created by)
Writer
HEVC (H.265) 2160p (4K) | AVC 1080p (Blu-ray)
Video
Dolby Vision (Compatible w/ HDR10)
HDR Format
English Dolby Atmos (Compatible w/ Dolby TrueHD 7.1)
Primary Audio
English DTS-HD MA 7.1 (Blu-ray) | English Descriptive Audio 2.0 | French DD 5.1 | Spanish DD 5.1
Secondary Audio
HDR Effect (If Applicable)
Summary
As the Resistance looks as if they are going to lose the fight against the oppressive regime of the First Order, Rey (Daisy Ridley) continues to discover the growing strength of the Force within herself and seeks out the reclusive Jedi master Luke Skywalker (Mark Hamill) to help turn the conflicted Kylo Ren (Adam Driver) away from the dark side and subsequently turn the tide of the long-raging civil war in this second in the new trilogy of Star Wars films sans George Lucas. Despite a somewhat diffuse script and a few vexing plot holes, The Last Jedi has enough familiar elements from this powerhouse franchise to make for a satisfying popcorn experience plus some surprises. The 4K Ultra HD disc makes for excellent home theater entertainment as well.
What people say... Login to rate
Be the first to leave a review.
Show more