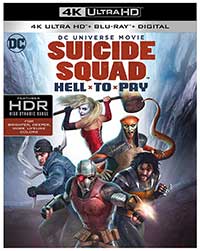 In the latest DC Universe direct-to-video animated release Suicide Squad: Hell to Pay, the maniacs of Belle Reve are assembled once again by the cruel taskmaster warden Amanda Waller (voiced by Vanessa Williams). This time  the veterans of the band of criminals in Task Force X, consisting of Deadshot (voiced by Christian Slater), Killer Frost (voiced by Kristen Bauer van Straten), Captain Boomerang (voiced by Liam McIntyre), and Harley Quinn (voiced by Tara Strong) are joined by newcomers to the group, the reptilian Copperhead (voiced by Gideon Emery) and martial arts master Bronze Tiger (Billy Brown).
The team are charged with tracking down a mystical artifact known as the "Get out of Hell Free" card that purportedly allows the bearer to bypass hell and go straight to heaven upon their death. Naturally, obtaining a card like this for Waller won't be easy, especially when they have the immortal Vandal Savage (voiced by Jim Pirri) and the evil speedster Zoom (voiced by C. Thomas Howell) also after the card.
Suicide Squad: Hell to Pay comes with an "R" rating and rightfully so – it is arguably DC's most violent and profanity-laced direct-to-video production to date, but that is not all it has going for it. While the card itself that Team X AKA the Suicide Squad is hunting is arguably a MacGuffin, the story is filled with a ton of action and these anti-heroes are more interesting than the superheroes that are usually the focus of these DC productions. Deadshot is the character with the most depth given his family situation with the daughter he longs to have a relationship with and Harley Quinn is the most charismatic.
This one film in particular looks fantastic as well without having to resort to tipping into gimmickry such as adopting an anime style or going Gothic in an alternate timeline such as in Gotham by Gaslight, as great as that film was. Fans of Suicide Squad may actually enjoy this film more than Snyder's live-action film, which was a big letdown.
The Video
While the 2160p HEVC (4K) encodement framed at 1.78:1 of Suicide Squad: Hell to Pay pops with vibrant colors and highlights that shimmer off the screen, particularly in the dark scenes, there is distinct and distracting color banding throughout. Unfortunately, unlike the Batman & Harley Quinn release where the Blu-ray showed little of this same issue in comparison to the 4K Ultra HD counterpart, with this release, the issue is inherent in both formats, so the 4K is still your best bet for the better color and dynamic range, but the aforementioned issue keeps it from being any sort of reference.
The Audio
Suicide Squad: Hell to Pay get a raucous DTS-HD Master Audio 5.1 soundtrack that, while it isn't an immersive DTS:X or Atmos mix, is still quite engulfing and dynamic. There's good dynamic range, beefy low-end, solid effects in the surround channels and clean dialogue.
The Supplements
There's a good slate of special features included with Suicide Squad: Hell to Pay, all on the accompanying Blu-ray Disc. As always with the DC Universe animated releases, there's a good selection of 'making of' featurettes offering interviews with the crew as well as sneak peeks at future productions and episodes from the DC Comics vault.
Movies Anywhere digital movie included to stream or watch anywhere, including iTunes, Vudu, Google Play, Amazon Prime, Fandango Now, and the Movies Anywhere app.
Blu-ray w/ feature and special features (see below)
A Sneak Peek at DC Universe's Next Animated Movie, The Death of Superman (1.78:1; 1080p/24; 00:07:06)
Outback Rogue: Captain Boomerang (1.78:1; 1080p/24; 00:05:14)
Nice Shot, Floyd! The Greatest Marksman in the DCU (1.78:1; 1080p/24; 00:05:36)
The Power of Plot Devices, MacGuffins and Red Herrings (1.78:1; 1080p/24; 00:10:30)
Commentary
A Sneak Peek at DCU Batman: Assault on Arkham (1.78:1; 1080i/60; 00:07:29)
A Sneak Peek at Superman/Batman: Public Enemies (1.78:1; 1080p/24; 00:07:48)
From the DC Comics Vault: Beware the Batman, Instinct (1.78:1; 1080p/24; 00:22:04)
From the DC Comics Vault: Young Justice, Terrors (1.78:1; 1080p/24; 00:22:39)
The Final Assessment
Action-packed and gritty with just enough comic relief, this Suicide Squad: Hell to Pay release on 4K Ultra HD Blu-ray has some video flaws, but is still a fun direct-to-video DC Universe release.
Suicide Squad: Hell to Pay is out April 10, 2018 on 4K Ultra HD Combo & Blu-ray from Warner Bros.
[amazon_auto_links id="109791"]
R (for strong bloody violence throughout, sexual content, brief graphic nudity and some drug material)
Rating Certificate
DC Entertainment | Warner Bros. Animation
Studios & Distributors
$39.99
MSRP
HEVC (H.265) 2160p (4K) | AVC 1080p (Blu-ray)
Video
4000 Nits
Maximum Luminance
0.005 Nits
Minimum Luminance
English DTS-HD MA 5.1
Primary Audio
French DD 5.1 | German DD 5.1 | Spanish (Castilian) DD 5.1 | Spanish (Latino) DD 5.1 | Portuguese DD 5.1
Secondary Audio
English SDH | French | German SDH | Spanish (Castilian) | Spanish (Latino) | Portuguese
Subtitles
HDR Effect (If Applicable)
Summary
Task Force X AKA "The Suicide Squad" are tasked to obtain a powerful mystical artifact known as the "Get of of Hell Free" card, and their lives are on the line while doing is as they come up against evil speedster Zoom and the immortal Vandal Savage. One of the grittiest, R-rated DC Universe releases to date, the action-filled film looks great from an animation perspective, but the video quality does suffer from some issues with color banding on both the 4K and Blu-ray discs.
What people say... Login to rate
Be the first to leave a review.
Show more