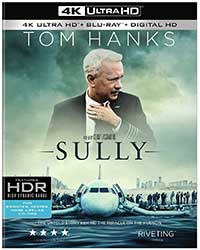 As a director of late, Clint Eastwood seems fascinated with what he sees as larger-than-life heroes or infamous figures, such as with his last film about the troubled Navy S.E.A.L. Chris Kyle in American Sniper, or the post-apartheid South African rugby team spurred on to international victory by the recently freed and elected Nelson Mandela in Invictus. In Sully, Eastwood takes on the unlikely hero, Chesley "Sully" Sullenberger's story, the US Airlines captain who became an overnight hero after he and his co-pilot made a fateful and successful decision to land their passenger jet on the New York's Hudson River after both of the plane's engines failed shortly after takeoff due to birds being sucked into the engines.
The brief film (it has a run time of just over 90-minutes) stars Tom Hanks as Captain Sullenberger and Hanks is, per usual, marvelous in the role. Eastwood is probably at his most laid back and balanced as a director as well. While he can't help but portray Sully as the unbreakable hero and lifesaver – and, after all, why not? The man did successfully keep 155 people alive, himself included — he does do an excellent job balancing the doubt that Sully has over his decision and the pressure put on him by the sudden fame and the inquires about his decision-making that follow.
Through flashbacks to his military service and the flight in question, we get a better understanding of that horrible day, and the 90-minutes seems epic even though it is brief. Hanks dominates the film, but commendation must go to Aaron Eckhart, Hanks' co-pilot in every way, for holding his own in this spectacular, heartfelt film.
The Video
Sully is a pure digital, Ultra High-Definition production that was shot on the Arri Alexa 65 with Hasselblad Prime 65 lenses and the Arri Alexa IMAX Hasselblad Prime 65 lenses and production utilized a 4K digital intermediate. The 4K Ultra HD Blu-ray is taken from the 4K master and arrives in an HEVC 2160p encodement with HDR (High Dynamic Range) that looks brilliant. The picture is pristine while also looking filmic. Blacks are deep without much crush, although I did see some slight hints of it at times, particularly in the lapels of Sully and Skiles' uniforms. That was minor, however, and mostly we get a marvelous application of the HDR that looks so lifelike, particularly when Sully is standing in front of the window and imagining what might have happened if he had crashed the airliner – the brightness of the city outside, the flames of the explosion are all balanced with the nuanced, unnatural interior office lighting excellently.
The Audio
Sully is given a strong English Dolby Atmos that suits the film well. It isn't overly aggressive, but there are an excellent balance of atmospherics and additional overhead sounds during the flashback sequences to the brief yet fateful flight. The dialogue has the slightest hint of clipping during some louder passages.
The Supplements
The on-disc extras amount to almost an hour of behind-the-scenes/behind the story featurettes, with interviews with the cast, crew, and Captain Sully. While they have a promotional, "feel good" feel to them, they are still interesting to sit through.
Digital HD Ultra Violet
Standard Blu-ray Disc w/ Main Feature and extras
Moment by Moment: Averting Disaster on the Hudson (HD; 00:15:44)
Sully Sullenberger: The Man Behind the Miracle (HD; 00:19:49)
Neck Deep in the Hudson: Shooting Sully (HD; 00:20:17)
The Final Assessment
Tom Hanks has another winning performance under his belt in this Clint Eastwood-directed film about modern-day hero Captain Sully. Though it seems like the subject wouldn't make a very good film, in Eastwood's hands and with the well put together cast, it's a satisfying effort visually and emotionally. The 4K disc also shoots to the top as one of the best looking available now.
Sully (TheaterByte 4K Ultra HD Blu-ray Review)
PG-13 (for some peril and brief strong language)
Rating Certificate
Flashlight Films | The Kennedy/Marshall Company | Malpaso Productions | RatPac Entertainment | Village Roadshow Pictures | Warner Bros. | Warner Home Video
Studios & Distributors
Todd Komarnicki (screenplay) | Chesley Sullenberger (book) | Jeffrey Zaslow (book)
Writer
$44.95
MSRP
HEVC (H.265) 2160p (UHD) | AVC 1080p (BD)
Video
English SDH | French | Italian SDH | Portuguese| Spanish (Castilian) | Spanish (Latino) | Czech | Danish | Finnish | Norwegian | Swedish | Korean | Chinese
Subtitles
English Descriptive Audio 5.1 | French (Quebecois) DD 5.1 | Italian DD 5.1 | Portuguese DD 5.1 | Spanish (Castilian) DD 5.1 | Spanish (Latino) DD 5.1 | Czech | Polish Lektor
Secondary Audio
Summary
An emotional, riveting, and well-balanced movie that feels epic in its brief 93-minute run time.
What people say... Login to rate
Be the first to leave a review.
Show more