Aspect Ratio: 2.35:1

Video Codec: AVC/MPEG-4
Resolution: 1080p/24
Audio Codec: English Dolby TrueHD 7.1, English Audio Description, French, Portuguese, and Spanish Dolby Digital 5.1

Subtitles: English, English SDH, French, Portuguese, Spanish

Region: ABC (Region-Free)
Rating: PG-13

Run Time: 111 Mins.

Discs: 2 (1 x Blu-ray + 1 x DVD + Digital Copy)
Studio: Paramount Home Entertainment

Blu-ray Release Date: November 22, 2011
List Price: $39.99
Purchase Super 8 on Blu-ray+DVD+Digital Copy at CD Universe
Shop for more Blu-ray titles at Amazon.com
Overall
[Rating:4.5/5]
The Film
[Rating:4.5/5]
Video Quality
[Rating:5/5]
Audio Quality
[Rating:5/5]
Supplemental Materials
[Rating:4/5]
–
The Film
[Rating:4.5/5]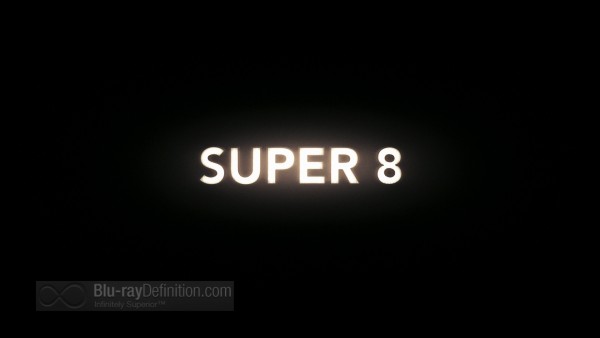 This is what I like to think of as a spectacular rebirth of Steven Spielberg's E.T. for a new generation, ironically set in 1979, only this time the aliens aren't as friendly, the special effects are way cooler, and the kids are just a little edgier. Written and directed by J.J. Abrams (TV's Fringe, TV's LOST, Armageddon) with Steven Spielberg (TV's The Pacific and Band of Brothers) on board as producer, Super 8 is an action-packed sci-fi thrill ride packed with energy from beginning to end.
A group of kids in Ohio (Joel Courtney, Riley Griffiths, Ryan Lee, Gabriel Basso, Zach Mills, and Elle Fanning) who like to make zombie movies on Super 8mm film around their small town capture a major train wreck one night as they are filming. When they realize that the crash was caused on purpose, the kids set out to discover the reason behind it. Not long afterwards, the Air Force moves into the town and strange things start occurring, like all the town's dogs running away, car engines disappearing, and power outages. Soon, the kids are embroiled in something they could never have imagined, and one of them (Fanning) must be rescued from a terrible unseen creature all in the middle of what has become something resembling a war zone.
Super 8 is spectacular and will have you at the edge of your seat with your heart racing, your fists pumping, and your hairs standing. Each of the kids in this film does a wonderful job. They have that wide-eyed sense of wonder and adventure, but the real standout, probably not surprisingly, is Elle Fanning, who is given a few moments to lay down some dramatic chops. Overall, a wonderful effort.
Video Quality
[Rating:5/5]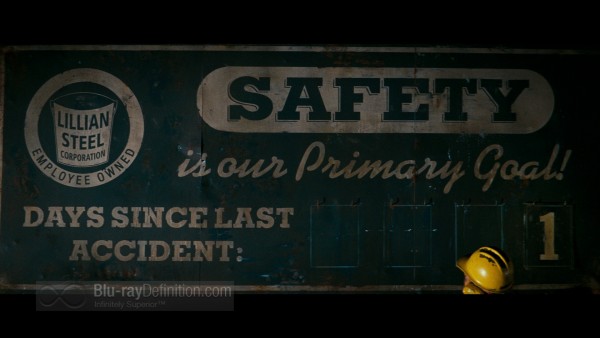 This is a great transfer of a film with plenty of detail, special effects and nuanced lighting to really show off any high definition display. Captured on a variety of cameras and films, including 8, 16, and 35mm and high definition on RED One MX cameras, Super 8 comes to Blu-ray in a flawless AVC/MPEG-4 encodement from Paramount. It's clean with detail that extends well into the backgrounds. There is no evidence of video noise and only the finest grain noticeable grain structure throughout that adds a wonderful filmic quality. Blacks are deep, yet crush never really becomes an issue. Shadow details are nicely nuanced and overall contrast is superb.
Audio Quality
[Rating:5/5]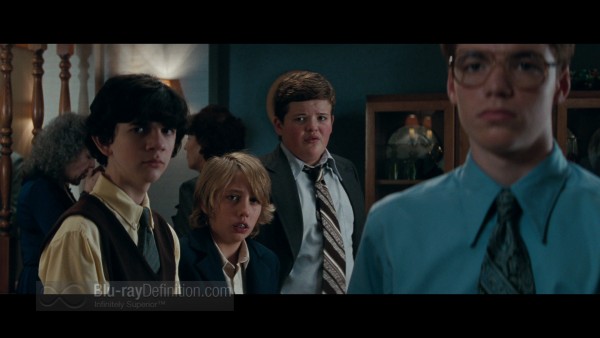 Wow! I mean, really, wow! This Dolby TrueHD 7.1 soundtrack is amazing. Starting with the train crash in chapter 3 that will shake your walls and rattle your floorboards, even the surround and back channels have lots of discrete and ambient activities and dynamics are outrageously wide. But there's no need to worry, there are plenty of moments where the action settles down so there isn't a constant barrage of sound. Dialogue is clean and intelligible at all times and high frequencies are easy and natural.
Supplemental Materials
[Rating:4/5]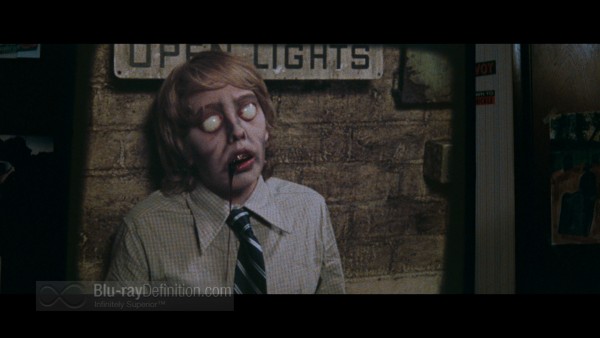 Super 8 is packed with high definition extras and and audio commentary from the filmmakers. See the list below for more details:
Commentary by J.J. Abrams, Bryan Burk, and Larry Fong
Featurettes (1.78:1; 1080p/24):

The Dream Behind Super 8 – Abrams talks about his time as a kid making Super 8 movies.
The Search for New Faces – Casting the child stars for Super 8.
Meet Joel Courtney – A look at the young star of Super 8.
Rediscovering Steel Town – A look at the location in West Virginia where Super 8 filmed.
The Visitor Lives – Designing the alien visitor for the film.
Scoring Super 8 – Composer Michael Giacchino talks about scoring the music for Super 8.
Do You Believe in Magic? – Cinematographer Larry Fong shows off some of his magic tricks.
The 8mm Revolution – Steven Spielberg, J.J. Abrams, Larry Fong and others talk about growing up and making movies on Super 8mm.

Deconstructing the Train Crash – This interactive map allows you to select interview segments with J.J. Abrams, Larry Fong and others, see production footage, find out about the special effects from folks at ILM (Industrial Light and Magic) and even view early storyboards of this pivotal train crash scene.
Deleted Scenes (2.35:1; 1080p/24) :

Inside the 7-Eleven
Joe Writes New Pages
Joe Gives Charles New Pages
Jack Searches the Gas Station
Inside the Car Dealership
Joe gets in Trouble
Lucy Goes Missing
Dry Brush Technique
Army Navy Store
Joe Watches Home Movies
Saying Goodnight
Cube Shakes the Red Trucks
Jack Finds Joe's Backpack
Joe and Cary Discover the Coffins

Digital Copy
DVD
The Definitive Word
Overall:
[Rating:4.5/5]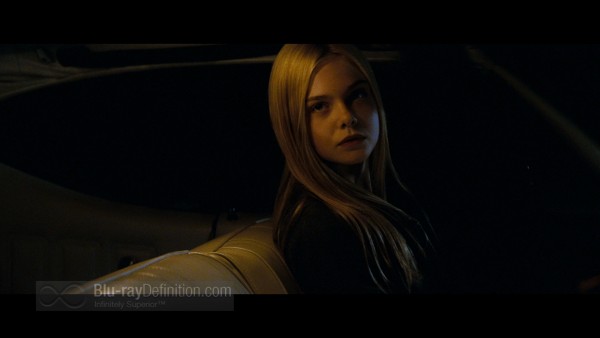 Super 8 is a perfect bit of popcorn entertainment, a nostalgic reminder of Spielberg in his heyday, from a director other than Spielberg. All of the young cast are likable and entertaining, the screenplay allows you to feel for the characters and the spectacle of sight and sounds is a true marvel.
Additional Screen Captures