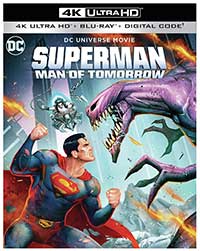 Superman: Man of Tomorrow is the latest direct-to-video animated film from DC Universe and also the latest production from DC to tell the origin story of The Man of Steel.
In this outing Superman/Clark Kent (Darren Criss), who was sent to Earth as an infant from his dying planet of Krypton and rescued by Johnathan and Martha Kent to be raised as their own, grows up feeling alienated because of his alien roots, but eventually becomes an intern at The Daily Planet in Metropolis where he at night secretly uses his superpowers to fight crime. But before the world at large learns about this "superman" – as he will be tagged by his co-worker Lois Lane (Alexandra Daddario), Clark must battle alien supervillains Lobo, a maniacal, heavy-metal-type alien bounty hunter (Ryan Hurst) and dangerous creature called Parasite.
Also appearing in this DC Universe original feature are familiar characters Martian Manhunter (Ike Amadi) and of course, Lex Luthor (Zachary Quinto).
There are some good action sequences here in Superman: Man of Tomorrow and the animation is eye-popping, to say the least. Lobo's character design nearly lives up to the comic book drawings and the story overall is modernized just enough to make it relevant to today – there's a quaint scene early on with Clark on a FaceTime chat with his parents and the two of them in typical Boomer fashion having a bit of trouble figuring out how to effectively use the format.
Still, this film falls flat overall. The origin story is changed and leaves out many of the classic points, to skip right to Clark Kent as an adult, and then we seem to just get a lot of action vignettes and Clark/Superman working alongside Lex. This may be tagged "A New Hero for a New Age" but if this is the DC play for Zoomers and younger millennials, they should take it back to the drawing board.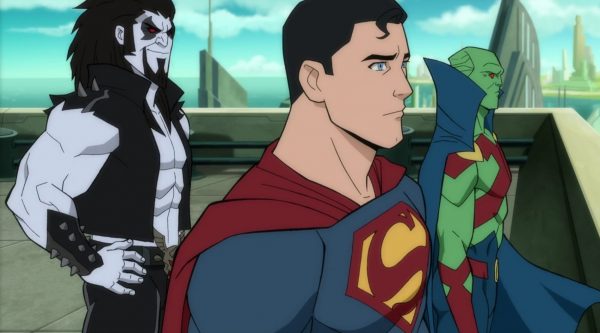 The Video
Superman: Man of Tomorrow arrives on 4K Ultra HD Blu-ray framed at 1.78:1 in an HEVC 2160p (4K) transfer with HDR10 HDR that has a maximum luminance of 4000 nits and minimum luminance of 0.0050 nits. While the 4K disc looks generally good with vibrant colors and some highlights that have a little more 'pop' thanks to the HDR grading, I also see more artifacts in the animation like aliasing around the edges of line art and so forth. The Blu-ray still looks great in comparison to this release and maybe a bit more natural, and still has the excellent lossless 5.1 track as the 4K doesn't offer an audio upgrade either (see below).
The Audio
Superman: Man of Tomorrow comes with an English DTS-HD Master Audio 5.1 audio mix and typical of these DC Universe animated films, it is an aggressive mix with good balance, great use of the surround channels, and good low end extension making the various special effects and action sequences really punchy.
The Supplements
The supplements included are pretty good and self-explanatory, ranging from discussions of the major characters like Lobo and Martian Manhunter and sneak peeks of further DC Universe films.
Movies Anywhere digital code
Blu-ray with feature and special features
Lobo – Natural Force of Chaos (1080p; 00:10:23)
Martian Manhunter – Lost and Found (1080p; 00:08:47)
A Sneak Peek at DC Universe's Next Animated Movie (1080p; 00:11:55) – A look at the forthcoming kung fu inspired, Batman: Soul of the Dragon
A Preview of Justice League vs. The Fatal Five (1080p; 00:09:29)
A Preview of Superman/Batman: Public Enemies (1080p; 00:07:43)
Superman: The Animated Series, The Main Man, Part I (SD; 00:20:17)
Superman: The Animated Series, The Main Man, Part II (SD; 00:21:21)
The Final Assessment
Superman: Man of Tomorrow is meant to reboot Superman for younger generations, but too much is taken for granted and there are too many simple contemporary platitudes thrown into a fundamentally weak origin story. The 4K disc is okay, but the Blu-ray more than holds its own against it and doesn't show the same artifacts.
Superman: Man of Tomorrow is out on 4K Ultra HD Combo and Blu-ray September 8, 2020 from Warner Bros. Home Entertainment
---
The Creative Content: 2.5/5
The Video (overall): 3.5/5
HDR Effect: 3.5/5
The Audio: 4.5/5
The Supplements: 4.0/5
Rating Certificate: PG-13
Studios & Distributors: Warner Bros. Animation | DC Universe | Warner Home Video
Director: Chris Palmer
Written By: Tim Sheridan
Run Time: 86 Mins.
Street Date: 8 September 2020
Aspect Ratio: 1.78:1
Video Format: HEVC 2160p (4K)
HDR Format: HDR10
Maximum Luminance: 4000 Nits
Minimum Luminance: 0.0050 Nits
Primary Audio: English DTS-HD MA 5.1
Secondary Audio: French DD 5.1 | Spanish DD 5.1
Subtitles: English SDH | French | Spanish