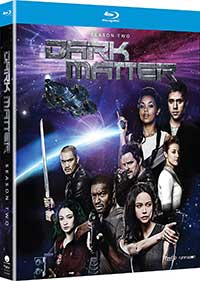 Dark Matter, a Canadian sci-fi import that runs on SyFy is part of the U.S. network's ongoing mission to rebrand and remake itself into, once again, a home of quality original science fiction content and, most of all, series. They'd lost their way for many years in a landscape of WWE(!!?) coverage, bad B-movies, and "reality" paranormal shows. Well, they are back with a vengeance and fans that lamented the old Sci-Fi Channel days of Farscape and Stargate now have a number of quality series to latch onto.
This sci-fi thriller gets started off immediately in season one with a mystery that begs to be solved. Six members of a malfunctioning spaceship called the "Raza" all awake from stasis, their memories wiped, and must get the ship working before they die. Once the ship is back in order, and they subdue the security android (Zoie Palmer, Lost Girl) they awakened from killing them all, they must figure out who each one of them are and try to get their memories back. They have no choice but to work together, even though they don't trust each other – after all, one of them could have sabotaged the ship. Deciding to name each other by the order in which they awoke from stasis, they become One (March Bendavid), Two (winner of Canadian Idol Melissa O'Neill), who immediately takes charge and becomes the crew's leader, Three (Anthony Lemke), a kind of vulgarian with seemingly violent tendencies, Four (Aex Mallari, Jr.), a guy with a cool demeanor and master swordsmanship, Five (Jodelle Ferland), a teenager with a mastery for hacking, and Six (Roger Cross), a kind but tough big guy who somehow knows how to fly the ship and its shuttle.
Season two picks up where season one ended with the members of the crew of the Raza, Two, Three, and Four, locked up in Hyperion-8 Maximum Security Galactic Detention Facility because Six sold them out. It's revealed that, before having all of their memories wiped, Six was actually working undercover with the GA to make a case against the crew of the Raza. As with season one, the action doesn't take long to start in season two, and the members of the Raza initiate a breakout from Hyperion-8 with the help of some fellow inmates including Nyx (Melanie Liburd) an excellent hand-to-hand combat fighter who has the ability to read her opponents moves before they happen. This ability and why she has it will come into play later in the series when Nyx tricks the crew of the Raza into going to rescue her brother from a cult-like organization under the auspices of stealing a highly addictive drug in order for them to finance a deal that will allow them to steal a powerful device called "the blink drive".
This blink drive, a sort of hyper-engine on a flash-drive that allows spaceships to disappear from one spot in space and reappear in a completely different place instantly. This Blink drive becomes the crux of the conflict for a second season that weaves its way through a number sci-fi tropes like alternate universes with duplicate versions of oneself, corporate overlords that control everyone's lives, and of course, androids that develop feelings. Dark Matter takes these things, throws them into a blender and pours them out into something original and edge-of-the-seat worthy. Anchoring it all is a fine ensemble cast led by the gorgeous and butt-kicking Melissa O'Neill who wears her full costume like sexy Mila Jovovich in Resident Evil. The season is also loaded with intrigue, machinations and lots of action and visual effects – all the things we love about a great sci-fi series.
The Video
Dark Matter was shot in HD on the Arri Alexa and comes to Blu-ray in an AVC 1080p encodement from Funimation. The series is darkly lit and desaturated, but it looks about as good as it gets for a SyFy sci-fi series; the detail is pretty crisp and the shadow detail strong. There is some video noise that isn't obtrusive and only the slightest bit of what I would call some low-level compression or perhaps in-camera noise that does look a little harsh in the darker areas at times. In comparison to the broadcast or streaming versions if the series, well, let's just say there is no comparison – this Blu-ray release is the way to go.
The Audio
Dark Matter: Season Two again gets an English Dolby TrueHD 5.1 audio mix on Blu-ray as its sole audio option and just as with the season one release, the dynamic range and overall mastering volume leave much to be desired. It sounds a bit low and the range is narrow. That said there is some good ambience and use of the surround channels for discrete effects. Dialogue sounds good, but low-end is a little weak.
The Supplements
We actually get some special features on this season two release unlike season one, which came with nada. The features include some brief bloopers and some "making of" featurettes with interviews and behind-the-scenes clips for all 13 episodes.
Bloopers (1.78:1; 1080p/24; 00:02:24)
Backstage: Episodes 1-13
The Final Assessment
It's edgy, it's dark, and, even though it visits many of the common sci-fi themes we have seen over the years, it mixes them up in a new and intriguing way. The second season of Dark Matter, with its characters and setup firmly established, avoids the slow start and mixes things up by adding some fresh faces and surprising twists for new conflicts that setup the already broadcasting season three.
[amazon_auto_links id="101949"]
Joseph Mallozzi (creator) | Paul Mullie (creator)
Writer
$49.98
MSRP
English Dolby TrueHD 5.1
Audio
Summary
The second season of this sci-fi action/thriller delivers on the promise begun in its first season with plenty of twists, stunning visuals and further character developments to keep genre fans engaged. The Blu-ray release also looks strong and includes some behind-the-scenes episodic "making of" features well worth watching.
What people say... Login to rate
Be the first to leave a review.
Show more